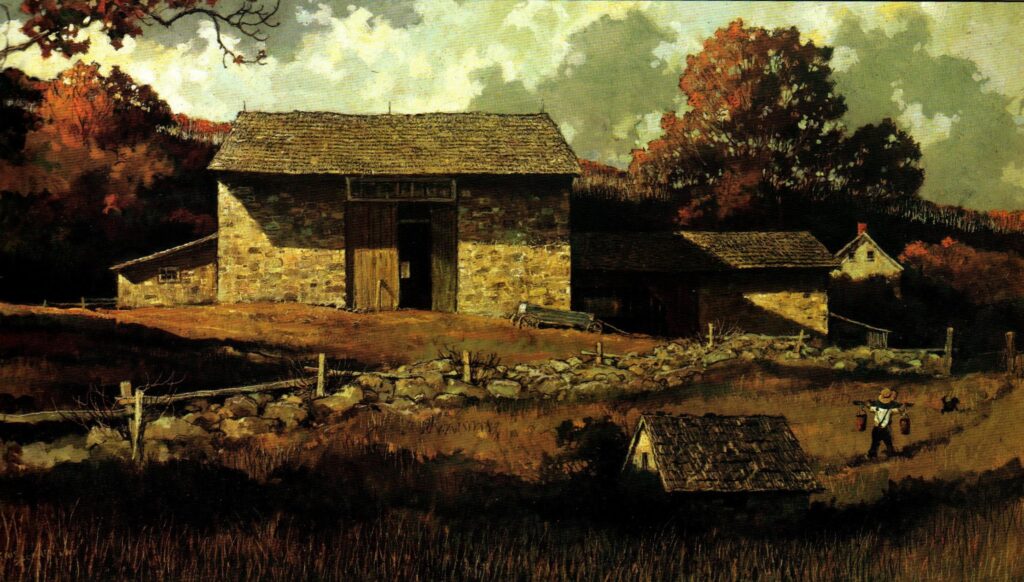 "…whereas I used to add a tiny barn or farm building to give further identity to a cloudscape, I was now using a touch of sky merely to enhance more elaborate farm scenes."
– Eric Sloane
October Colors
19″ x 33″
Oil on Masonite
Notice Eric's use of the word "cloudscape" in his quote above, a word the artist said that he coined. The treatment of the sky in general, and clouds in particular, is critical to ascertain authenticity of the artist's works.
I've often wondered who was the first to ascend into the air for the purpose of painting the clouds. I know Eric was doing so as early as at least 1930. But I've seen enough early air show/contest posters from Europe in which the artwork was rendered by someone who had clearly been in a balloon or airplane to be able to create the effect of air, sky, and cloud so effectively from a pilot's perspective.

Photo used by permission, from Wil Mauch's Aware: A Retrospective of the Life and Work of Eric Sloane.

To learn more about the Friends of the Eric Sloane Museum and our mission to assist in the preservation and interpretation of the Eric Sloane Museum and its collection, see www.friendsoftheericsloanemuseum.org. While you're there, please consider making a donation online to our new hands-on classroom project.