Researching the life and work of Eric Sloane is very important to understanding more about the artist and how and why he painted, illustrated, and wrote. Author Wil Mauch has happily spent hundreds of hours over the last nearly quarter of a century researching the life and works of Eric Sloane, N.A. (1905-1985). What follows on this page is a random sampling of some of the videos, photographs, and documents Wil used in various publications and exhibits. If you have something to share of Eric's life and works, please email. We will be sure to attribute the new addition to you.
Currently, we offer two titles that incorporate much of what Wil has learned about the life and work of Eric Sloane:
Aware: A Retrospective of the Life and Work of Eric Sloane
Symbols of American Spirit: 50 Years of the Eric Sloane Museum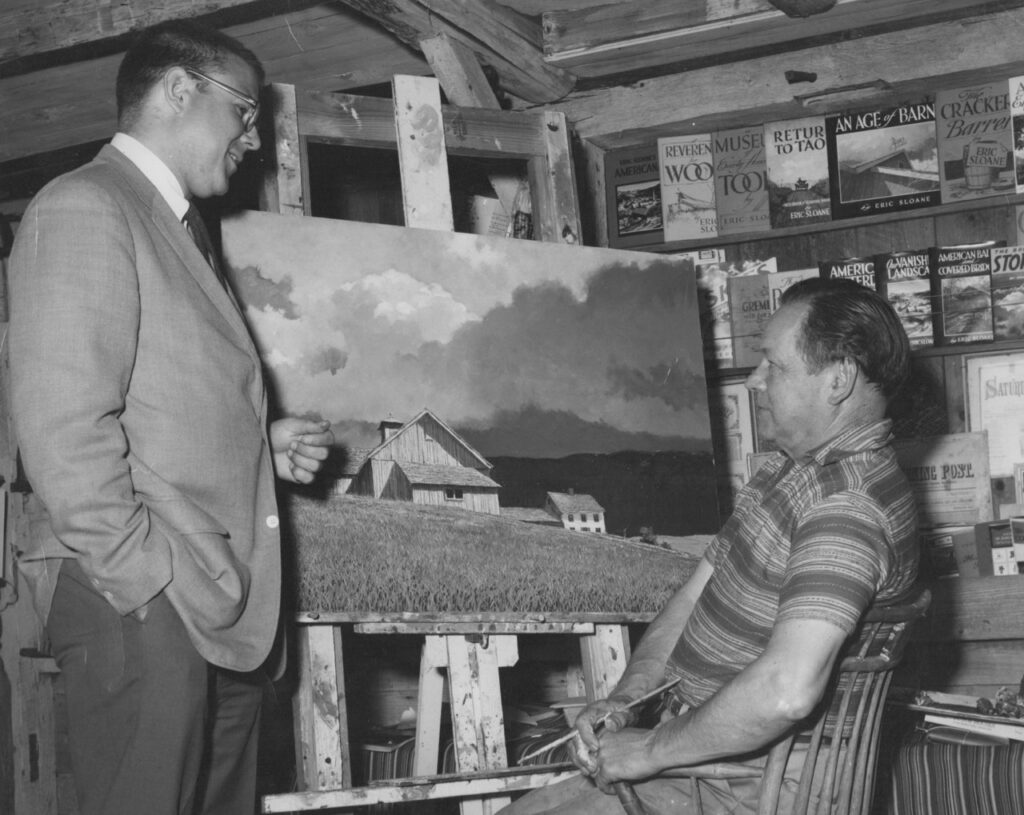 Eric Sloane at his easel discussing plans for a showing of his paintings during the 13th annual Shaker Festival at the Shaker Museum in Old Chatham, NY, with Warden Williams, the museum president at the time .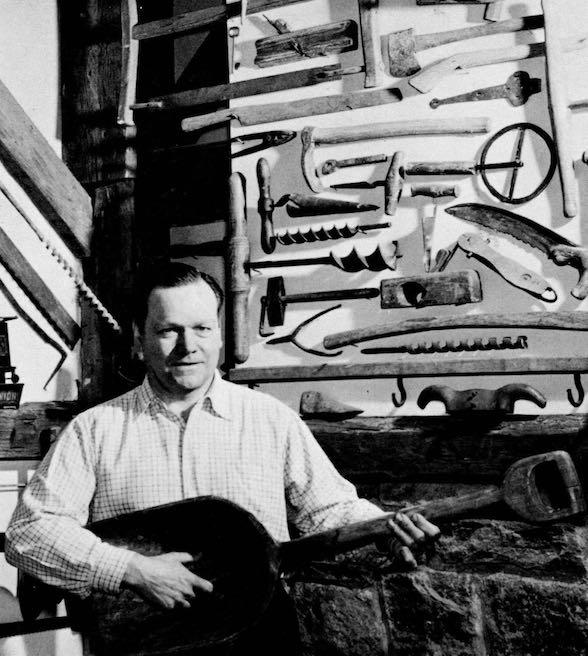 Eric Sloane in his Connecticut home. Most every home and studio took on "the Sloane look".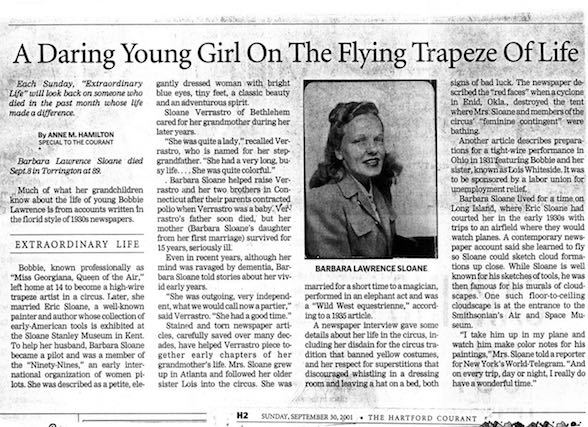 An article about Barbara Lawrence, Eric Sloane's second wife (c.1934-c.1944). "Bobbie" must have been a fascinating woman judging by this article. She became a pilot at the behest of Sloane, a member of the "Ninety Nines", and probably "Pilot 54566, wife of the author" in Gremlin Americans: A Scrap Book of American Gremlins (1943 B.F. Jay & Co.).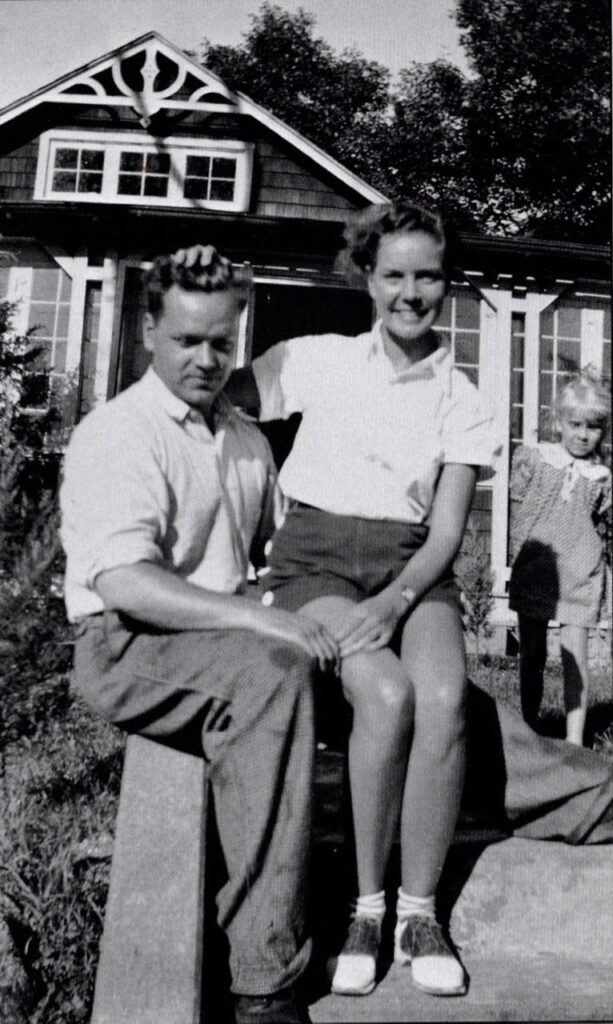 Eric Sloane and his sister Dorothy at Cedarcrest, the Hinrichs' summer home on Lake Hopatcong, New Jersey. Taken in 1935, Barbara Lawrence's daughter "Little Bobbie", is pictured in the background.
A good overview of the significance of Eric Sloane and his art, as well as of The Eric Sloane Museum. Our own Wil Mauch was one of the contributors to this documentary.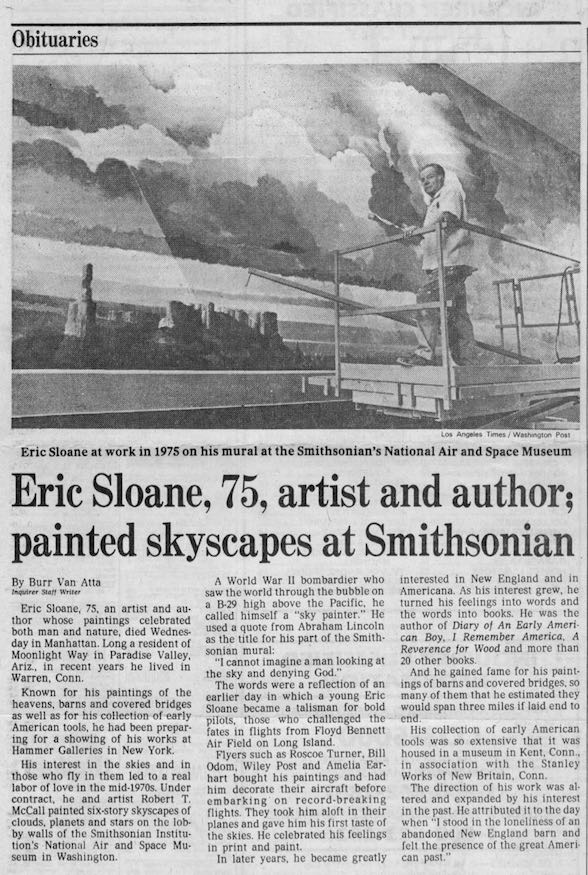 Another obituary for Eric Sloane, this one reporting the artist's age at the time of his death as 75, which is of course incorrect.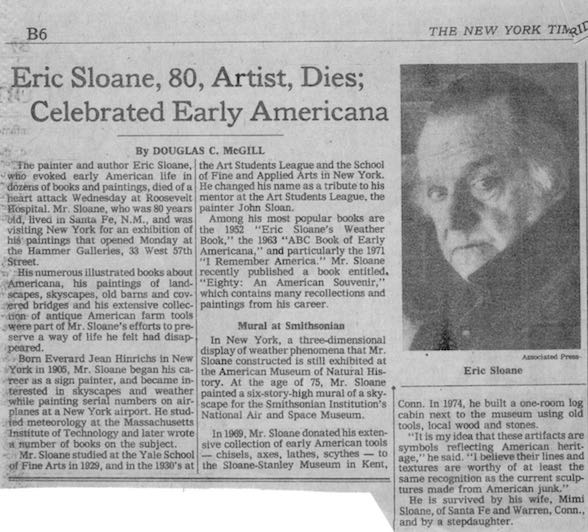 New York Times obituary for Eric Sloane, March 8, 1985.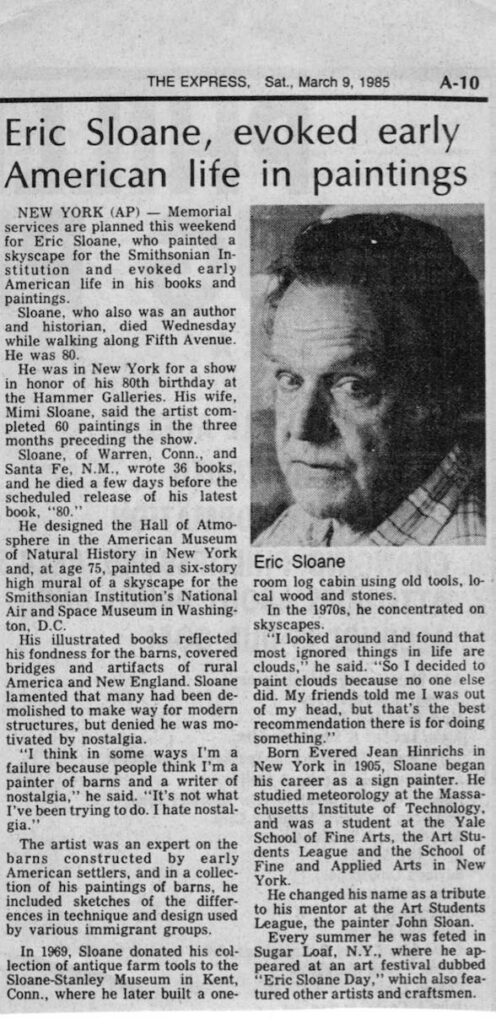 March 9, 1985 obituary for Eric Sloane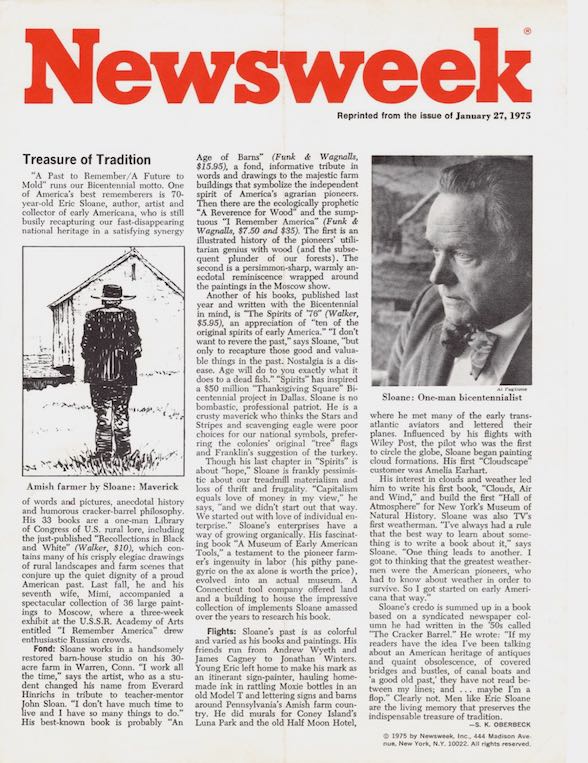 1975 Newsweek article about Eric Sloane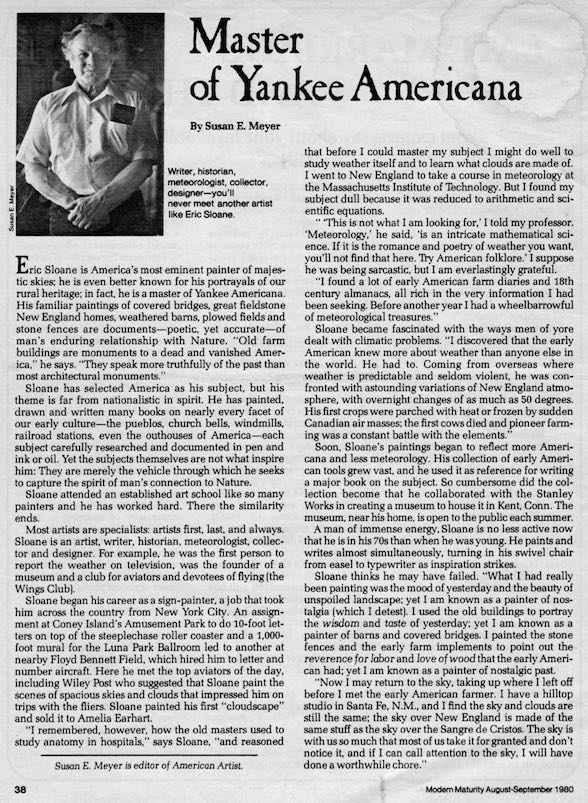 Eric Sloane: Master of Yankee Americana, by Susan E. Meyer For Modern Maturity Magazine's August-September 1980 issue. Meyer was then the editor of American Artist magazine. It was she, along with her husband Ken, who produced the Profiles in American Art series, one episode dedicated to Eric Sloane.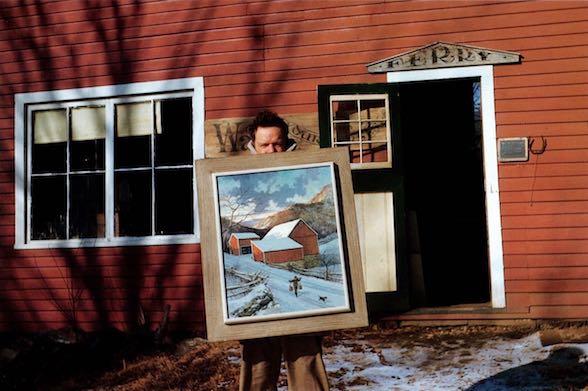 Eric Sloane behind a recently completed oil painting. Likely taken in the winter/early spring of 1957/58. It is the painting that appears on page 111 of The Seasons of America Past by Eric Sloane (1958, Wilfred Funk, Inc., though the dustjacket spine indicates "Funk & Wagnalls").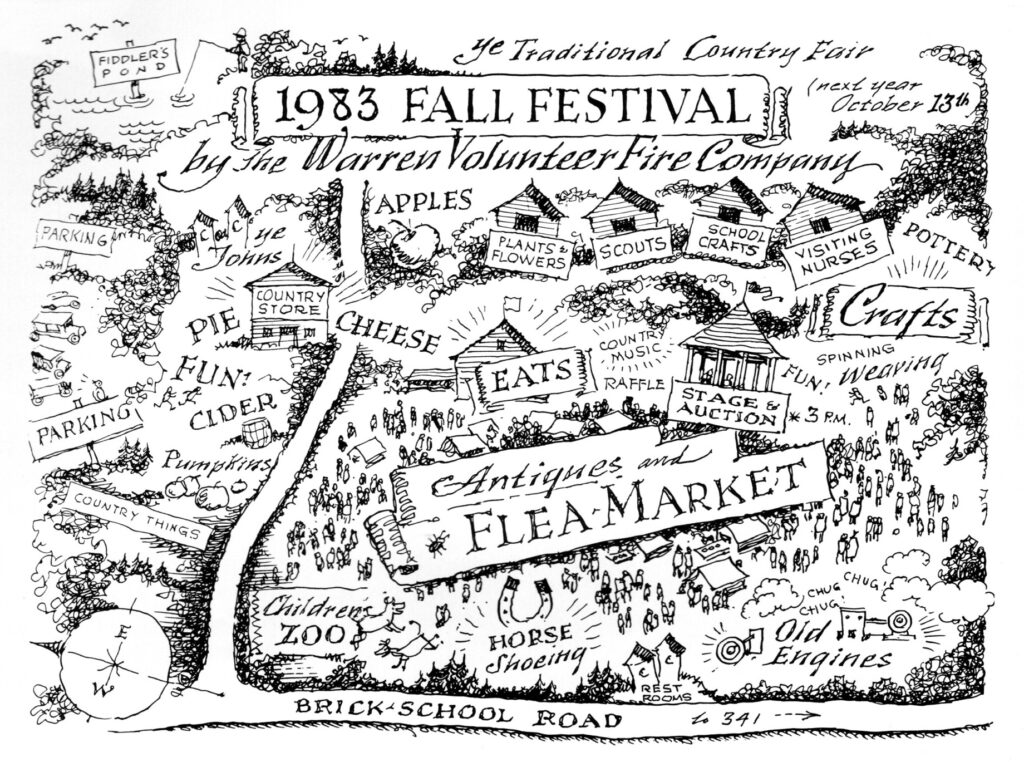 Eric Sloane gave generously to many charitable organizations over the years. Sloane is credited with starting the Warren Fall Festival, to which he donated several paintings annually to be auctioned in support of the Warren Volunteer Fire Company. In the autumn of 1984, the last year in which Eric Sloane participated, the festival earned $17,000, $9,000 of which came from the sale of two of the artist's paintings.
"We are thankful for having known him". The Eye-Bank for Sight Restoration was another charitable cause Eric Sloane steadfastly supported.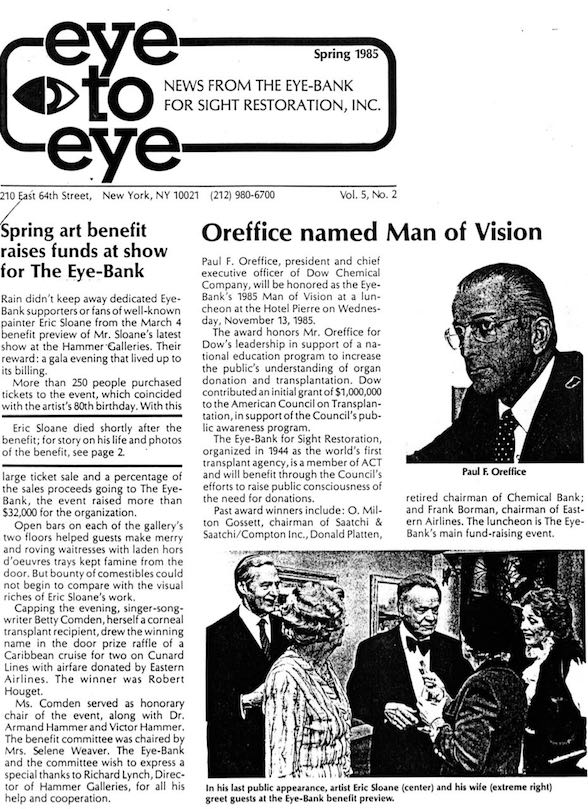 Ticket sales for the opening gala held on March 4, 1985, coupled with a percentage of the sales proceeds of Eric Sloane's paintings, resulted in more than $32,000 raised for The Eye Bank For Sight Restoration. What would be Eric Sloane's final exhibition – entitled Eighty – opened at Hammer Galleries in New York City on March 5, 1985. Eric Sloane died March the 6th.
Eric Sloane – An Artist Recalls America's Heritage. Chicago Tribune, May 19, 1975. Interestingly, this article includes a prominent photo of the cloud mural Eric Sloane created for the president of Morton-Norwich Products, Inc. Eric includes a photograph of the mural, and writes this in his section entitled "Three Hours" in Eighty:
"I find that it takes about three hours for me to shape out a painting composition at which point I like to leave it for drying and continuing the next day. Sometimes the three hours are enough, like the office mural above which I did many years ago for the new Morton Salt building in Chicago. I started at nine in the morning and at noon had the good sense to realize further work would add nothing and so I finished at noon. When the president arrived at one p'clock to "watch me work" I was on a plane heading back home".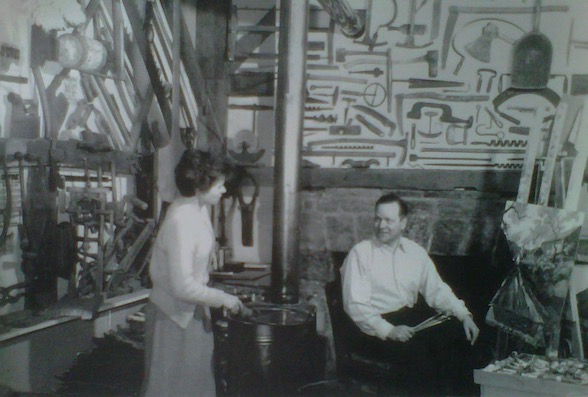 Eric Sloane, pictured at right, his wife at the time (1958), Ruth, pictured at left. This was taken around the same time as the two photos that appear below, as well as the photo of Sloane that appears on the rear dustjacket of The Seasons of America Past, which is the second photograph included in this collection.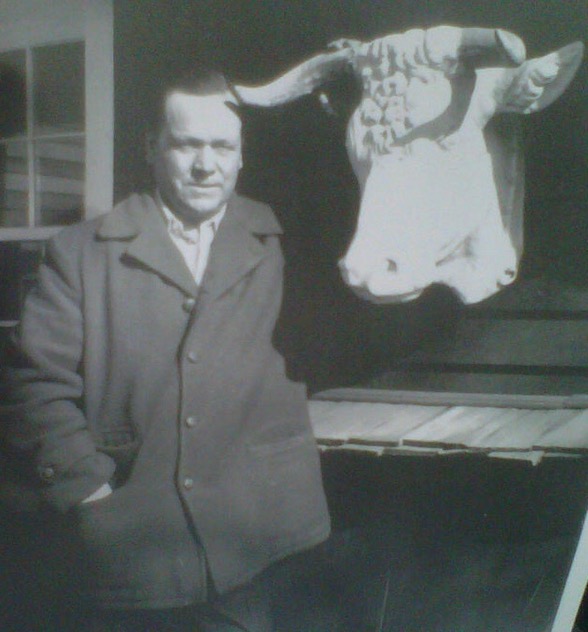 Eric Sloane outside of his studio, 1958.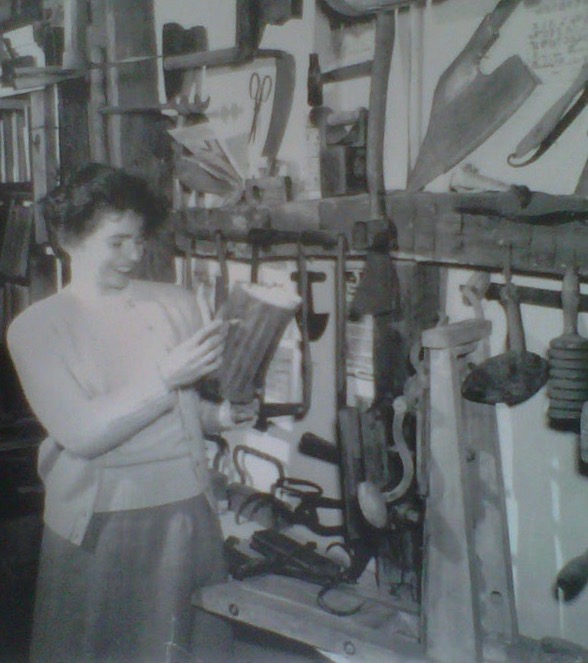 Eric Sloane's wife Ruth inside the artist's studio in 1958, part of a number of publicity photos taken prior to the release of Eric Sloane's The Seasons of America Past.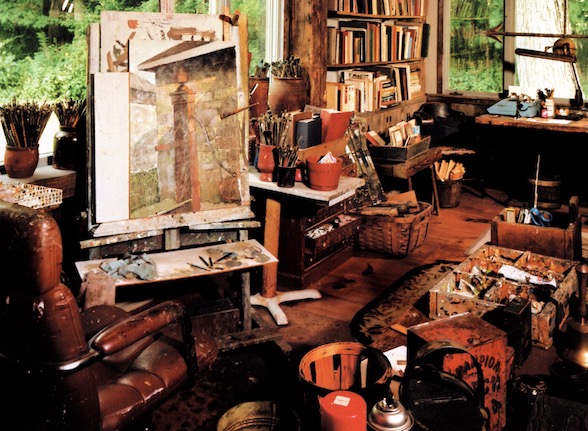 A recreation of Eric Sloane's Warren, Connecticut studio, housed in the Eric Sloane Museum of Kent, Connecticut.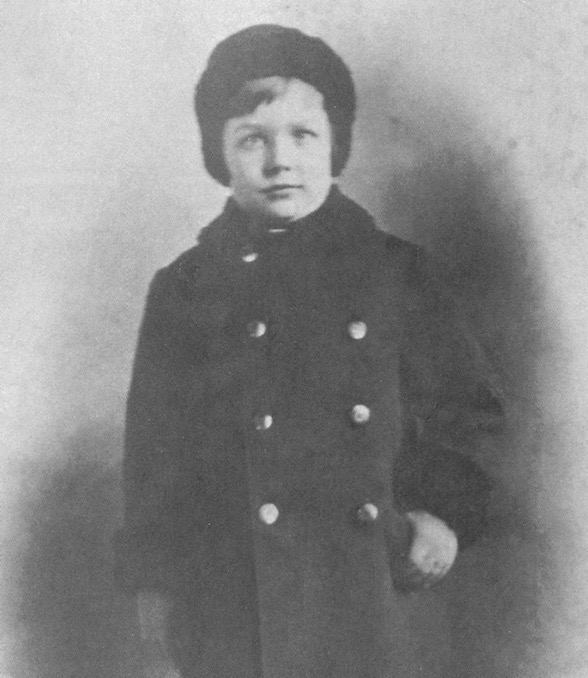 Everard Hinrichs – who would become Eric Sloane – c. 1912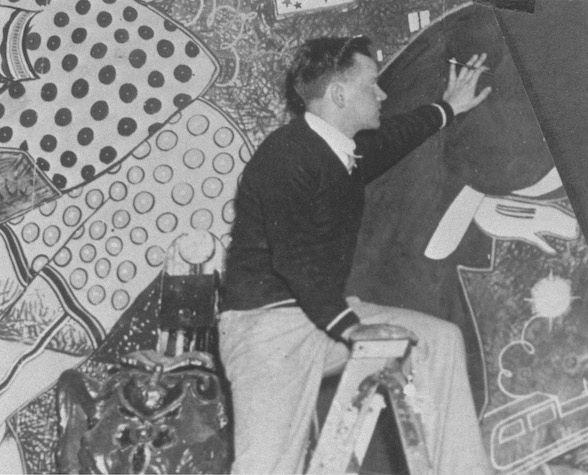 Eric Sloane at work painting a meal in the Luna Park Ballroom of Coney Island. It was this mural that caught the attention of David Martin, manager of the Half Moon Hotel.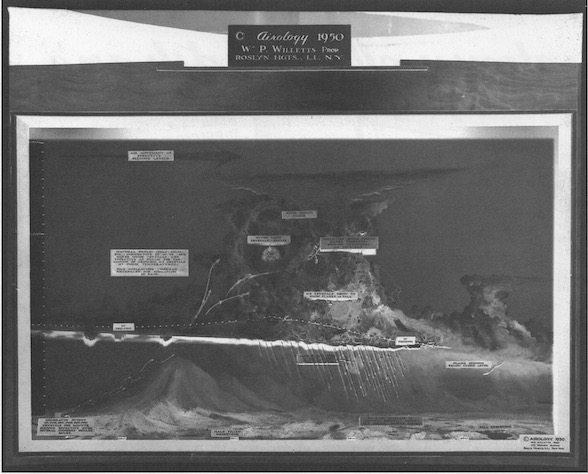 A photographic positive of on of Eric Sloane's three dimensional models demonstrating weather phenomenon, this one of a line of cumulous clouds that have developed into menacing, anvil-topped masses. The origins of these models was described by Wil Mauch in his Symbols of American Spirit: 50 Years of the Eric Sloane Museum:
"During the Second World War, Sloane took a hiatus from writing and painting after an acquaintance's son, Joseph Prentice Willis, was killed in an aviation accident on 18 August 1943. The accident was horrific. Willets was piloting a Martin PBM 3c on a friendly submarine hunting mission and in heavy weather 12 miles off Montauk Point when the plane struck swells that were reportedly 15'-20' in height. The plane exploded and sunk in 160' of water, killing the Navy pilot, his co-pilot, nine crewmembers and 1 passenger. Understandably, the accident affected deeply Joseph's parents, who reached out to Eric Sloane in hopes that he could both memorialize their son and to better educate pilots as to the dangers of flying in poor weather. The result was the Willets Memorial, several working models of weather phenomenon constructed by Sloane in a converted squash court in the Willet's Roselyn Heights home. The models were exhibited at the American Museum of Natural History in New York."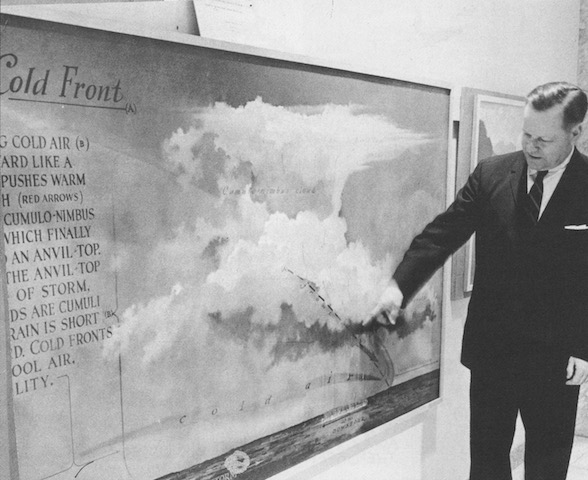 This interesting photograph shows Eric Sloane explaining portions of a large mural of a cold front. The location is not noted, but the image is suggestive of a press photo. It could be Eric at an opening of "The Hall of Atmosphere", which Eric wrote of undertaking just prior to creating his three dimensional models of weather (seen in the previous photo). "The Hall of Atmosphere" was a curious thing. Eric Sloane stated that he had approach Trubee Davison, who was Director of the American Museum of Natural History in New York City, about creating an exhibit of American weather, Sloane's assertion being that weather should be considered a part of natural history. Eventually, through Eric Sloane's partnership with William Willets (see previous photograph description), three dimensional models were created. It is quite possible that the models, as well as several murals and even some paintings (see what appears to be an oil painting by Eric Sloane just behind his right shoulder in the photograph above), were exhibited in the American Museum of Natural History. If they did, quite possibly the exhibit was in the museum's Hayden Planetarium, which opened in 1935.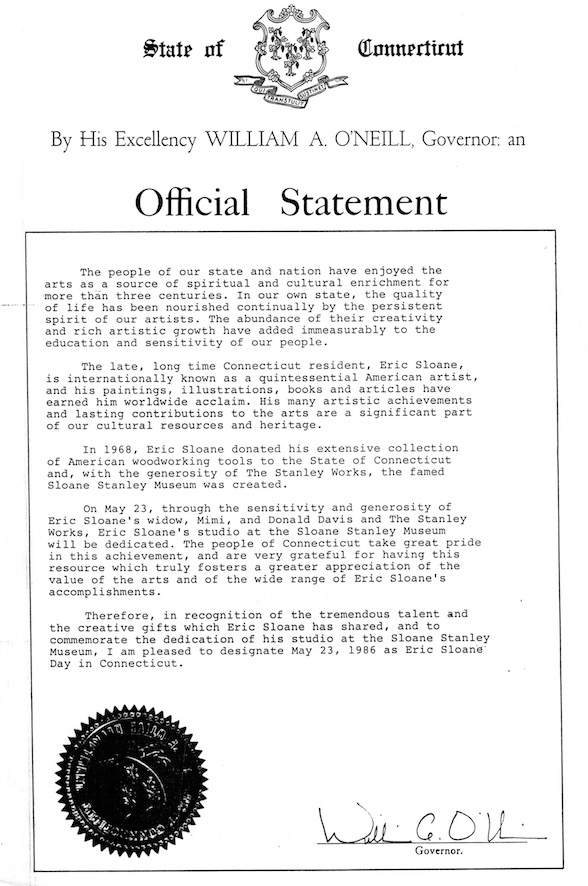 The official proclamation issued by Connecticut Governor William A. O'Neill designating May 23, 1986 as "Eric Sloane Day" in Connecticut. The day was chosen as it was that Eric Sloane's replicated studio was dedicated at the Eric Sloane Museum.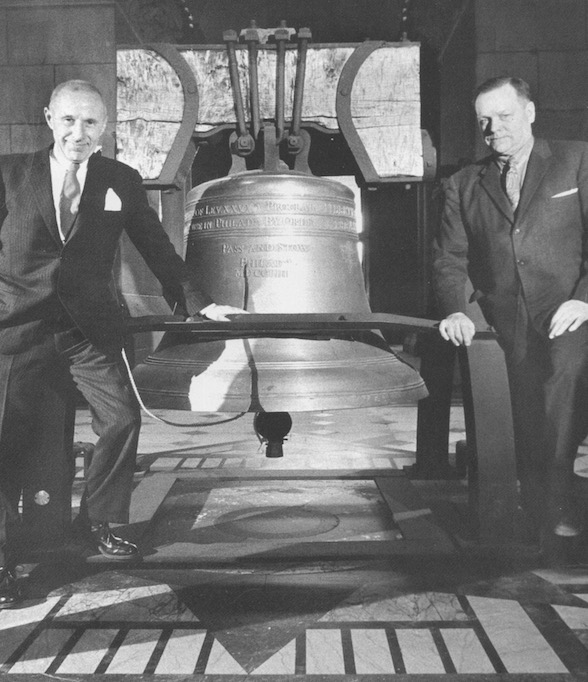 Eric Hatch, left, and Eric Sloane, right, photographed with the Liberty Bell in Philadelphia. Most likely a publicity photo for either Eric Sloane's 1966 The Sound of Bells, or Eric Hatch's 1964 The Little Book of Bells.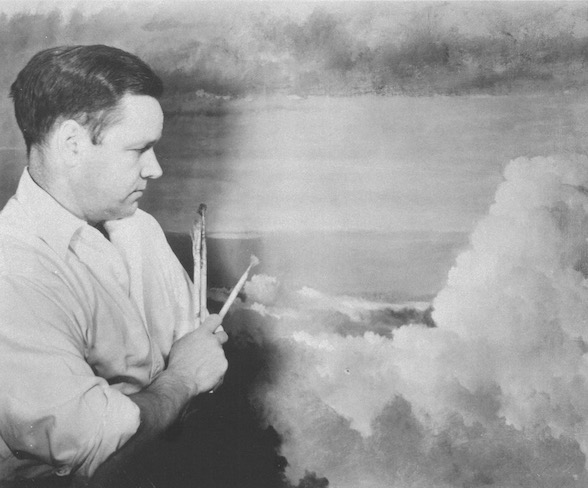 Eric Sloane, painter of cloudscapes, a term he apparently coined.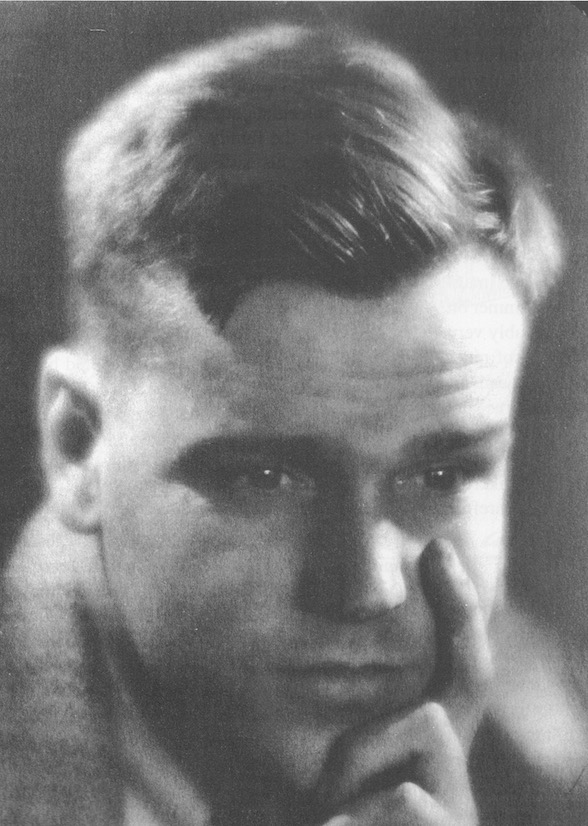 Eric Sloane, c. 1925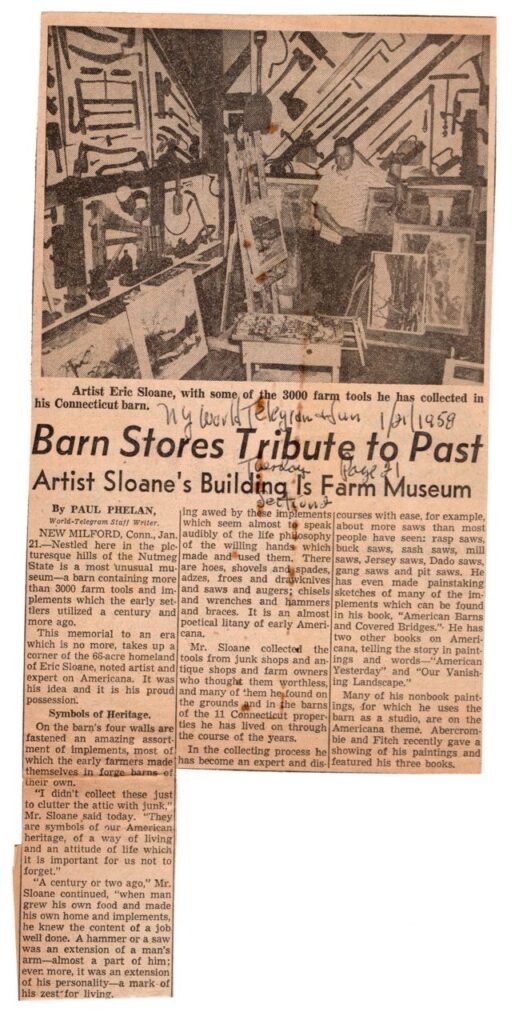 A 1958 article on Eric Sloane, highlighting his early American tool collection. Some of what is pictured became the nucleus for the Eric Sloane Museum in Kent, Connecticut. Exactly when the idea for a museum of early American tools was formed is lost to history, but it is telling that Eric titled his 1964 book on the subject A Museum of Early American Tools (Funk and Wagnalls).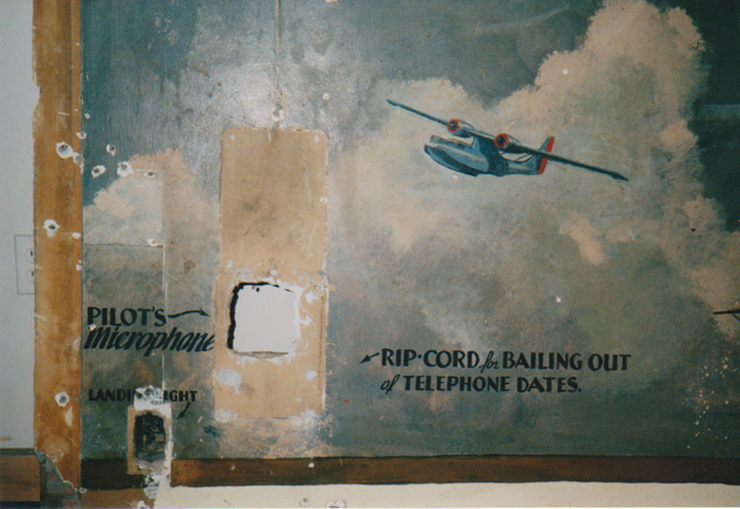 Wil Mauch took this photograph, above, and the two that appear below, on a visit to the newly renovated and expanded Cradle of Aviation Museum in 2002. The museum was in possession of what was once a wall of the pilot's lounge at Roosevelt Field. Upon this wall is a mural painted by Eric Sloane. Eric painted directly on the wall's plaster surface. You can still see the studs attached to the lower section of the wall where the mural was cut in the image below, and the lath in the image just below this one: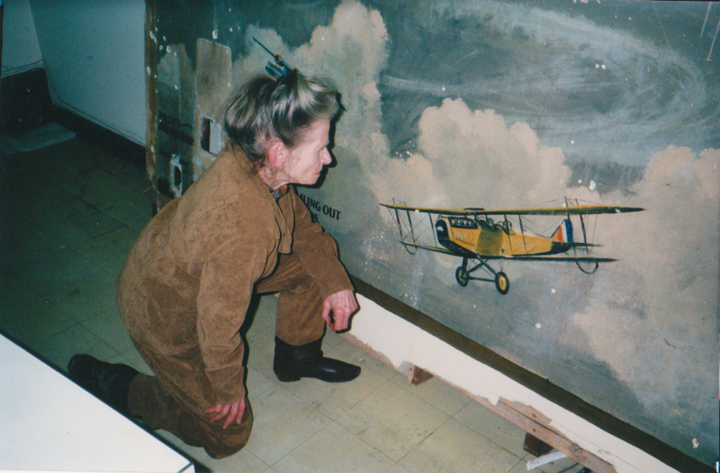 Pictured above is Eric Sloane's fifth wife Ruth Hinrichs, who was invited to the museum to see their latest acquisition. Photos are by Eric Sloane biographer Wil Mauch, whom Ruth invited to accompany her to view the mural.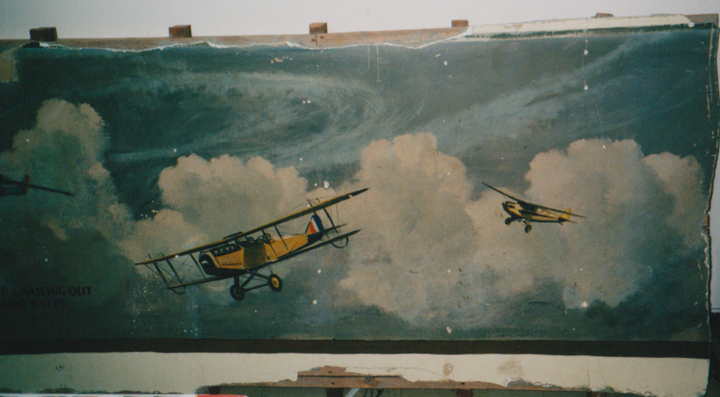 Wall studs and lath still visible on this Eric Sloane mural. The date of the mural is unrecorded, but the most recent aircraft pictured would be what appears to be a Piper J-3 "Cub" in traditional "Lock Haven Yellow" paint. The J-3 would be a fitting aircraft to include, as it was – as designated a Piper L-4 – a training aircraft for WW II pilot-recruits. The Piper J-3 in the mural is wearing a decidedly civilian paint scheme, suggesting that in could be a model produced between 1938-1941. Most Piper J-3s destined for military use as a trainer (designated 0-59 in 1941, L-4 after 1942, and NE for U.S. Nacy service) ) would sport an olive drab paint job. At any rate, the mural probably dates to c.1938-1940.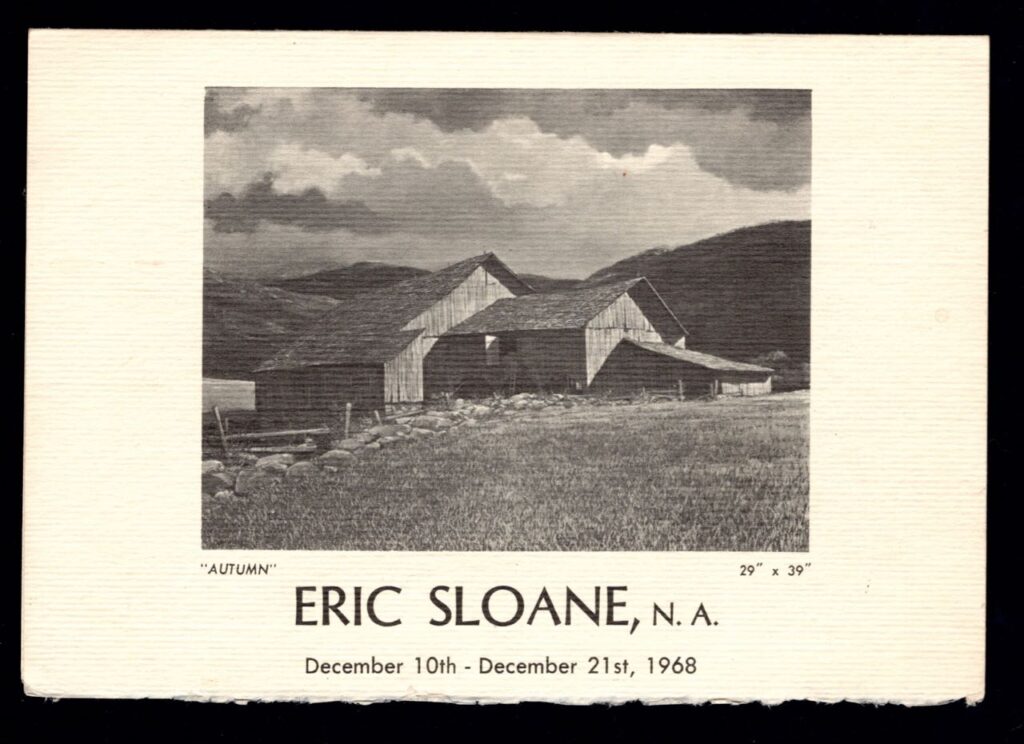 Grand Central Art Galleries invitation to a 1968 show of Eric Sloane paintings. Eric Sloane enjoyed multiple showings over the years at Grand Central.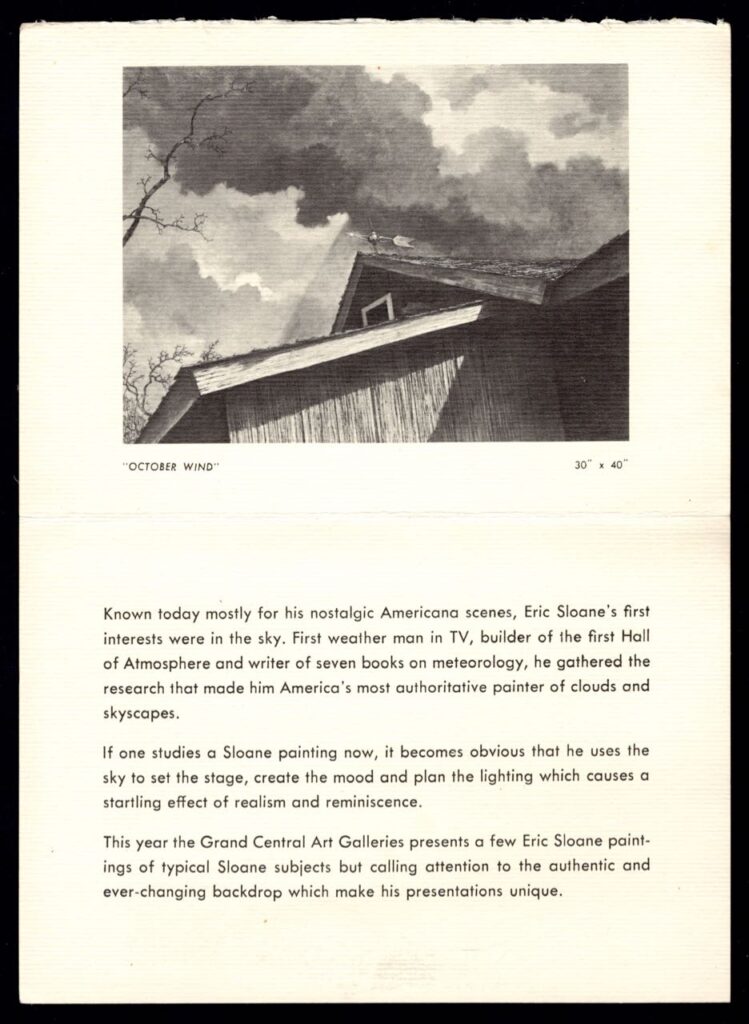 Grand Central Galleries was the creation of The Painters and Sculptures Galley Association, a non-profit artists' cooperative in 192. Offices and exhibition space were leased on the 6th floor of Grand Central Terminal in 1923.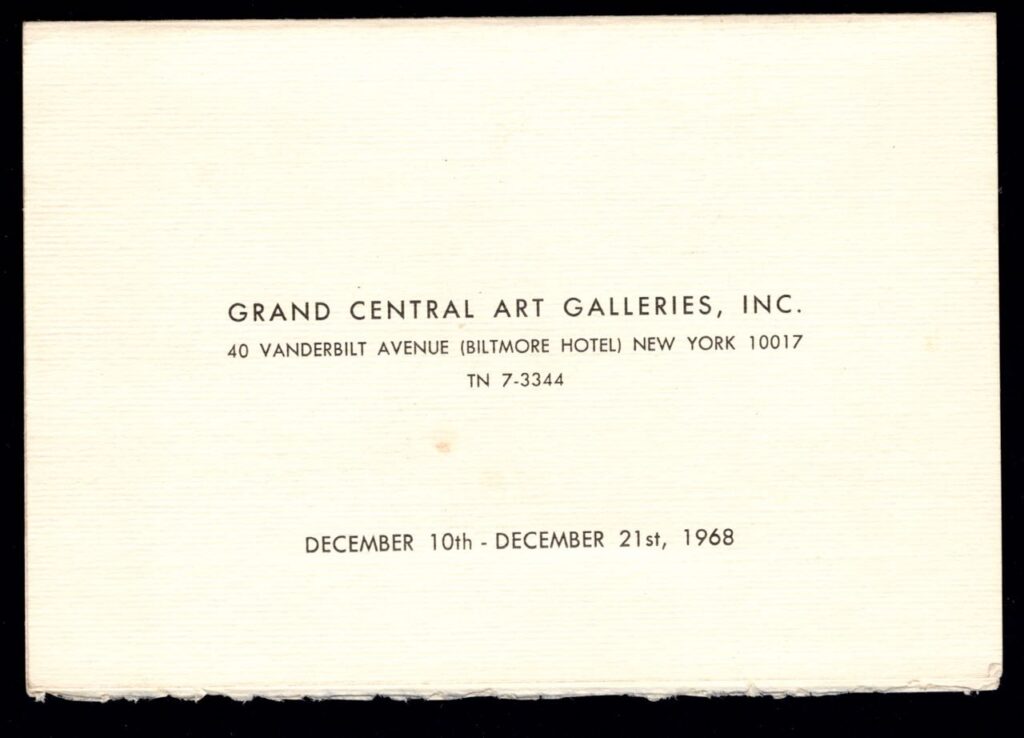 In 1958, Grand Central moved to the location listed on the verso of the gallery invitation, above. Their space include an office and six exhibition rooms, where the organization remained until the Biltmore Hotel was turned into an office building in 1981.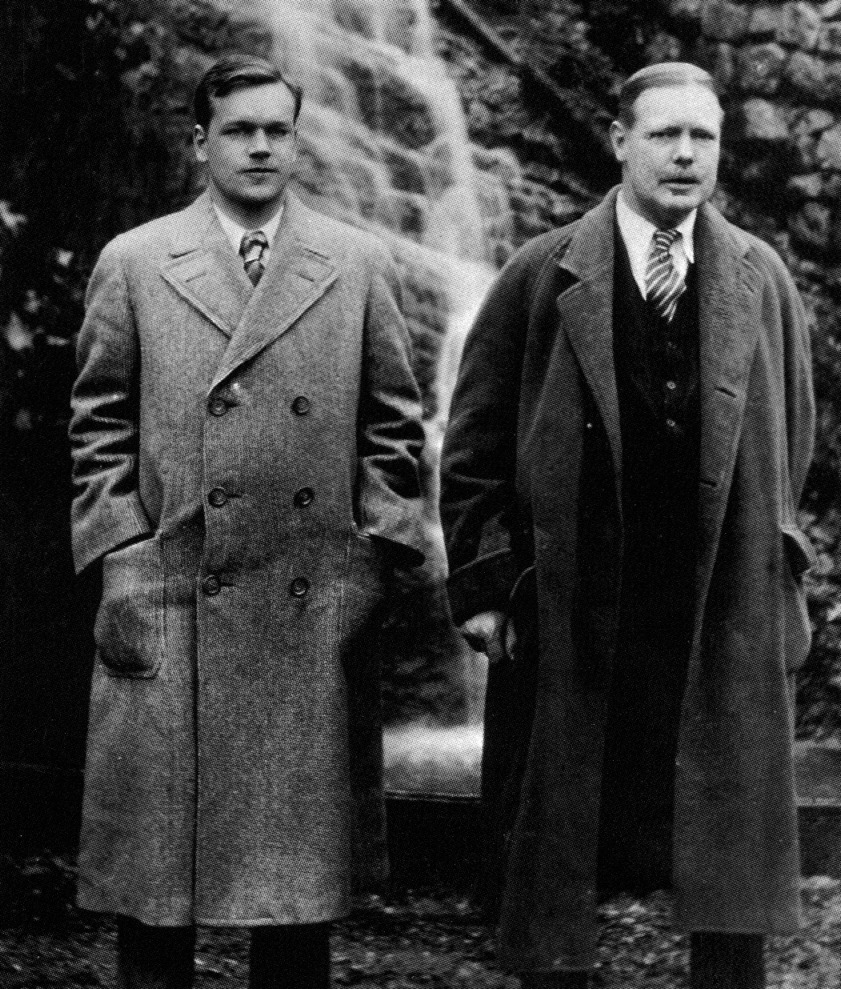 Pictured above: George Hinrichs, Sr., at right, with Everard Hinrichs (later Eric Sloane) at left. Eric bears a passing resemblance to actor Matt Damon in this photo. Taken in 1928 at Hot Springs, Arkansas. George was recuperating from pneumonia at the time. Eric's father would die less than a year later on the porch of Cedarcrest. From Aware: A Retrospective of the Life and Work of Eric Sloane by Wil Mauch.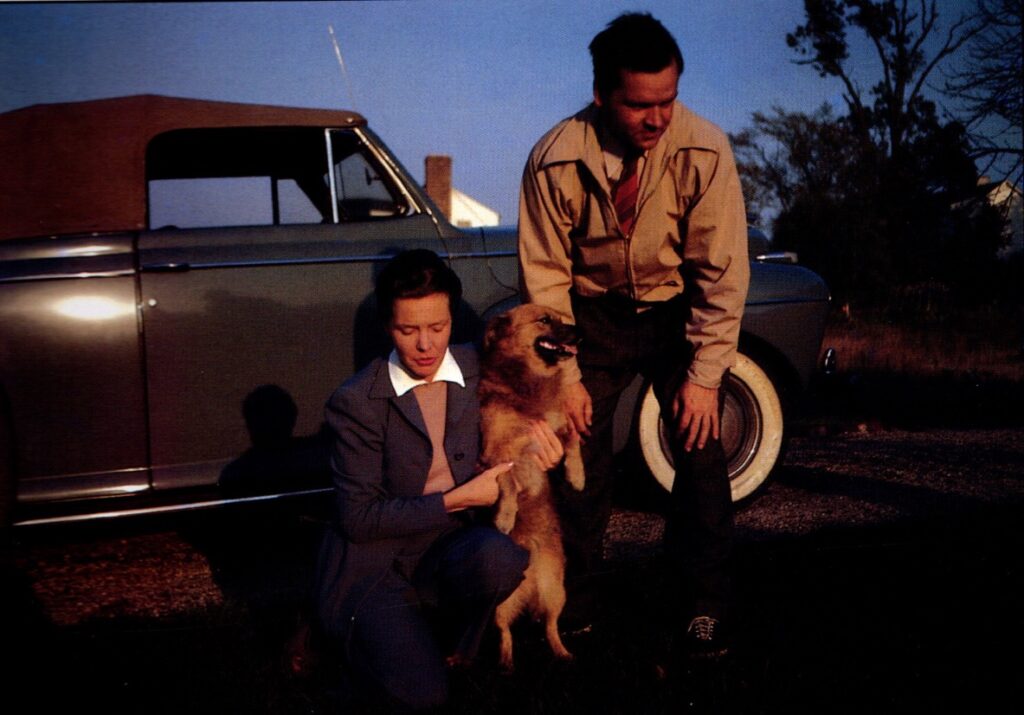 Eric Sloane with his sister Dorothy, c. 1941, at Eric's residence in Brookfield, Long Island.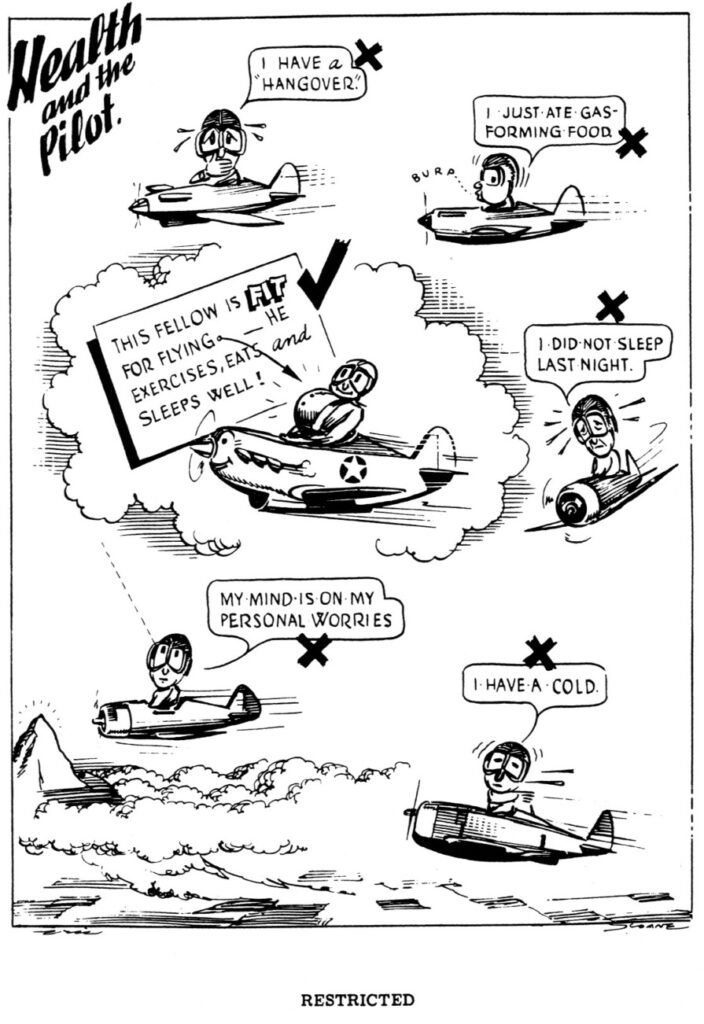 One of Eric Sloane's illustrations for Your Body In Flight (T.O. # 00-25-13), prepared by the Aero Medical Laboratory of Wright Field, Dayton, Ohio), published by the Air Service Command, Patterson Field, Fairfield, Ohio for the United States Army Air Forces, July 20, 1943. Eric Sloane's contribution to the training of pilots both informally just prior to the onset of WWII and formally as in this Army Air Forces manual, is often ignored. Eric Sloane contributed to two publications prior to the war that were used by civilian pilots as well as military recruits: Your Wings, by Assen Jordanoff (Funk and Wagnalls, May 1940) and Let's Fly: An ABC of Flying by Earnest Vetter ( William Morrow and Company, 1940). Sloane also authored and illustrated his own Clouds, Air and Wind (The Devan-Adair Company, 1941). During the war, Eric Sloane wrote and illustrated Camouflage Simplified (The Devan-Adair Company, 1942), Gremlin Americanus, A Scrapbook Book Collection of Gremlins (B.F. Jay and Co., 1943). While the latter title was meant to be humorous, it was both quite an effective remainder of the dangers that faced pilots, as well as a probably much needed break from the military training manuals. During the war, Eric Sloane also contributed to Junior Aviation Science (by D.H. Grimm, Noble & Noble Publishers, 1942) and to at least one other publication for the Army Air Forces, Pilot's Information File (1943, the Army Air Forces).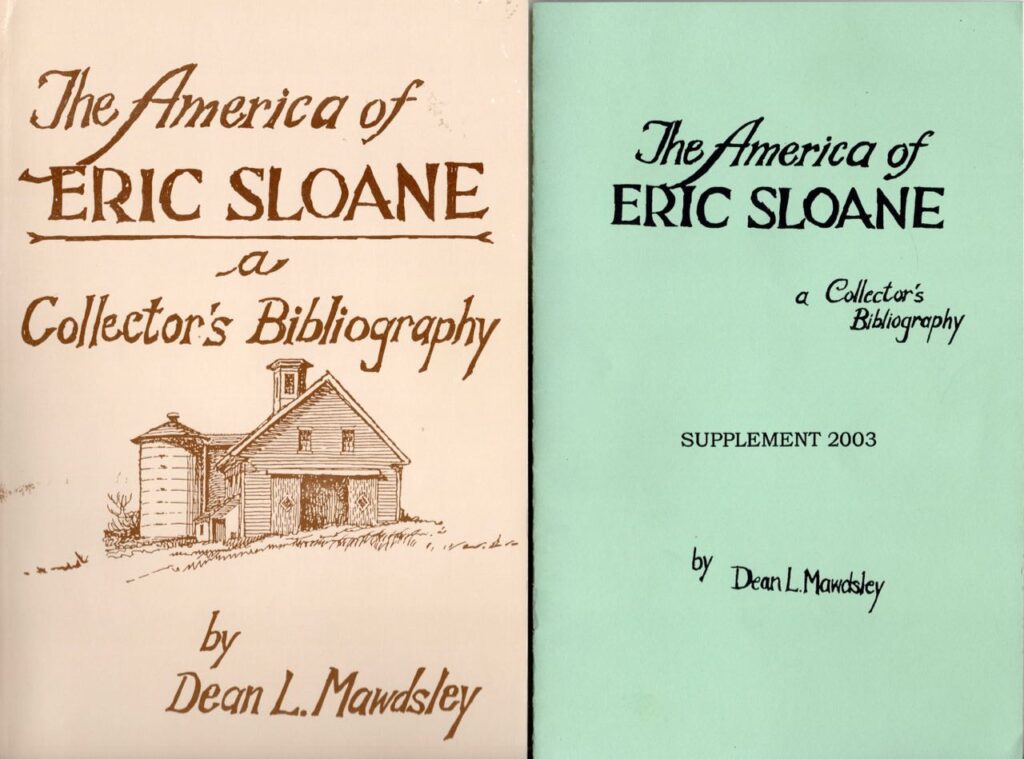 An excellent resource on the titles and articles penned by Eric Sloane over the course of his long career, The America of Eric Sloane A Collector's Bibliography, written by Dr. Dean L. Mawdsley, is an indispensable source of information. Be sure to obtain The America of Eric Sloane A Collector's Bibliography SUPPLEMENT 2003, as Dr. Mawdsley updated his original work to include newly discovered works by Eric Sloane. Both were printed by the Connecticut Historical Commission, in 1990 and 2003, respectively.
A few years ago we were able to pull sound from an old recording of Eric Sloane.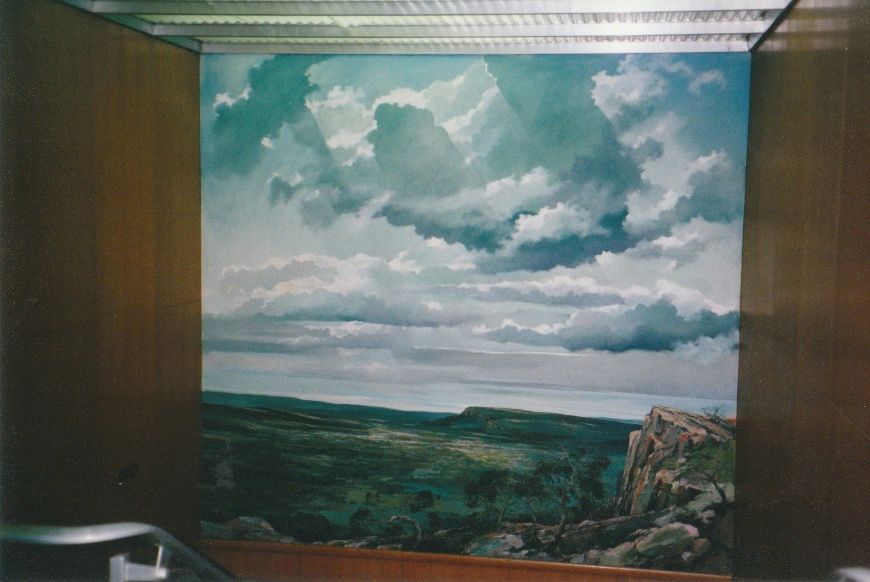 Over the course of his career, Eric Sloane painted many murals. Quite a few were in private homes, many others were in corporate settings (see An Artist Recalls America's Heritage, above, for Eric's work in the president's office of Morton Salt). These photographs were taken by Wil Mauch in 1999/2000 of a Sloane mural in the headquarters of the now defunct International Silver Company, Meriden, Connecticut.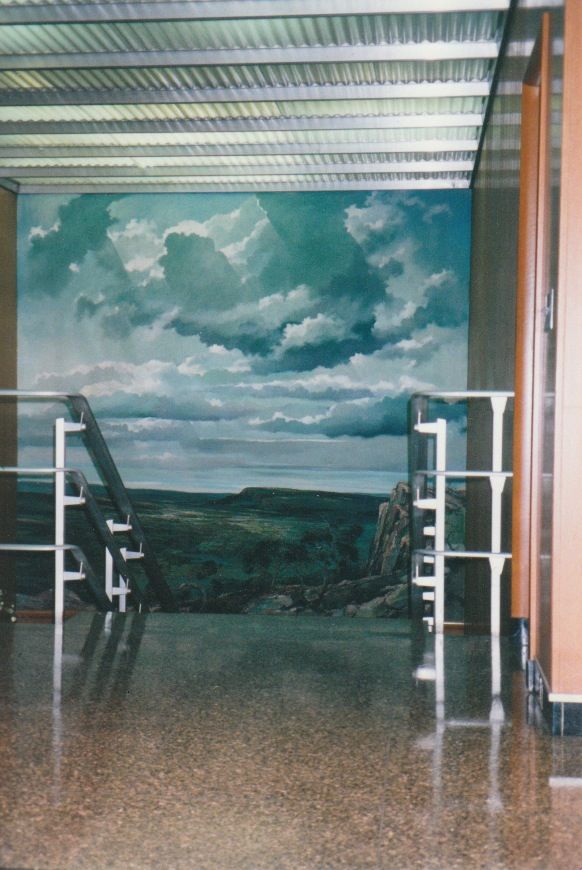 Imagine walking to and from your office every day and passing a large Eric Sloane mural.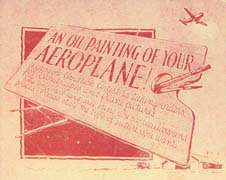 This is a rare business card enclosure created by Eric Sloane, who, as "…a capable aviation artist is taking orders for cloudscapes and plane pictures. The enclosed card will being you particulars and prices. Please state the type of picture you want." We have yet to see what exactly was placed inside of this card holder, but this is the first of six we have had in the gallery, all affixed to Eric Sloane paintings of the late 1930s.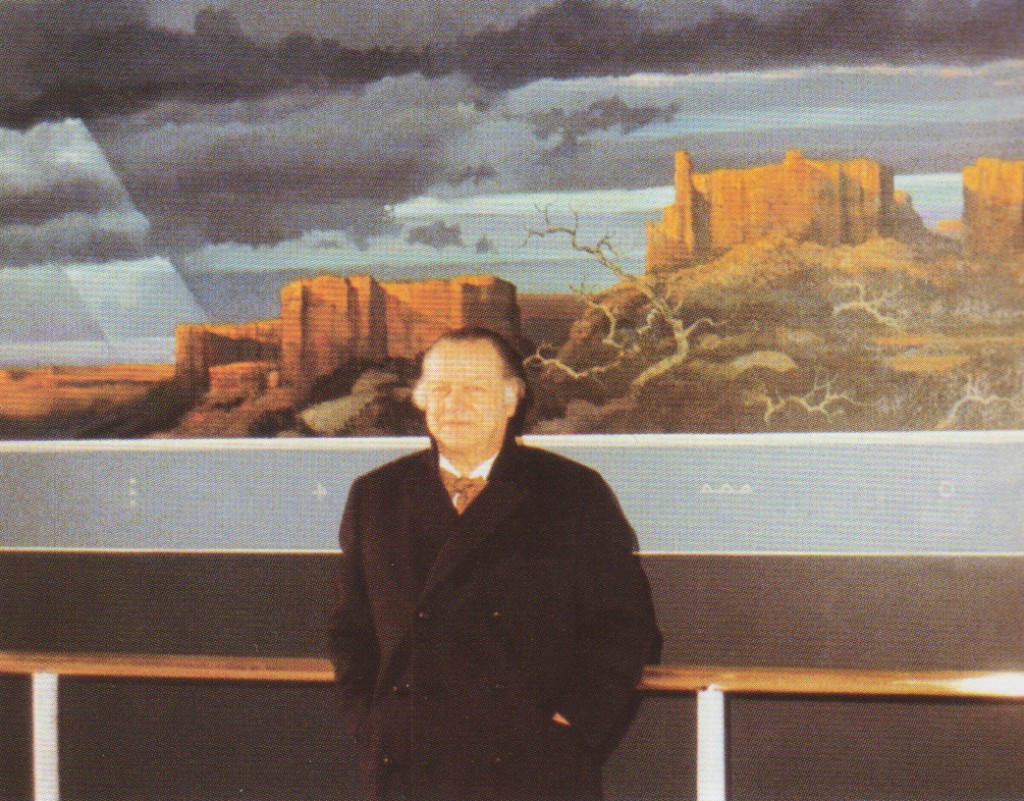 Eric Sloane in front of the mural he created for the Independence Avenue lobby entrance of The National Air and Space Museum.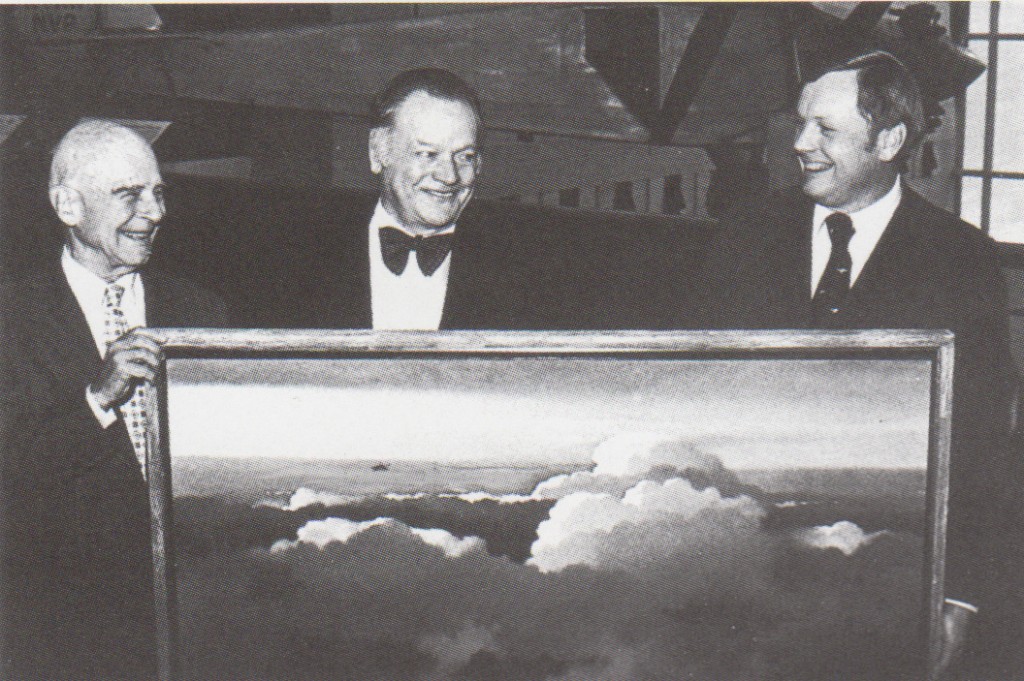 Jimmy Doolittle, left, Eric Sloane, center, and Neil Armstrong pose with the artist's painting Alone. Alone was Sloane's depiction of Charles Lindberg's heavily modified Ryan M-2 aircraft "The Spirit of St. Louis" as it flew above the Atlantic on May 20/21, 1927. Alone was presented to the museum by Eric Sloane on the occasion of the 50th anniversary of the crossing. Notice "The Spirit of St. Louis" suspended from the ceiling in the background, installed in the Milestones of Flight Gallery of The National Air and Space Museum in Washington, D.C.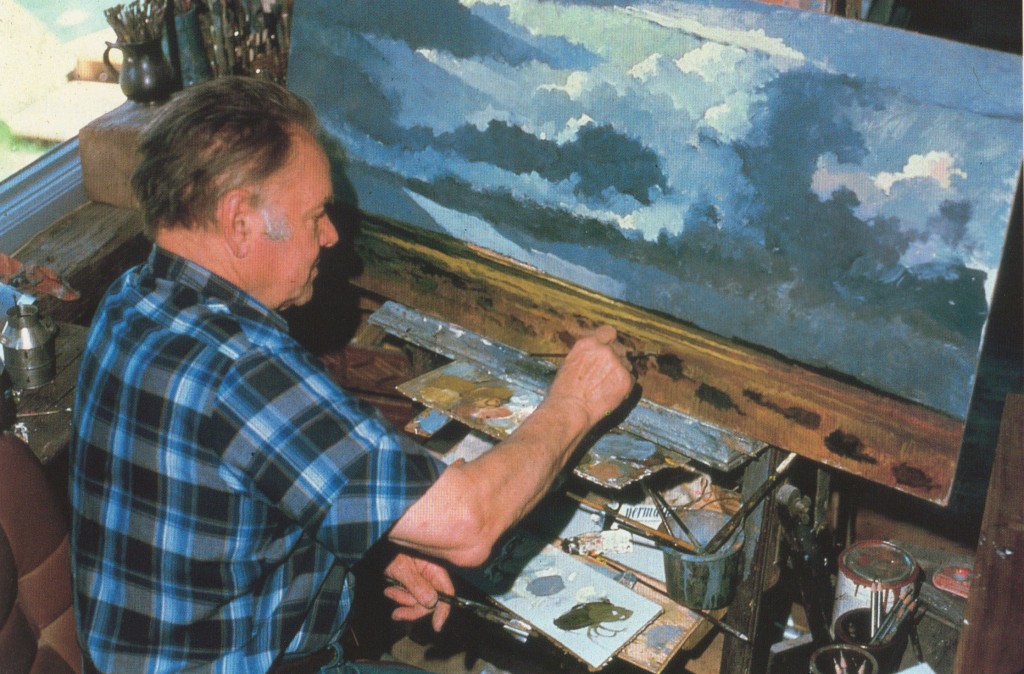 Eric Sloane at work at his Carter Road studio in Warren, Connecticut. You'll see straight away that Sloane re-purposed ends of primed masonite for his multiple palettes. A quart can of oil or latex 'barn red' paint (not artist paint) is visible at bottom right. His composition is about 65% complete. Eric will work more on the sky to give it greater depth and atmosphere, as well as providing more detail to the land. You can readily see that it will be a stunner when completed.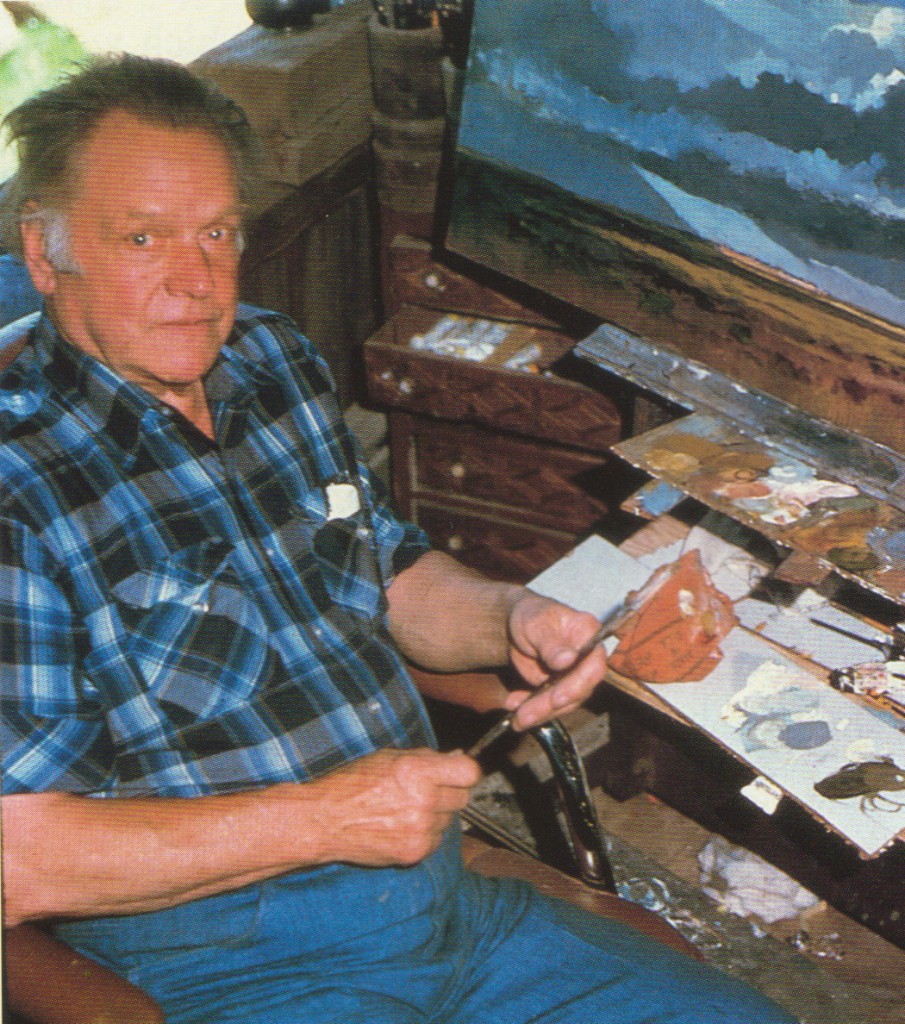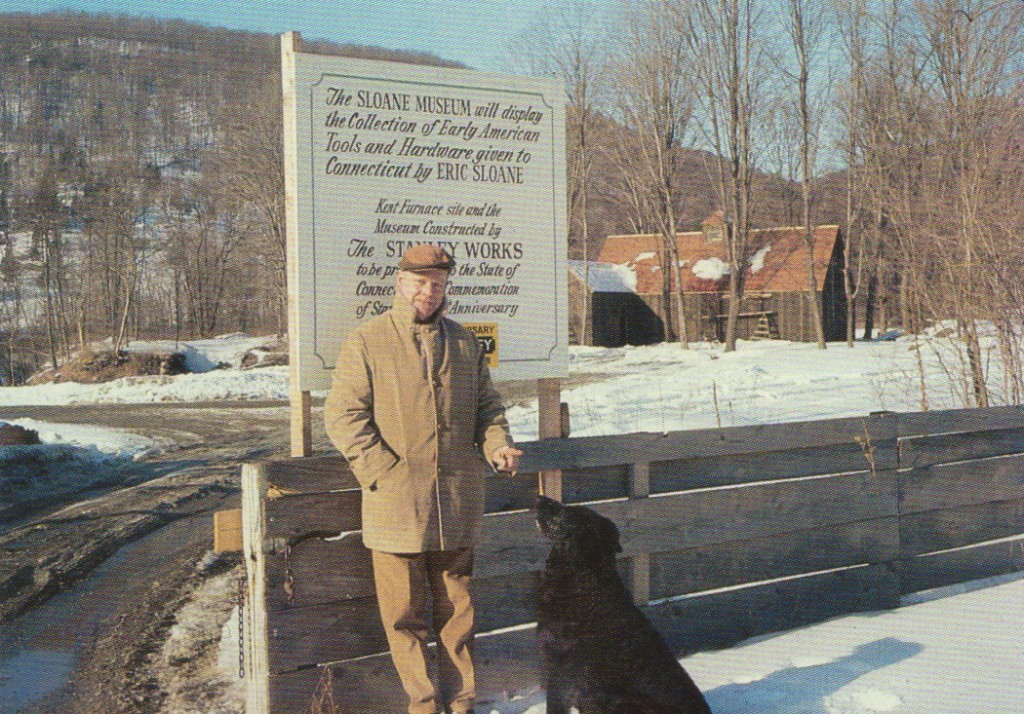 Eric Sloane and "Spooky" in front of the Eric Sloane Museum likely January of 1969. Note that the sign reads "The Sloane Museum". By the time the invitation for the May 28, 1969 dedication of the museum, the name had changed to "The Sloane-Stanley Museum". When and how that name was changed is unknown.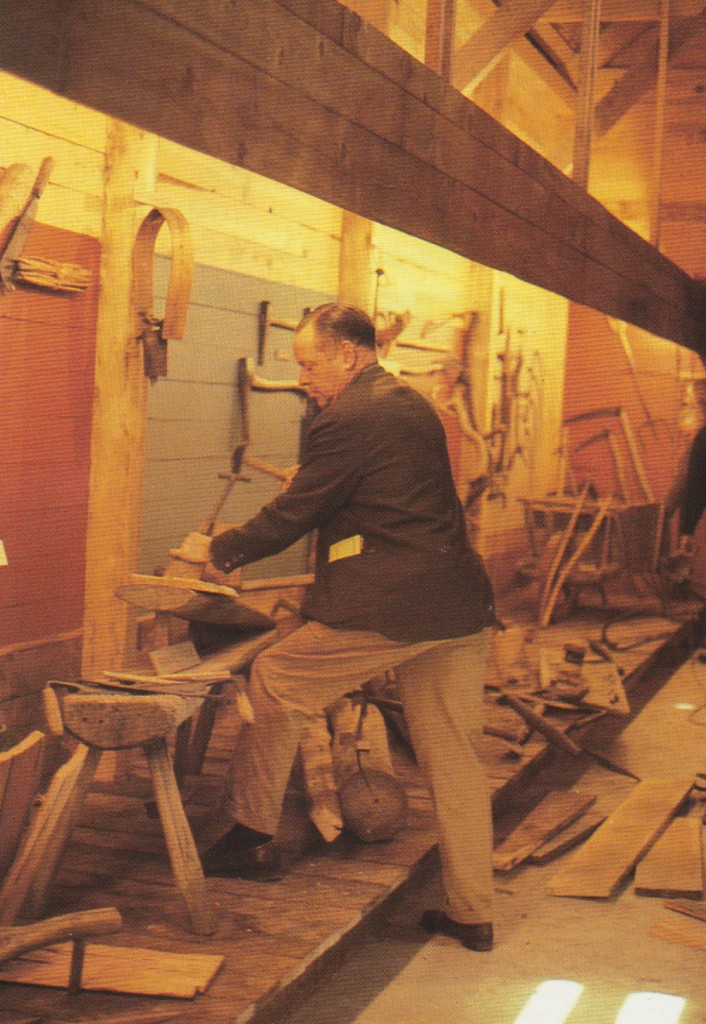 Press photo of Eric Sloane working on an installation in the museum, spring of 1969.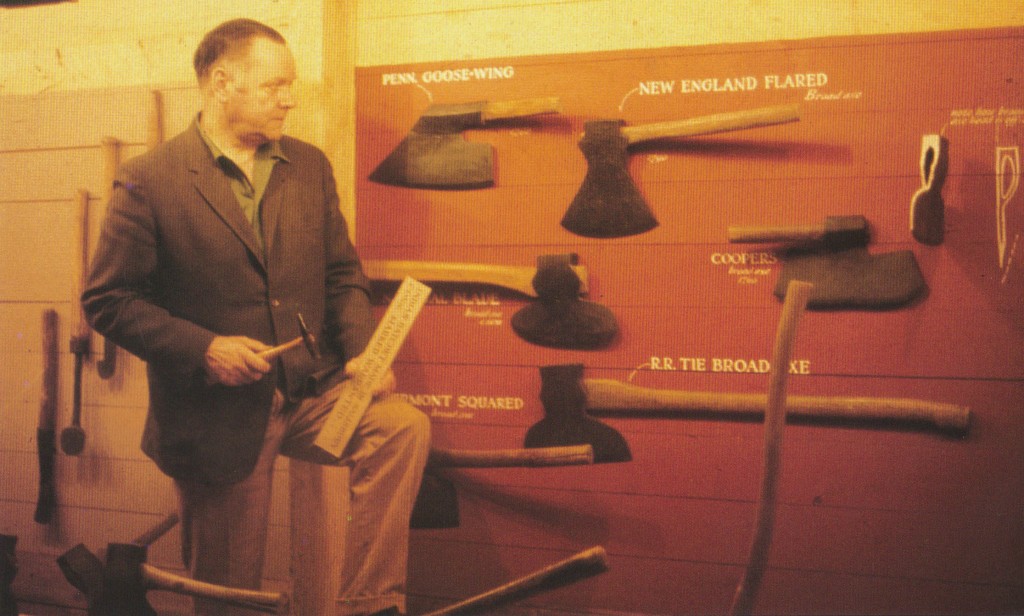 Press photo of Eric Sloane on the same day (notice he is wearing the same clothes as in the previous photograph). This installation of differences in broadaxe designs appear much more finished than the exhibit in the previous photograph.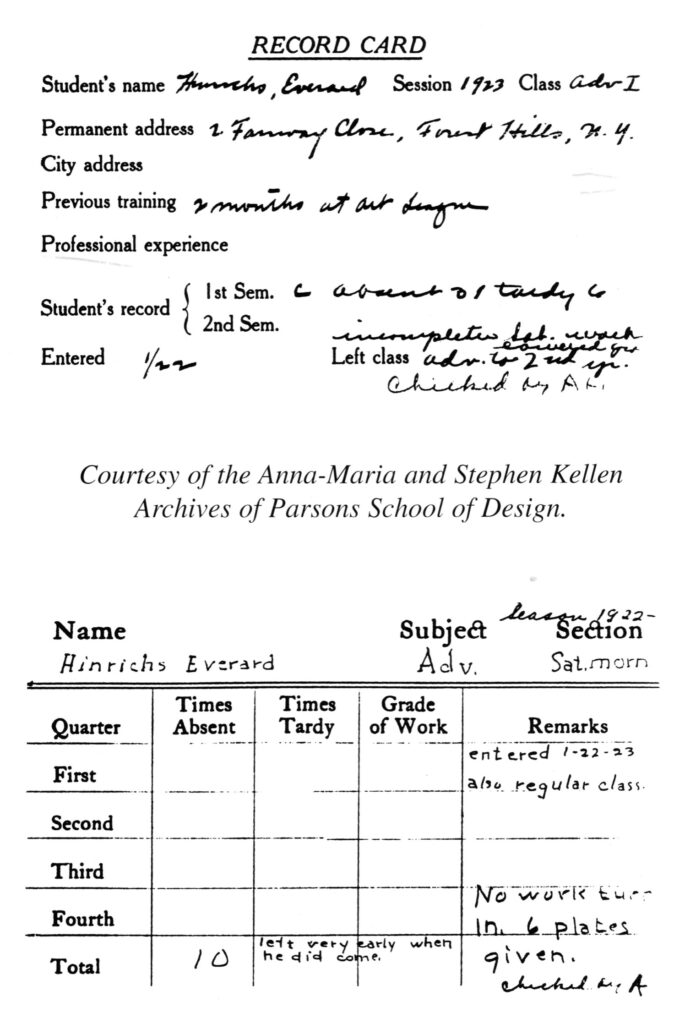 Eric Sloane's (Everard Hinrichs) 1923 Record Card and grade report card for Advertising class from the New York School of Fine and Applied Art. One gets a sense that Eric wasn't taking his studies very seriously…
This photograph above appears to be an organized tour of Eric Sloane's house and studio, a tour that was organized thorough the recently opened Eric Sloane Museum. You can see how Eric would decorate much of the space – including the walls – with early American tools and crafts.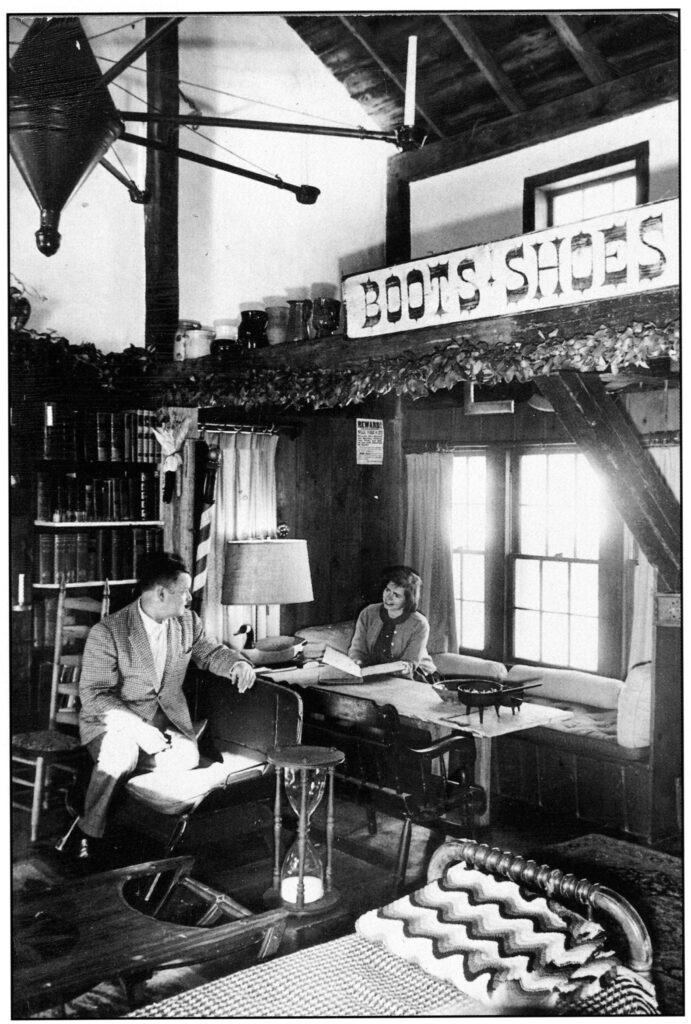 Another interior view of the Sloane home. Eric's wife at the time, Ruth, is pictured at right. If you look closely, you'll see that Eric is seated on a buggy or sleigh seat.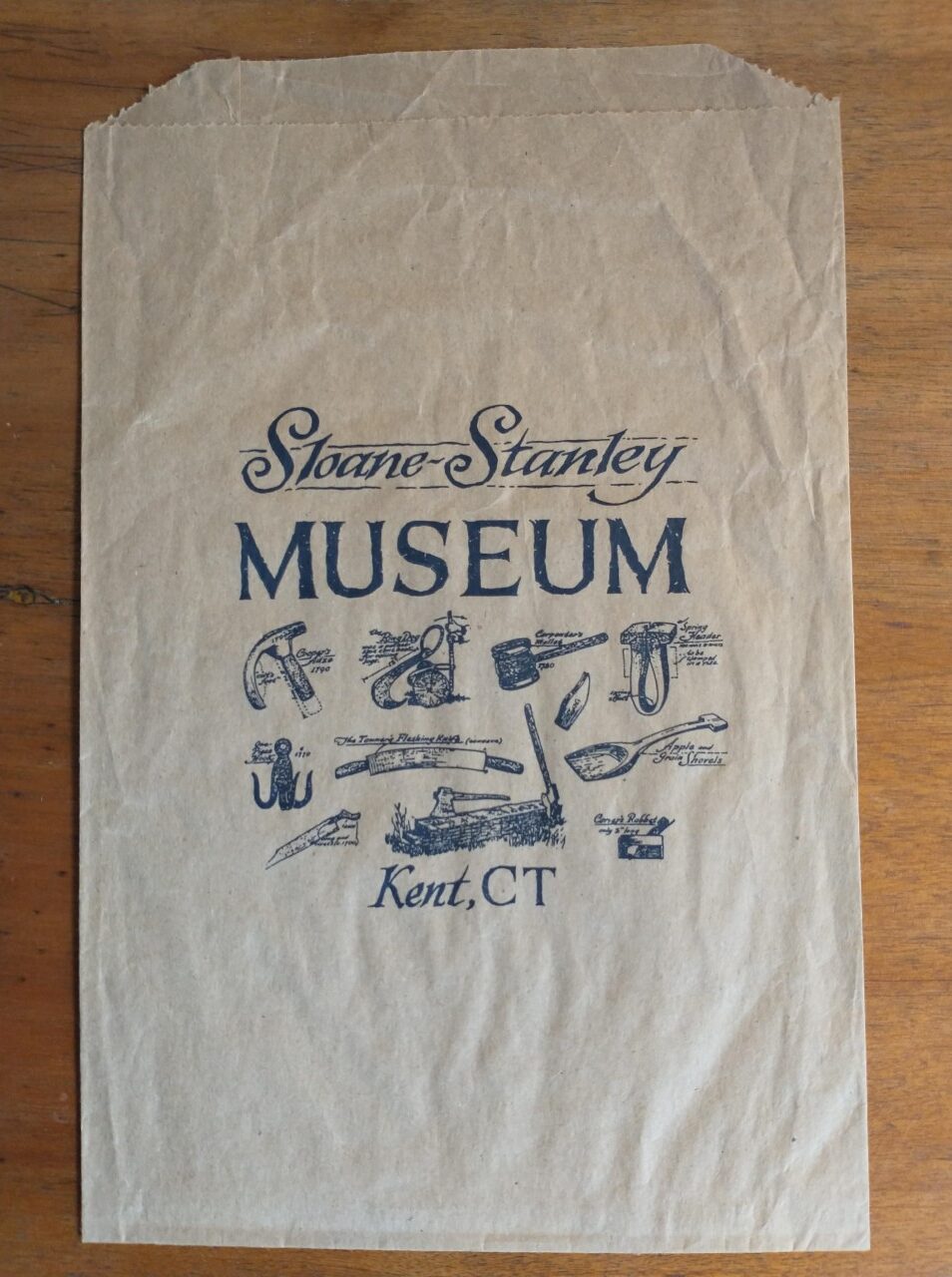 Charming bag used by the Sloane-Stanley Museum (as it was called at the time), c. 2000-2011.