Welcome to the online version of the gallery @ Weather Hill Farm. Due to the fluctuating nature of our business, we often have many more illustrations and paintings by Eric Sloane than pictured throughout this website. We strive to bring to our clients unique and unusual items as well as "new to market" paintings of exceptional quality to appeal to the discriminating collector. We sell those works by Sloane which represent the highest levels of his skills, works in which we have the utmost confidence in the quality, condition, emotional impact, and current and future value. We encourage you to visit and browse our selection in a unique and relaxed environment and we always welcome your questions. For more information on any of our offerings, please feel free to email us or to call us at 570-204-2906. We would be pleased to help you.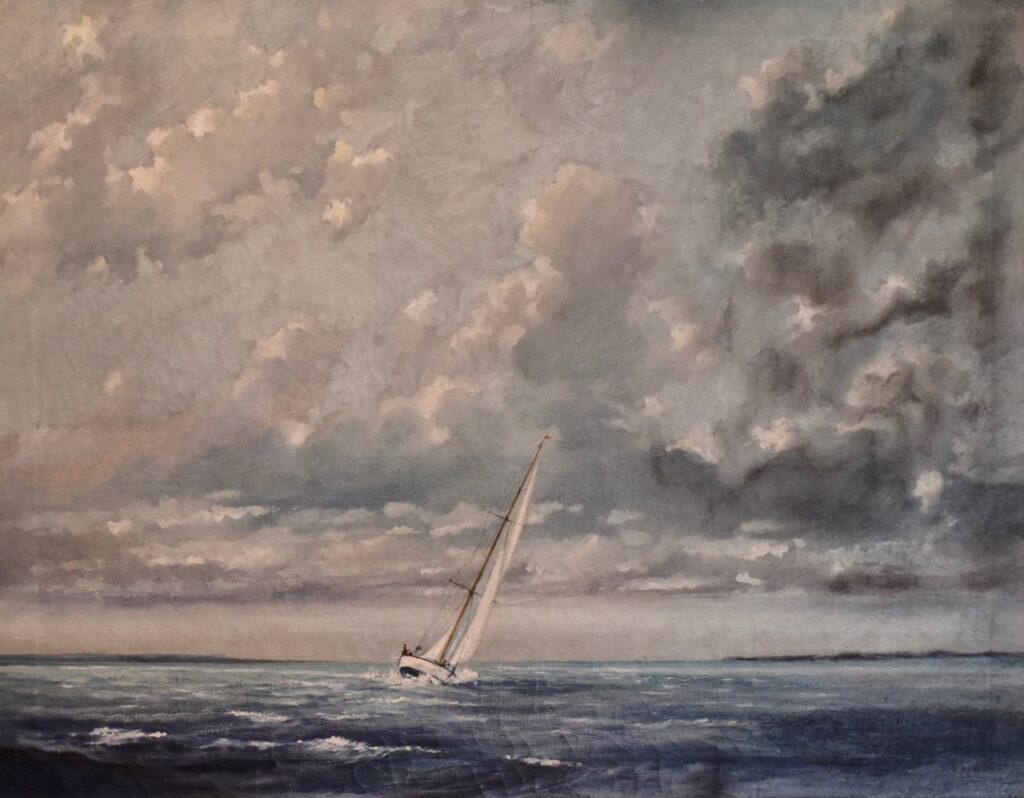 Pictured above – A West Wind by Eric Sloane, N.A. Bold and dramatic oil on canvas, a relatively rare choice of surface for Sloane. Re-framed in a elegant, period-correct frame. Approximately 27.5″ tall x 35.5″ wide; Framed dimensions: Approximately 32″ tall x 40.5″ wide. Please contact the gallery for pricing.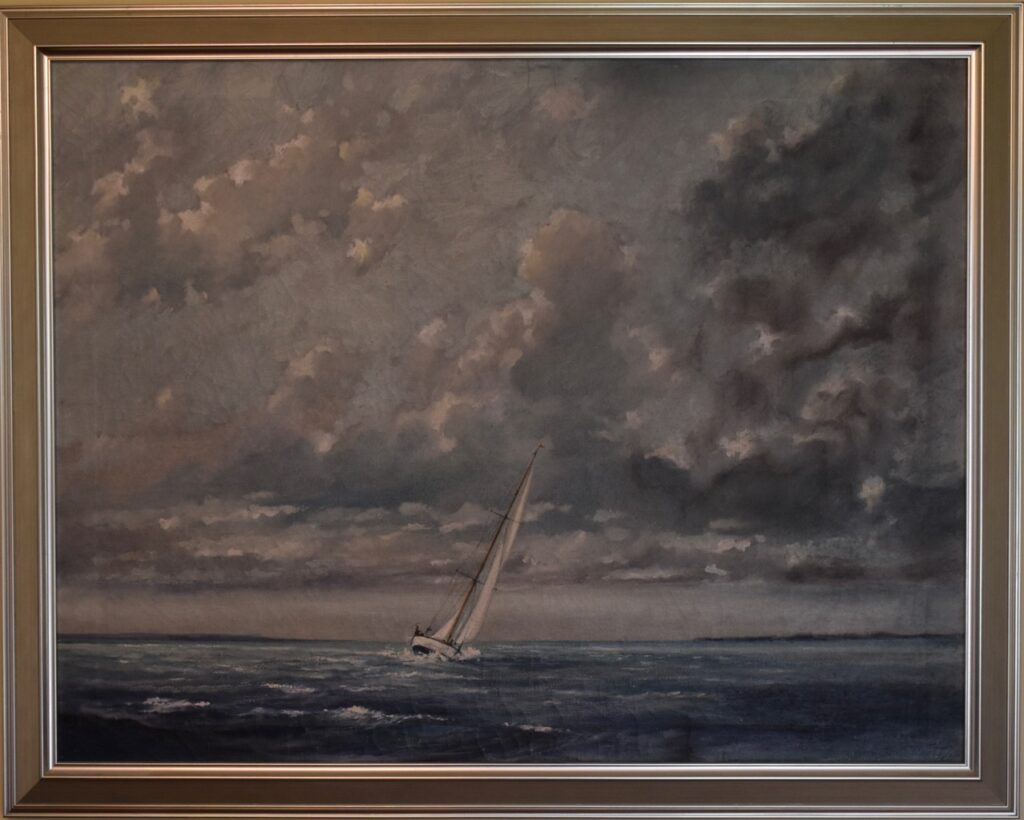 Good Will Flight by Eric Sloane, N.A. Original pen and ink on paper illustration, c. 1944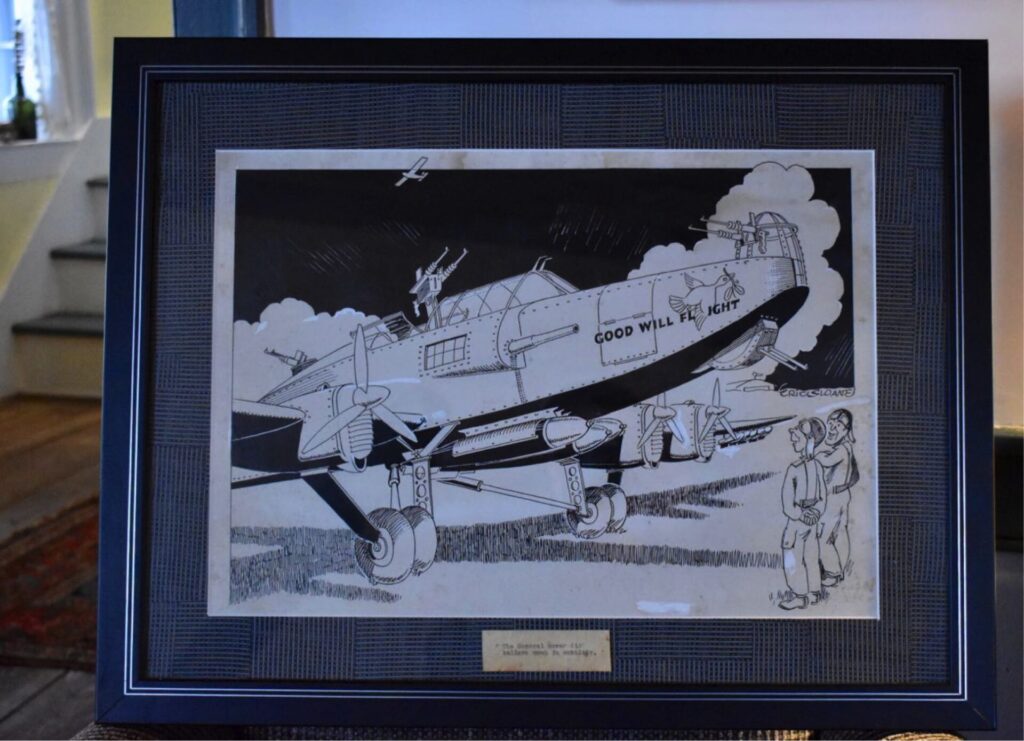 Humorous original pen and ink illustration by Eric Sloane, N.A., likely intended for a WW II-era magazine such as Pegasus or Air Trails. Most certainly Sloane drew this during the Second World War. The illustration depicts a comically armed medium range bomber, complete with fuselage art depicting a dove (the bird of peace) with an olive branch in it's beak and titled Good Will Flight. Two pilots stand looking over the aircraft, with one saying to the other "The general never believed in subtlety". Detail, Good Will Flight by Eric Sloane, N.A.: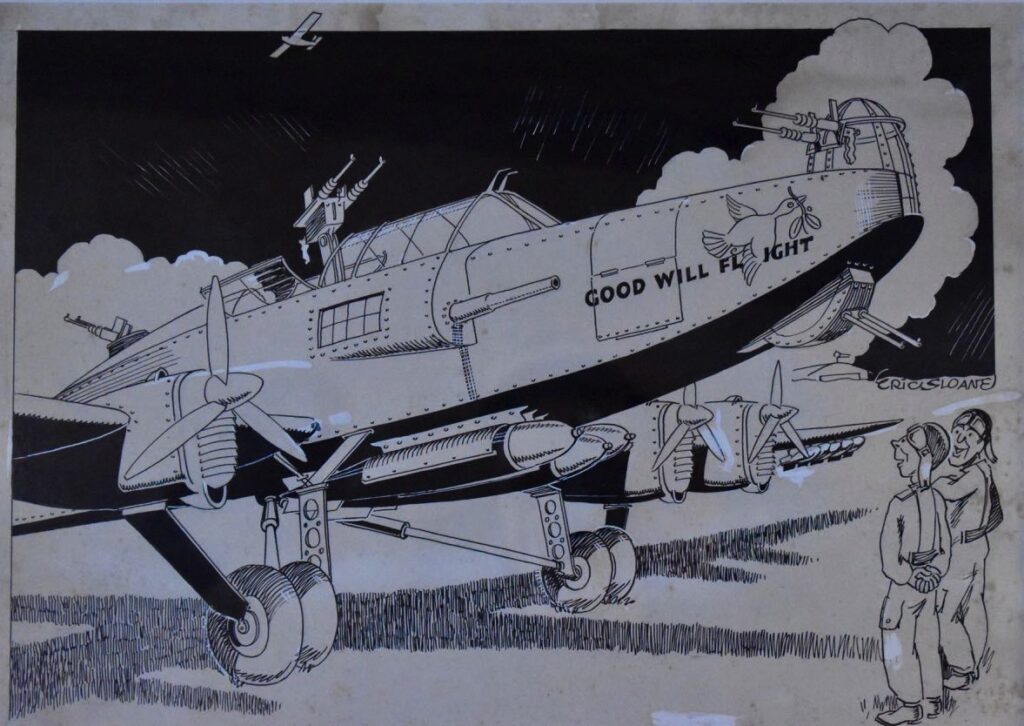 Exceedingly rare early airport map of Newark Airport, by Eric Sloane, N.A. While it is undated, several clues are visible. One is that there are no hangers on the airport property, only "proposed" hangers. Additionally, "Mayor Ellenstein" (Meyer C. Ellenstein) is listed amongst the prominent names – he was mayor of Newark from 1933-1941. The style of the illustration suggests mid-1930s, given what we know of Eric Sloane's early illustrations.
This is a print, likely struck in very, very small quantities as this is the only one I have seen in nearly 20 years of collecting, selling, restoring, and authenticating works by Eric Sloane. This map benefits greatly from an original pen and ink drawing by Eric Sloane, as well as his signature, lower right. Signed, inscribed, and with remarque "To Nat The Supe of the Joint from Eric Sloane".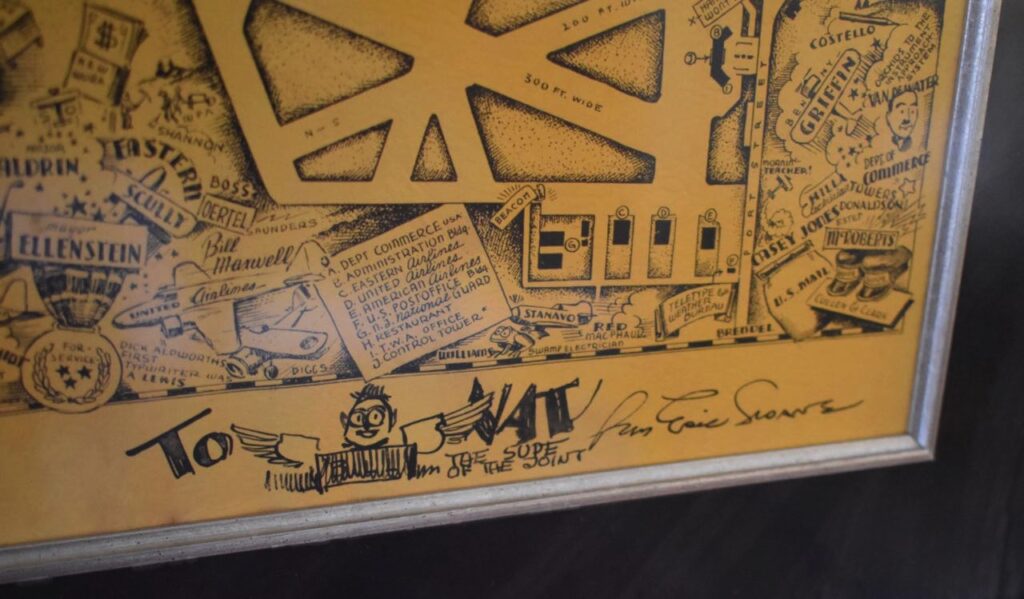 Image: Approximately 8.75″ tall x 10.5″ wide. Framed: Approximately 14.75″ tall x 16.75″ wide
Wonderfully framed in a very unique form. Matting is difficult to discern in the photograph – it shows silver swirling reminiscent of cirrus clouds. Under U.V. glass and ready to hang. Please contact the gallery for pricing information.
Late Autumn in Connecticut by Eric Sloane, N.A..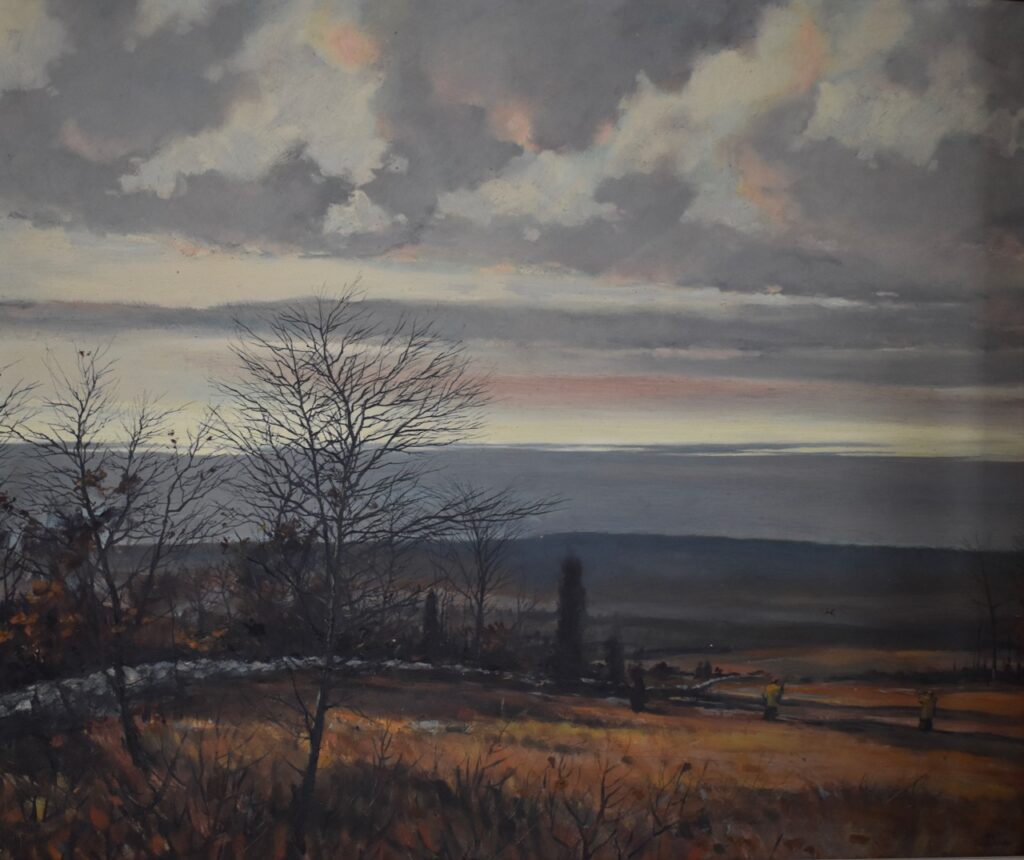 Pictured above is our latest offering, one that has been in our consignor's family since it was originally purchased directly from Eric. It has never been offered for sale until now. Wonderful choice of palette, the sky appearing particularly well rendered. Housed in its original frame. Approximately 19.5″ tall x 23.25″ wide.
Original illustration entitled Closing Fast, Republic Guardsmen by Eric Sloane, N.A..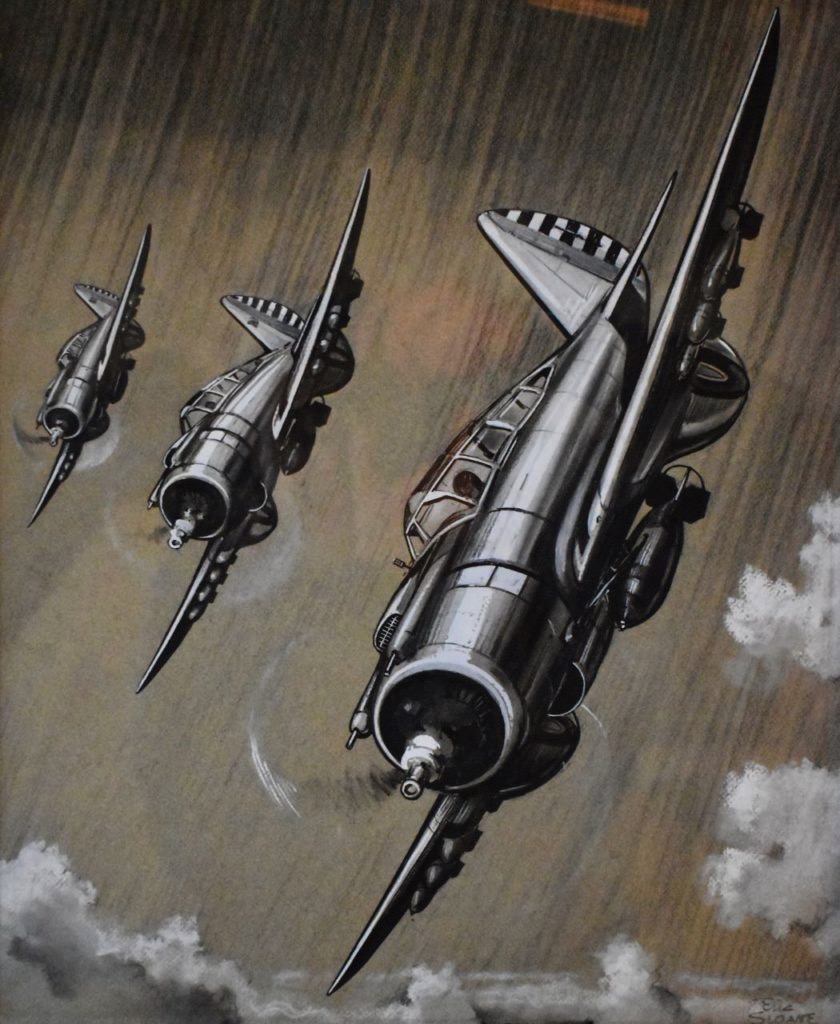 Closing Fast, Republic Guardsman by Eric Sloane, N.A. C. 1945. Pen and ink, gouache and colored pencil. Wonderfully detailed pen and ink (the most detailed I have ever seen) of three Republic Guardsman aircraft in a diving formation. Fantastically bold and dramatic, the sense of speed and movement is palpable. In exceptional original condition. In all new modern gunmetal gray steel framing, including acid free materials and museum UV protective glass. Image size approximately 16″ tall x 13.5″ wide. Framed dimensions approximately 22.5″ tall x 19.5″ wide. Please contact gallery for pricing.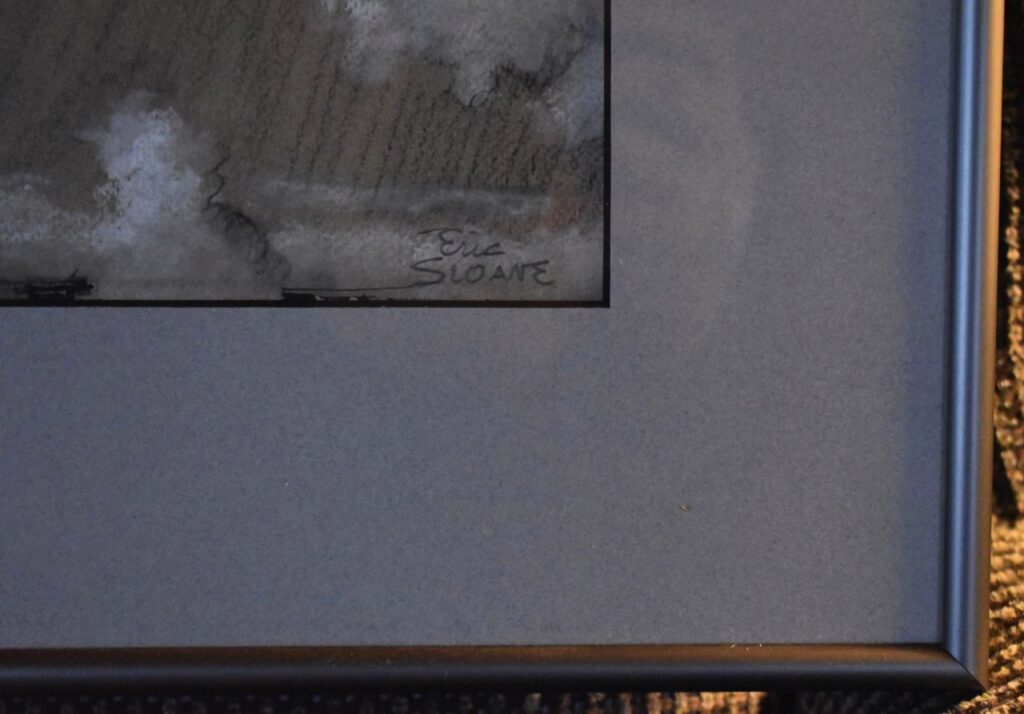 Pictured, below: Spring House by Eric Sloane, N.A. Uncommon print with an original, hand signed signature by Eric in his typical red marker. In very good condition with acceptable frame. $75.00.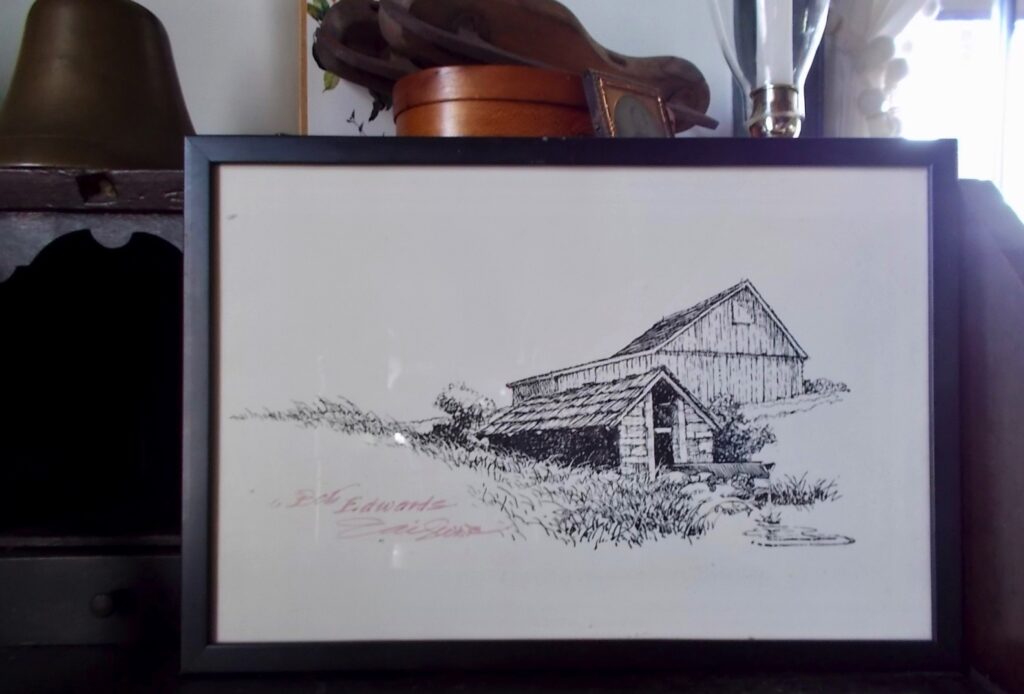 Pictured, below: Fantastic "trinket tray" by Delano Studios of Long Island, N.Y. Eric Sloane designed dozens of illustrations for Delano to use on their enamelware cookware line, for luncheon and dinner plates, and for unique items like this tray that commemorated the 50th anniversary of Parker & Co. International, an aviation insurance company. Hand colored and charming illustration by Eric Sloane specifically for this tray. $50.00.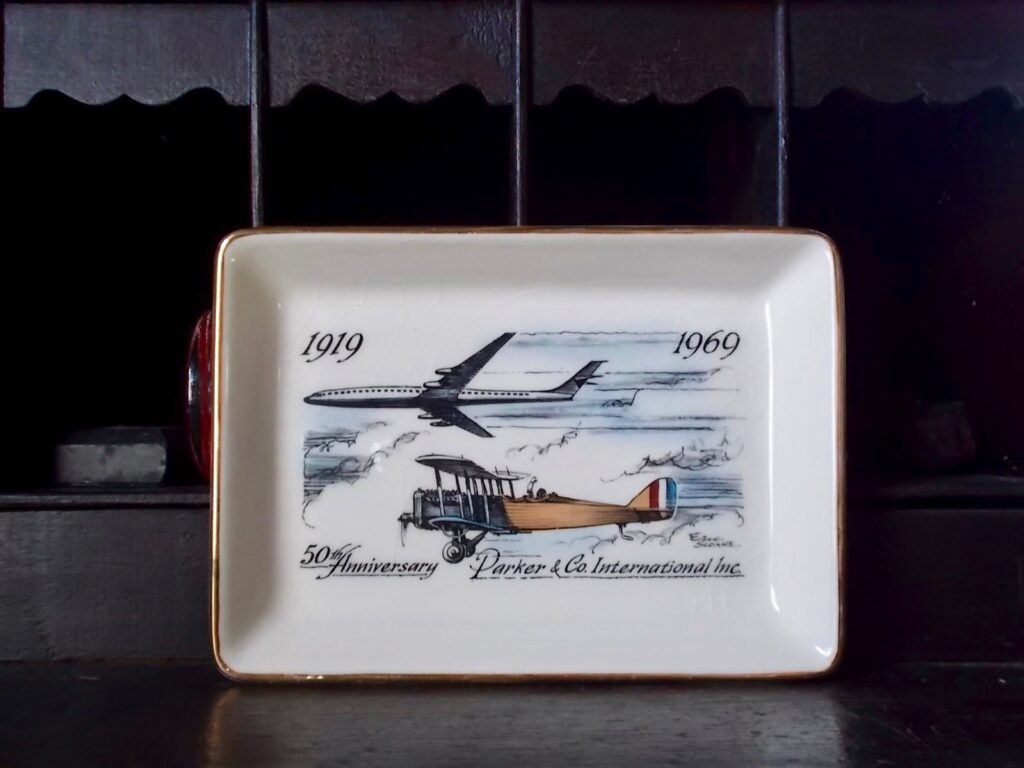 Pictured, below: A wonderfully charming original pen and ink illustration by Eric Sloane, N.A., entitled Often the Woodshed was larger than the School House. This is the original illustration by Sloane that can be found in his 1972 book The Little Red Schoolhouse, A Sketchbook of Early American Education. Newly framed and double matted, using all acid-free materials and UV glass. Illustration measures approximately 13.5″ wide x 10.5″ tall. Framed dimensions are approximately 19.375″ wide x 16.5″ tall. Please call the gallery for pricing.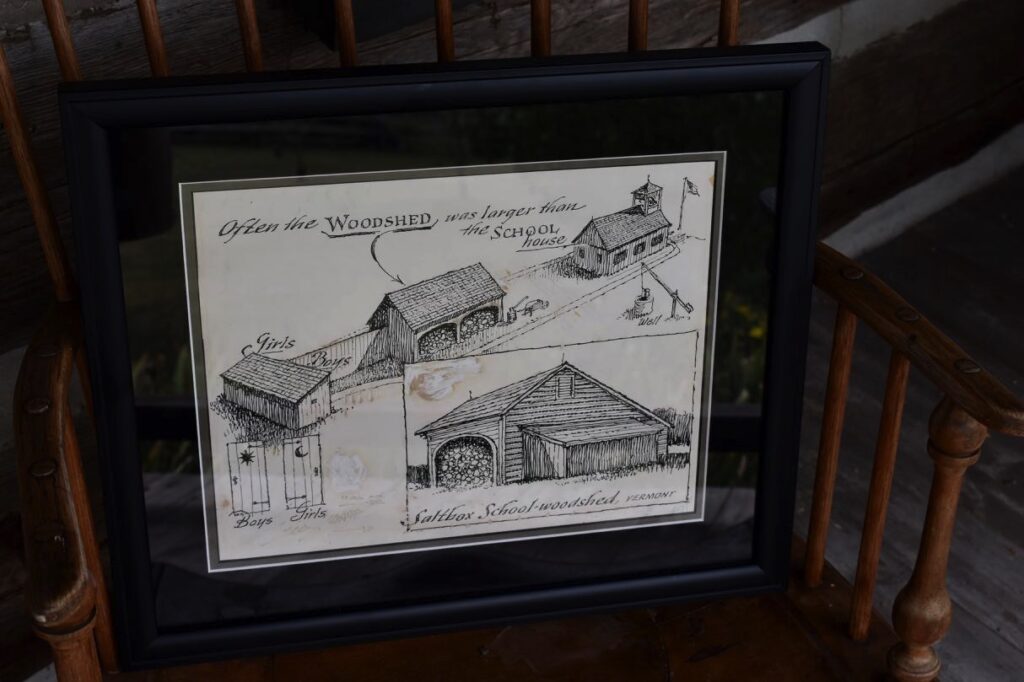 Pictured, below: Pennsylvania Barn Hoods by Eric Sloane, N.A. Original pen and ink illustration appears on page 33 of Eric Sloane's Recollections in Black and White (Walker and Company, New York, 1974). Extensively re-framed using acid-free materials and placed under U.V. glass, this charming illustration is ready to hang in your home. A signed copy of Recollections in Black and White accompanies this delightful piece. Image approximately 6.25″ wide x 10.25″ tall, framed dimensions 12.75″ x 16.75″. Please contact the gallery for pricing information.