Fine art prints by Eric Sloane, N.A. are a fantastic way to enjoy the magnificent work of Eric Sloane at an affordable price. The Gallery @ Weather Hill offers a variety of prints by Eric Sloane, N.A. We carry unique, often difficult to find prints at very affordable prices. For Sloane collectors, condition is everything. Weather Hill carries prints by Eric Sloane that are in exceptional condition. When we frame an Eric Sloane print or original pen and ink illustration, we always employ acid free materials and rely on UV or conservation glass to help protect the artwork underneath. Everything that we sell is ready to hang in your home and will provide you with many years of joy.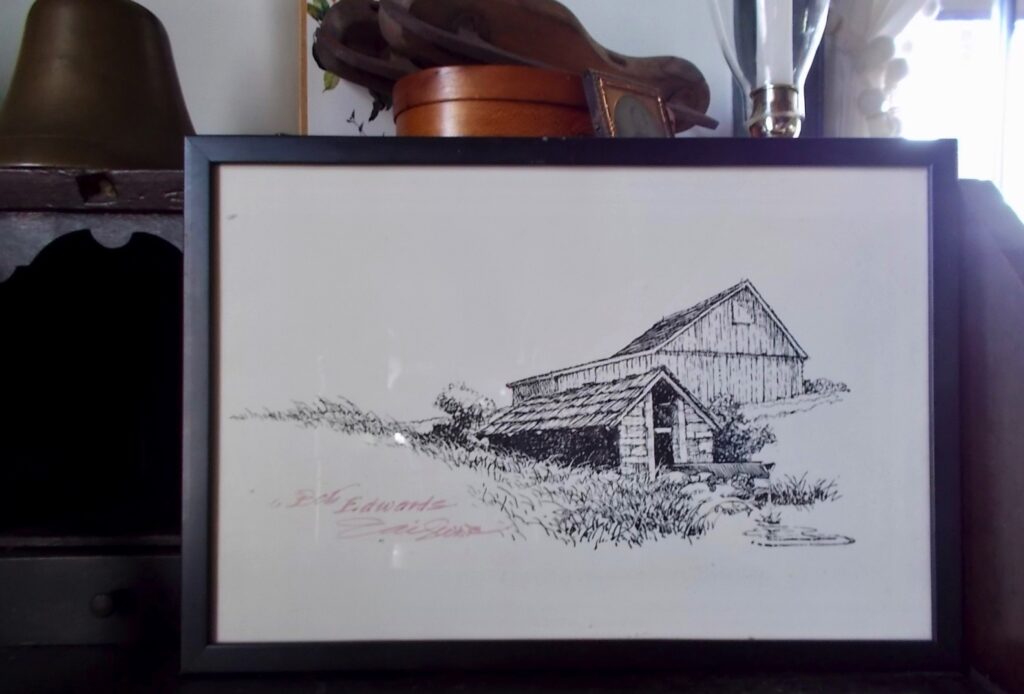 Spring House by Eric Sloane, N.A. 8.75″ tall x 13.25″ wide, 9.75″ tall x 14.25″ wide framed. Uncommon print inscribed and hand signed by Eric in his typical red marker. In very good condition with acceptable frame. $75.00.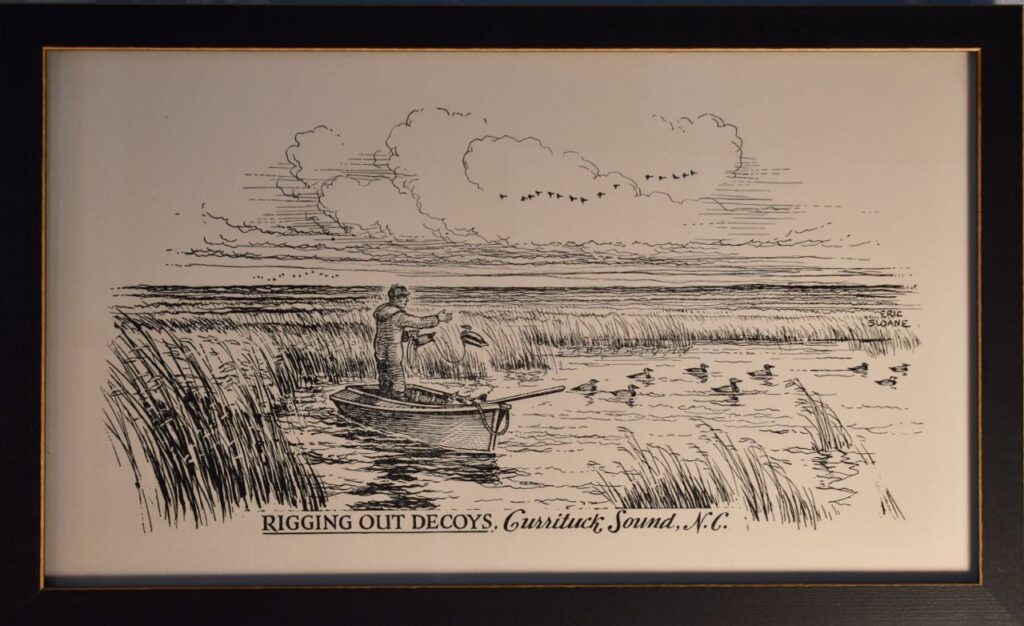 Rigging Out Decoys, Currituck Sound, N.C. by Eric Sloane. 8.5″ tall x 15″ wide, 10.25″ tall x 16.75″ wide framed. Very uncommon print, but not a standard print. Rigging Out Decoys, Currituck Sound, N.C. was created for a lampshade, part of a small series of lampshades that Eric Sloane illustrated for his sister, Dorothy. This particular image was made to be attached to a round metal lampshade frame to become a functioning lampshade for a lamp that included a series of color illustrations of ducks (I believe they were drawn by Dorothy) as part of the lamp base. I've only seen one of these lamps in person, and that is in Eric's recreated studio at The Eric Sloane Museum in Kent, Connecticut.
These shades and the lamps to which they were attached were made some time in the 1950s. They probably were carried at Abercrombie & Fitch's Madison Avenue, New York, store. The sixth floor of the establishment housed a bookstore an art gallery and a gift shop, Sloane's sporting themed-work being offered in all three venues. They were definitely carried by "The Crossroad of Sport", 15 East 54th Street, New York. Their 50 page catalog for 1954-1955 included two paintings by Eric Sloane – ""Lingaur Slopes, Austria – Skiing" for $425.00 and "Trout Fishing – The Smith Bridge Hole, Brandywine, Delaware" for $400.00 – and an entry concerning these lamps on page 47: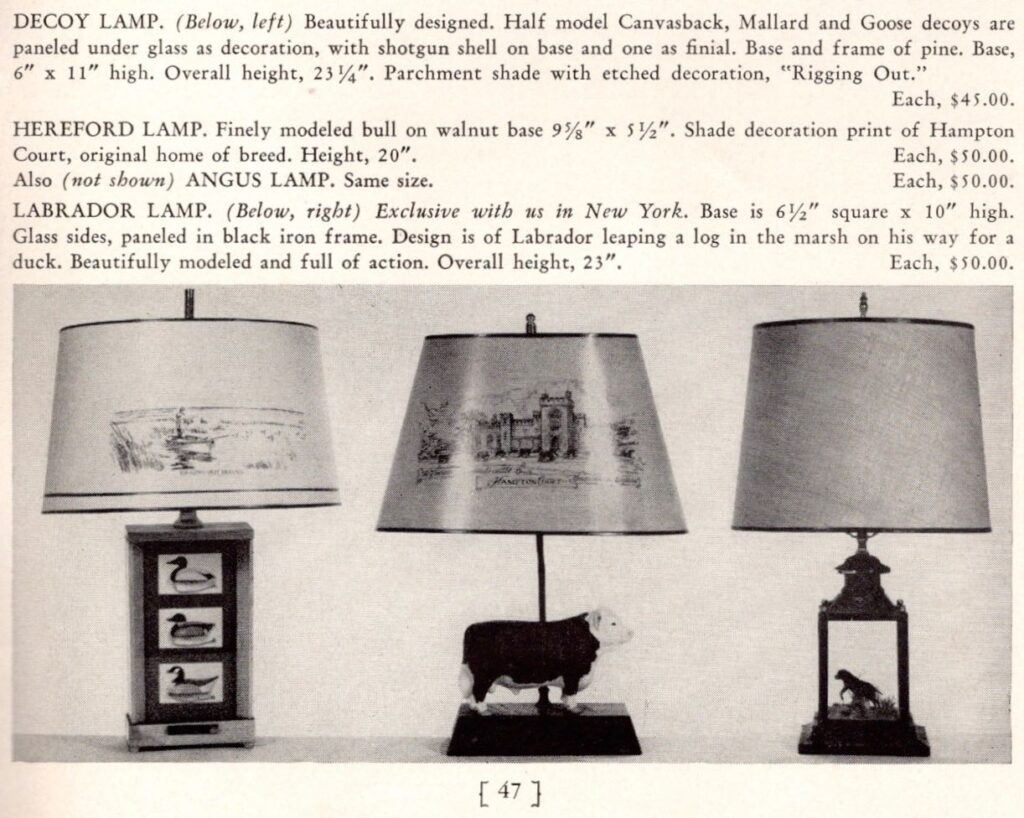 Rigging Out Decoys, Currituck Sound, N.C. is recently framed in a handsome, black wooden frame. In excellent condition with a wonderful bonus – the original print block used to reproduce Sloane's original illustration for the shade. Block measures 13.5″ wide x 7″ tall, pictured here: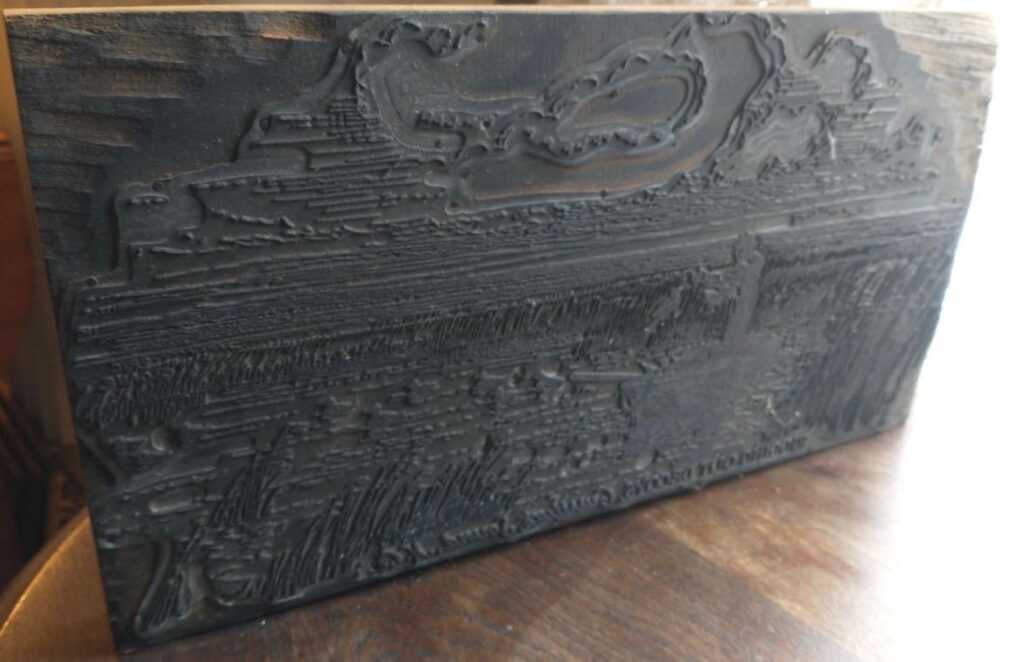 Rigging Out Decoys, Currituck Sound, N.C. by Eric Sloane along with the printing block used to print the illustration are offered together for $225.00.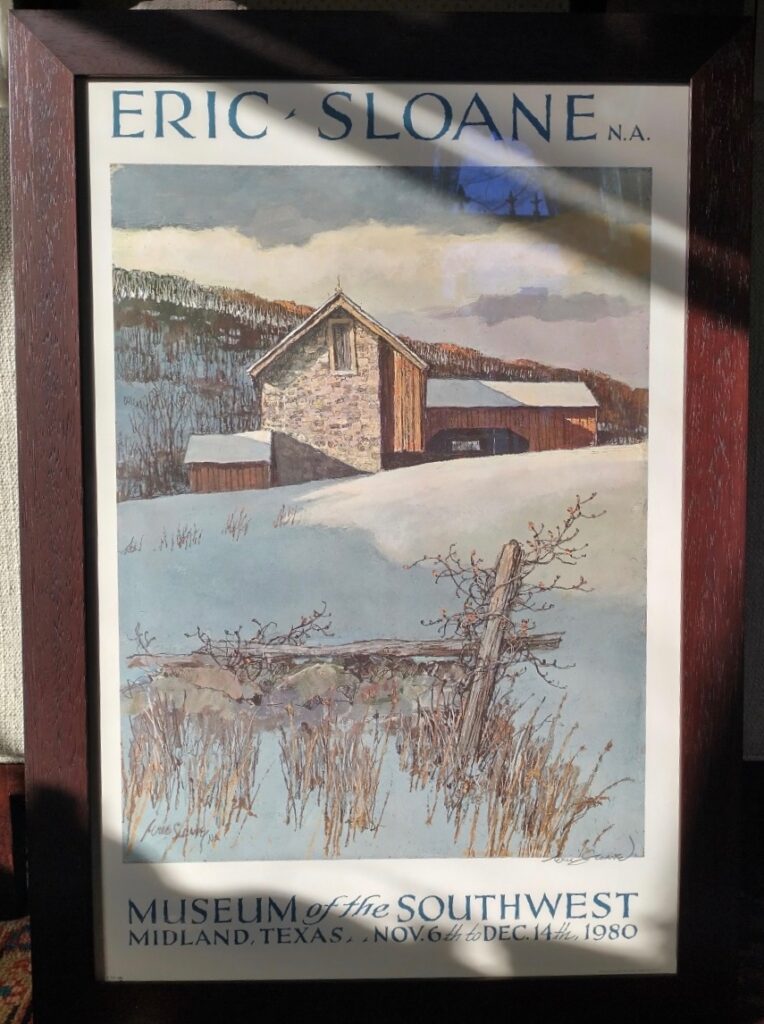 Eric Sloane, N.A. Museum of the Southwest. Promotional gallery collotype print for the Sloane's showing in 1980. Image 28.5″ tall x 19″ wide, 32.5″ tall x 22.75″ wide framed. Pencil signed, lower right. Purchased directly from Triton Press and stored in a flat file until recently. All acid free materials and under conservation glass, brand new (and gorgeous) wood frame. $425.00