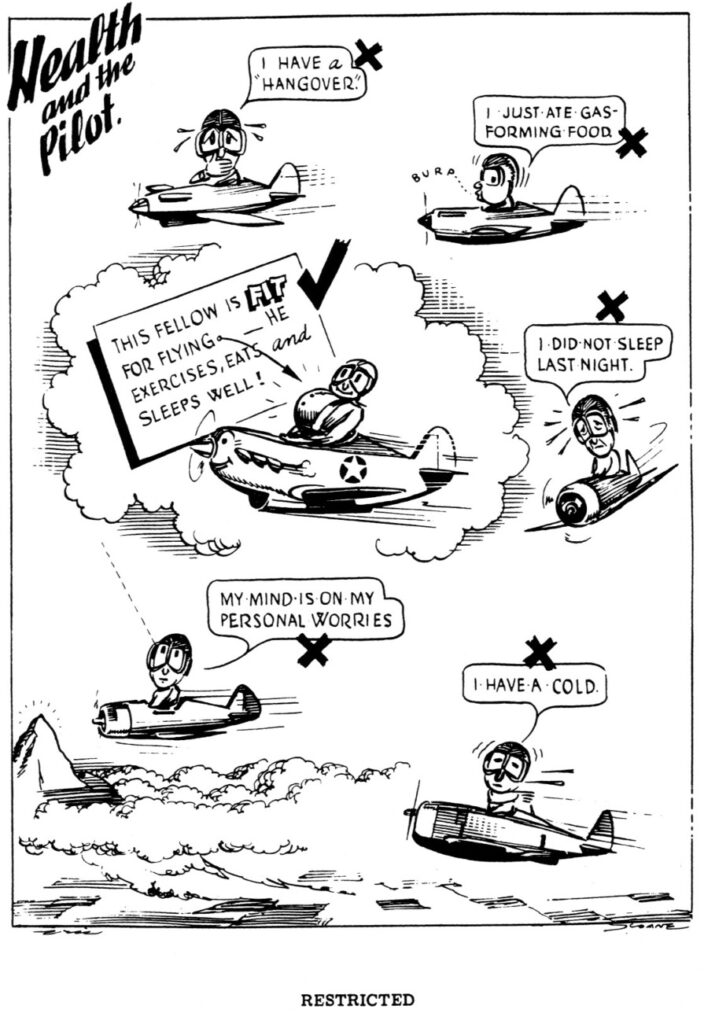 One of Eric Sloane's illustrations for Your Body In Flight (T.O. # 00-25-13), prepared by the Aero Medical Laboratory of Wright Field, Dayton, Ohio), published by the Air Service Command, Patterson Field, Fairfield, Ohio for the United States Army Air Forces, July 20, 1943. Eric Sloane's contribution to the training of pilots both informally just prior to the onset of WWII and formally as in this Army Air Forces manual, is often ignored. Eric Sloane contributed to two publications prior to the war that were used by civilian pilots as well as military recruits: Your Wings, by Assen Jordanoff (Funk and Wagnalls, May 1940) and Let's Fly: An ABC of Flying by Earnest Vetter ( William Morrow and Company, 1940). Sloane also authored and illustrated his own Clouds, Air and Wind (The Devan-Adair Company, 1941). During the war, Eric Sloane wrote and illustrated Camouflage Simplified (The Devan-Adair Company, 1942), Gremlin Americanus, A Scrapbook Book Collection of Gremlins (B.F. Jay and Co., 1943). While the latter title was meant to be humorous, it was both quite an effective remainder of the dangers that faced pilots, as well as a probably much needed break from the military training manuals. During the war, Eric Sloane also contributed to Junior Aviation Science (by D.H. Grimm, Noble & Noble Publishers, 1942) and to at least one other publication for the Army Air Forces, Pilot's Information File (1943, the Army Air Forces).
Photo from Wil Mauch's Aware: A Retrospective of the Life and Work of Eric Sloane. Learn more about this most fascinating of American artists by visiting www.weatherhillfarm.com.
Learn more about how the Friends of the Eric Sloane Museum supports and promotes the legacy of Eric Sloane through a robust partnership with the Eric Sloane Museum by visiting us at www.friendsoftheericsloanemuseum.org.