Born Everard Hinrichs in 1905, Eric Sloane experienced his first commercial success in hand lettering signs, window panes, and menus. He worked his way across America as a "barn painter" of sorts. As Wil Mauch writes in Symbols of American Spirit: 50 Years of the Eric Sloane Museum:
"No matter the size required, Eric Sloane was a master artist of hand lettering. He honed his unique style early in his career, attributing his skills to his experiences with painting Mail Pouch and Bull Durham signs on barns of the Midwestern United States. He did so freehand and with 4″ and 6" wide house painting brushes.
When Eric created all of the signs and descriptive labels for the exhibits in the Eric Sloane Museum, he turned to his love of fine lettering to create a unique and instantly recognizable style that has become emblematic of the man. So much so that the Scriptorium created a series of Eric Sloane fonts for use in the private and commercial printing fields."
"The free swing of arm necessary to 'brush in' a big Bull Durham highway sign or to make the ten-foot letters atop the Steeplechase Amusement Park roller coaster at Coney Island gave me confidence and sureness of stroke that I still know." – Eric Sloane
By the late 1920s, Eric Sloane was creating more pen and ink illustrations and taking fewer lettering jobs, embarking on a long and successful career as an illustrator. He never, however, left his love of hand lettering, as can be seen in some of the examples we have for sale.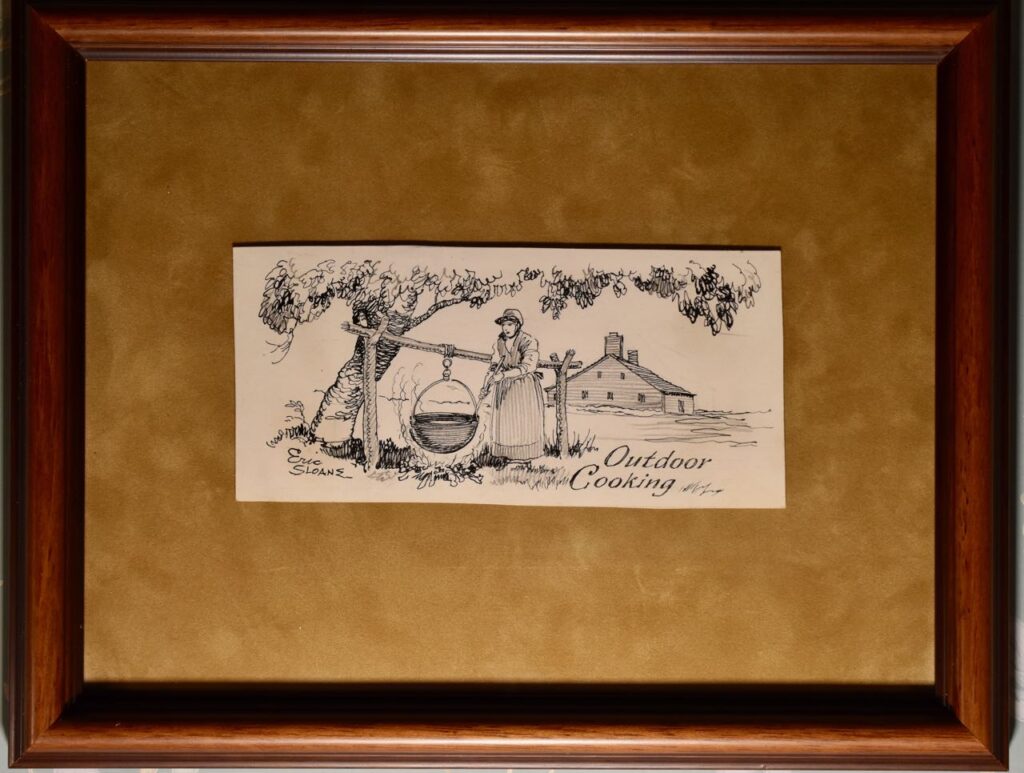 Outdoor Cooking by Eric Sloane. Original pen and ink 3.5″ tall x 7.50″ wide, 10.75″ tall x 13.75″ wide. Newly framed using acid free materials and under UV glass. Likely created for an enamelware piece of cookware released by Delano Studios of East Setauket, Long Island, New York. Eric Sloane was one of many artists that contracted with Delano throughout the 1950s and 1960s. Delano created tiles, plates, "trinket trays", and even an entire cookware line called "Americana by Eric Sloane". The first time I saw a set of this cookware was on my first visit to Eric Sloane's fifth wife, Ruth Hinrichs (nee Roland). Ruth made coffee in a percolator that she later gave to me. The percolator – like all of the other pieces in the set – is decorated with an illustration be Eric Sloane (and it also, in case you are wondering, makes great coffee). A charmer for $625.00.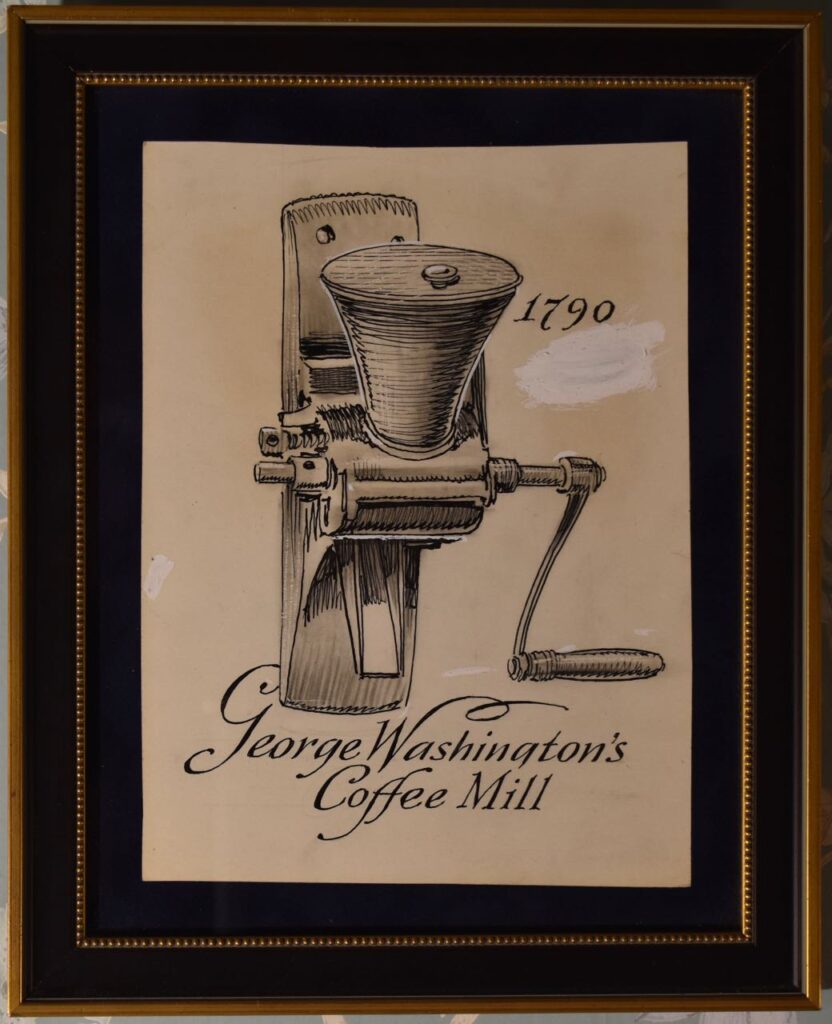 George Washington's Coffee Mill, 1790 by Eric Sloane. 8″ tall x 6″ wide, 10.75″ tall x 8.75″ wide framed. Newly framed in a wonderful "presidential" frame under UV glass. I have yet to track this particular illustration down, but was almost certainly used in a publication given Eric's liberal use of correction fluid. A handsome illustration, and Sloane's lettering style is crisp and superb. As beautiful as the drawing is, the lettering is equally as beautiful. Superb addition to your kitchen and perfectly sized. $650.00.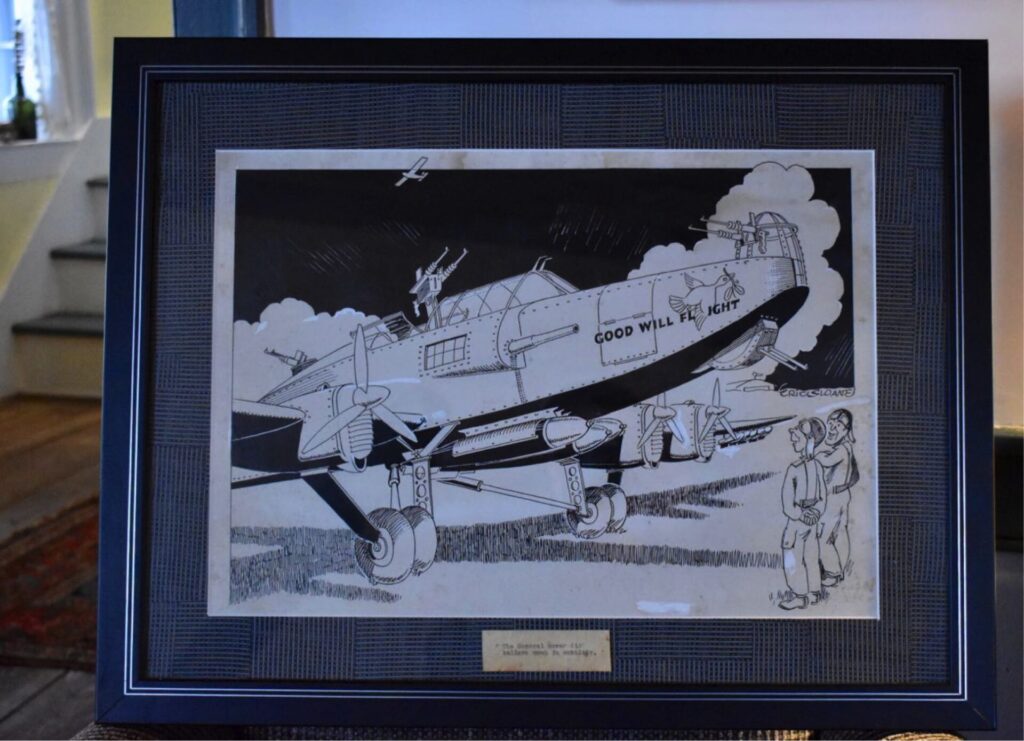 Good Will Flight by Eric Sloane, N.A. Original pen and ink on paper illustration, c. 1944. 12″ tall x 17.25″ wide, 18.25″ tall x 23.50″ wide framed. Humorous original pen and ink illustration by Eric Sloane, N.A., likely intended for a WW II-era magazine such as Pegasus or Air Trails. Most certainly Sloane drew this during the Second World War. The illustration depicts a comically armed medium range bomber, complete with fuselage art depicting a dove (the bird of peace) with an olive branch in it's beak and titled Good Will Flight. Two pilots stand looking over the aircraft, with one saying to the other "The general never believed in subtlety". Detail, Good Will Flight by Eric Sloane, N.A.: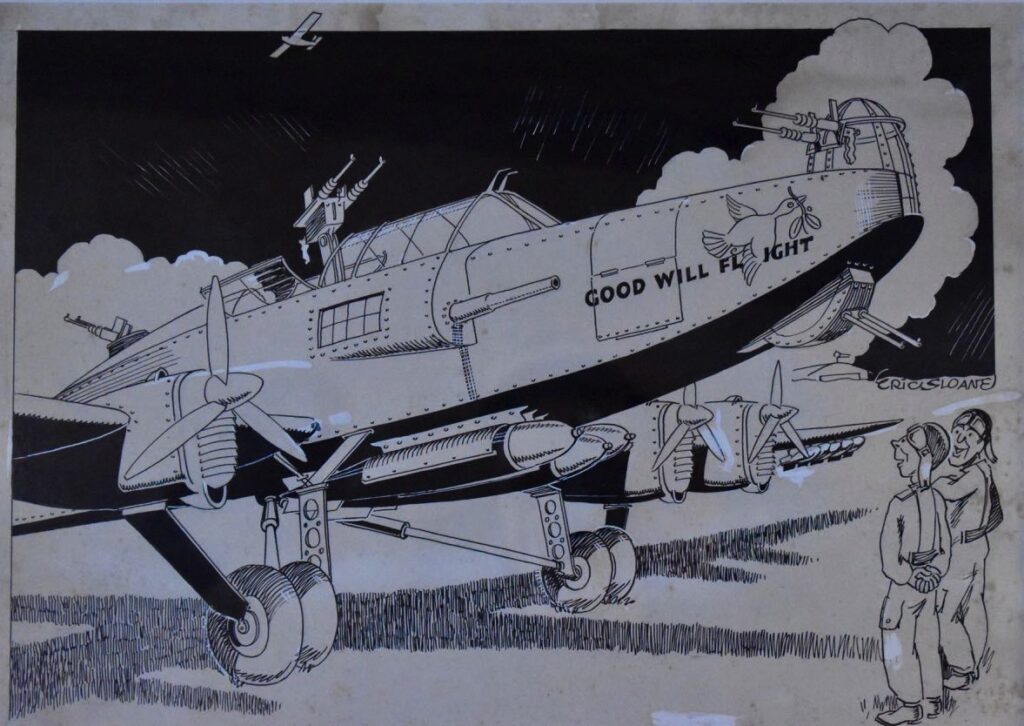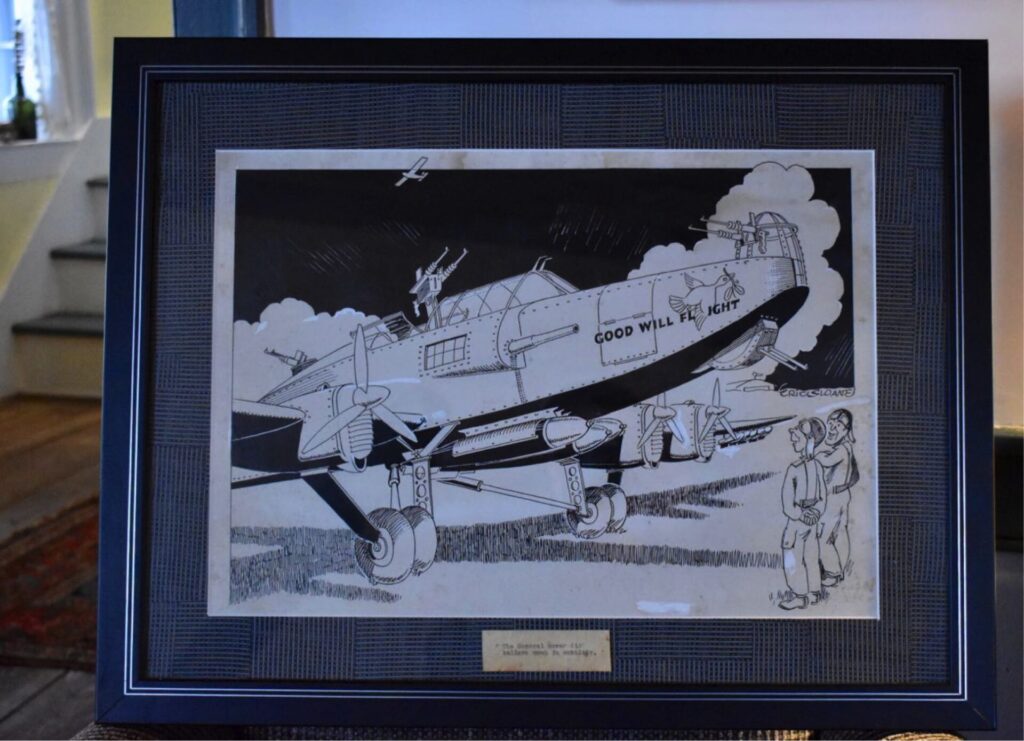 Completely re-framed with acid free materials. Striking mat and frame combination, befitting of a piece of this era. $695.00.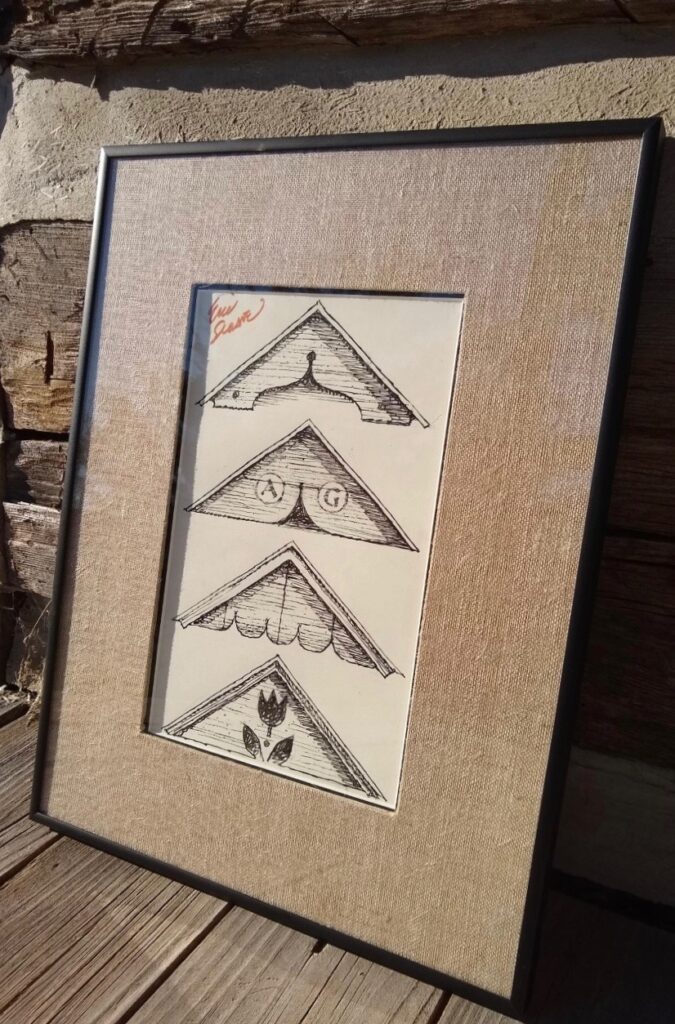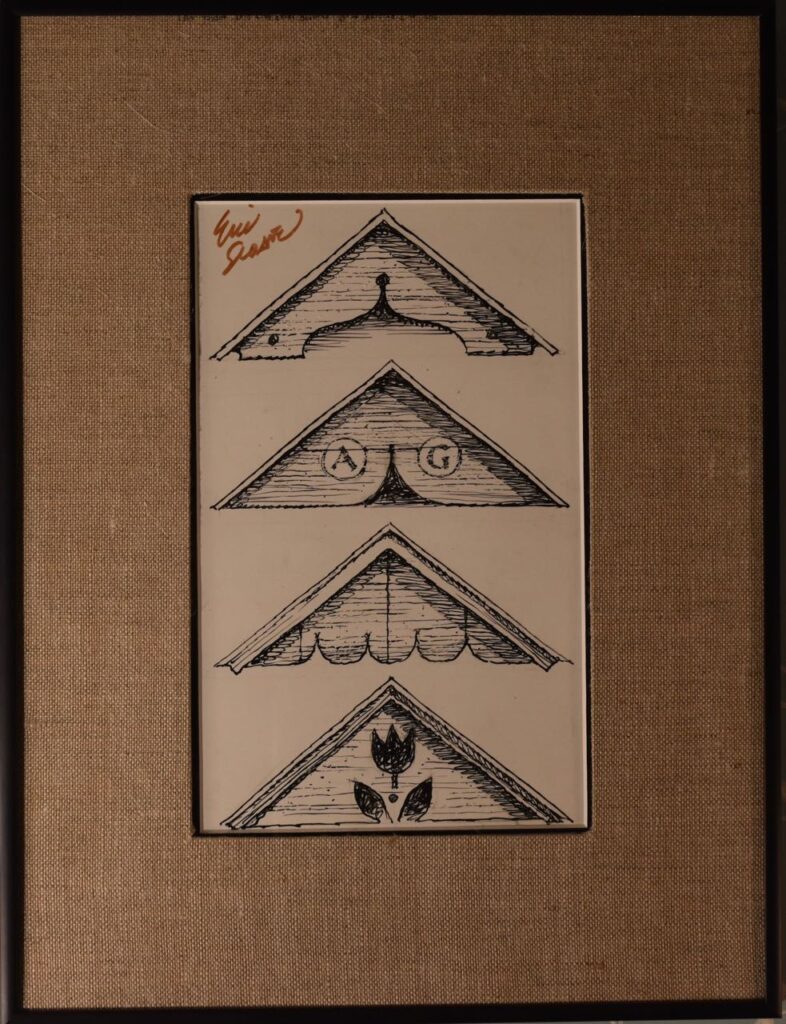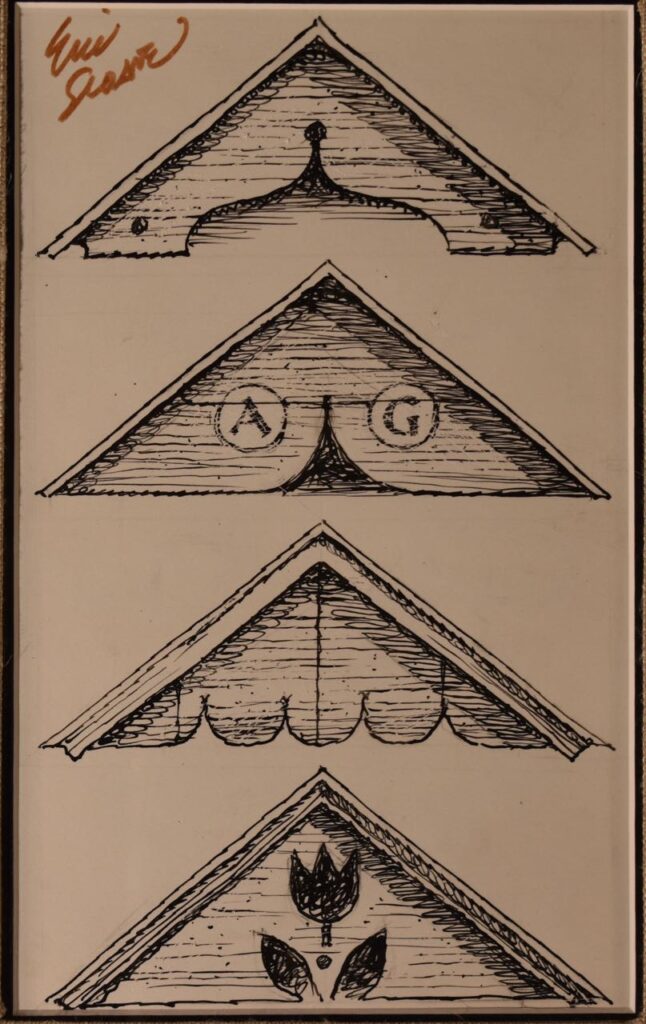 Pennsylvania Barn Hoods by Eric Sloane, N.A. This original pen and ink illustration appears on page 33 of Eric Sloane's Recollections in Black and White (Walker and Company, New York, 1974). Extensively re-framed using acid-free materials and placed under U.V. glass, this charming illustration is ready to hang in your home. A signed copy of Recollections in Black and White accompanies this delightful piece. Image approximately 6.25″ wide x 10.25″ tall, framed dimensions 12.75″ x 16.75″. $725.00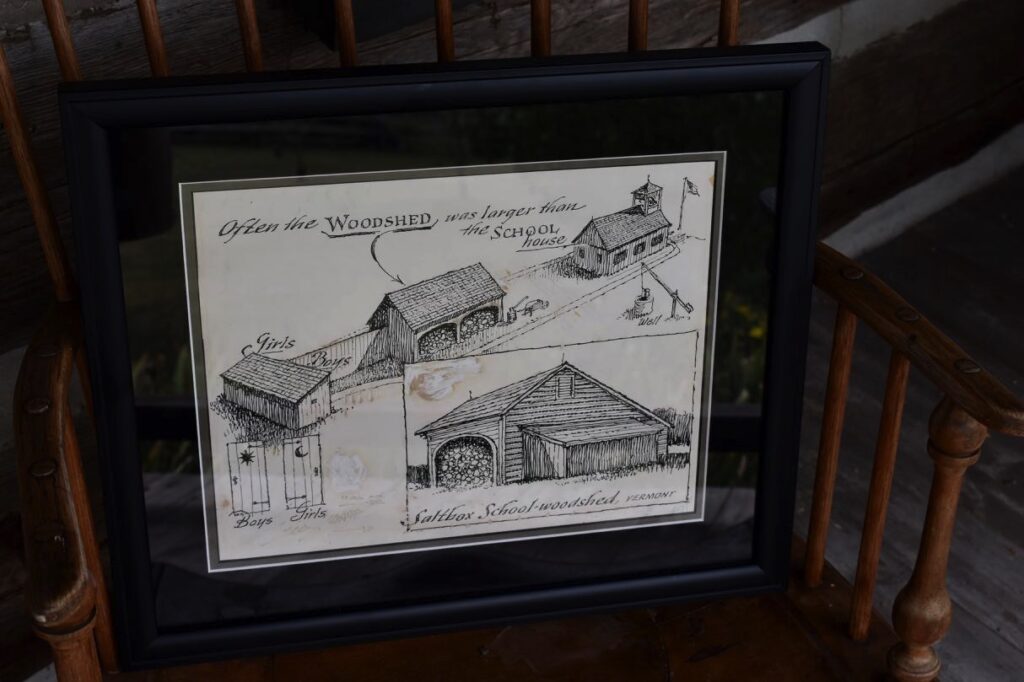 Often the Woodshed was larger than the School house, by Eric Sloane. 10.5″ tall x 13.5″ wide, 16.50″ tall x 19.50″ wide framed. Gorgeous new black wood frame employing UV glass, all acid free materials, double matted in complimentary colors. Really neat original pen and ink by Eric that examines the campus of the American one room school house. Eric created this illustration for his 1972 book The Little Red School House, A Sketchbook of early American Education. The book is unpaginated, but the illustration appears on what should be page 16. A copy of the book in wonderful condition is included with this original illustration. $800.00.
Newark Airport, Piloted by Richard Aldworth, by Eric Sloane. Image: Approximately 8.75″ tall x 10.5″ wide. Framed: Approximately 14.75″ tall x 16.75″ wide. Exceedingly rare early airport map of Newark Airport, by Eric Sloane, N.A. While it is undated, several clues are visible. One is that there are no hangers on the airport property, only "proposed" hangers. Additionally, "Mayor Ellenstein" (Meyer C. Ellenstein) is listed amongst the prominent names – he was mayor of Newark from 1933-1941. The style of the illustration suggests mid-1930s, given what we know of Eric Sloane's early illustrations.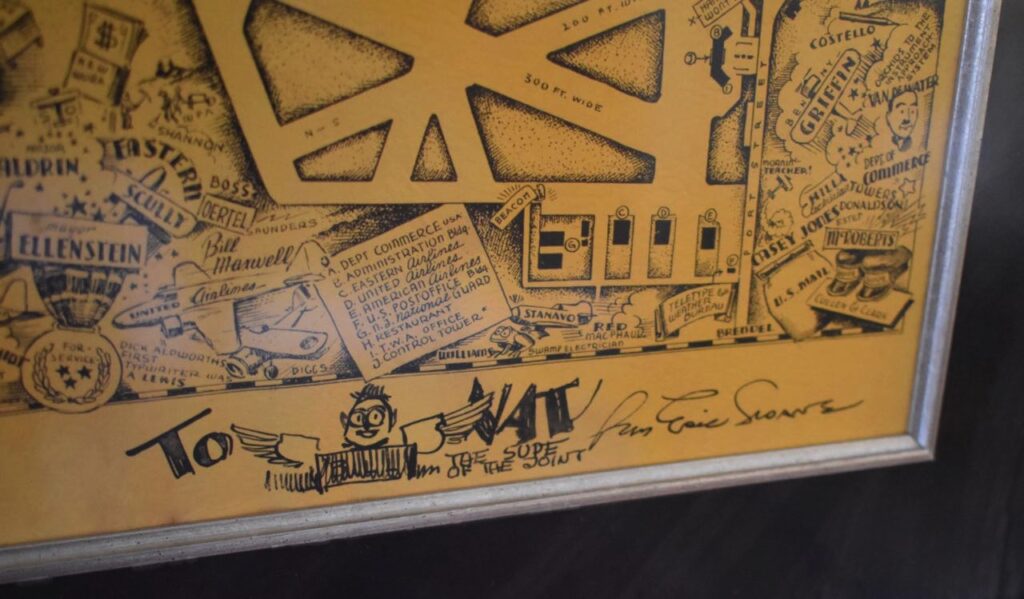 Technically, this does not belong in our offerings of illustrations by artist Eric Sloane as this is not an original pen and ink (all of our other offerings on this page are original illustrations by the artist). This is a print, but one that was likely struck in very, very small quantities as this is the only one I have seen in nearly 20 years of collecting, selling, restoring, and authenticating works by Eric Sloane. This map benefits greatly from an original pen and ink remarque drawing by Eric Sloane, as well as his signature, lower right. Signed, inscribed, and with remarque "To Nat The Supe of the Joint from Eric Sloane" and a line drawing of "Nat".
Wonderfully framed in a very unique form. Matting is difficult to discern in the photograph – it shows silver swirling reminiscent of cirrus clouds. Under U.V. glass and ready to hang. $950.00.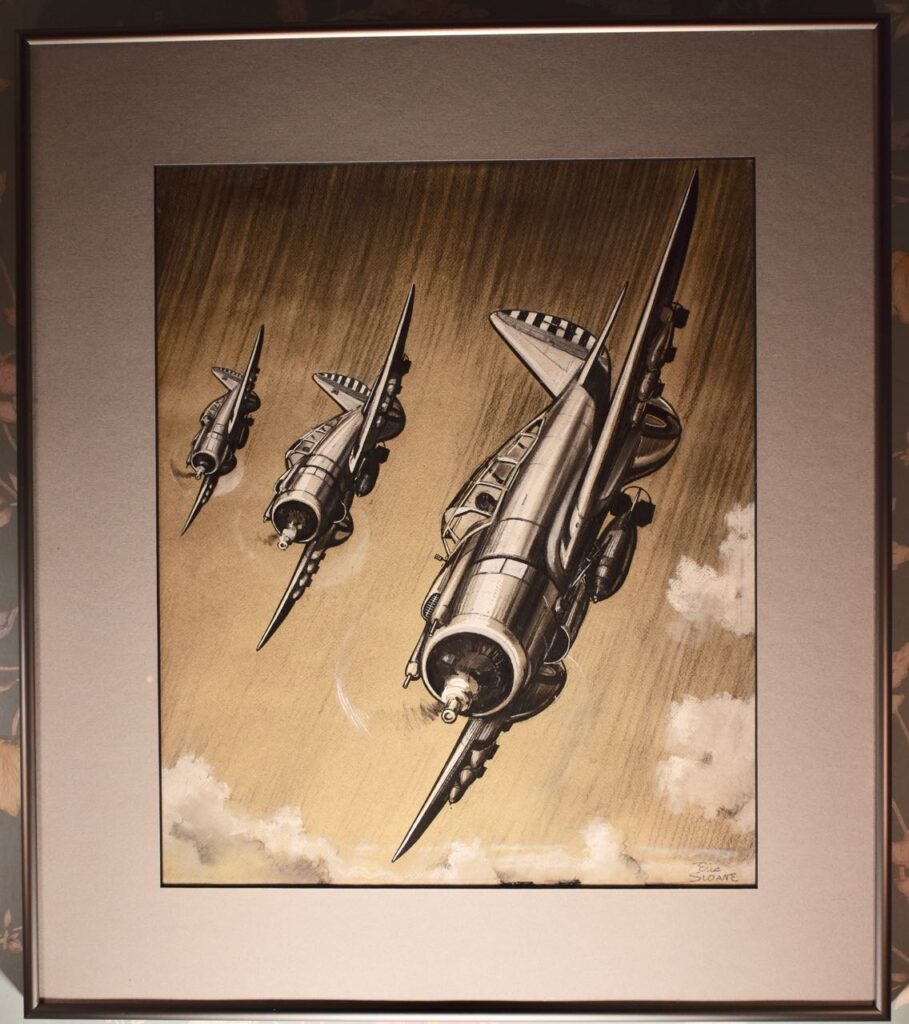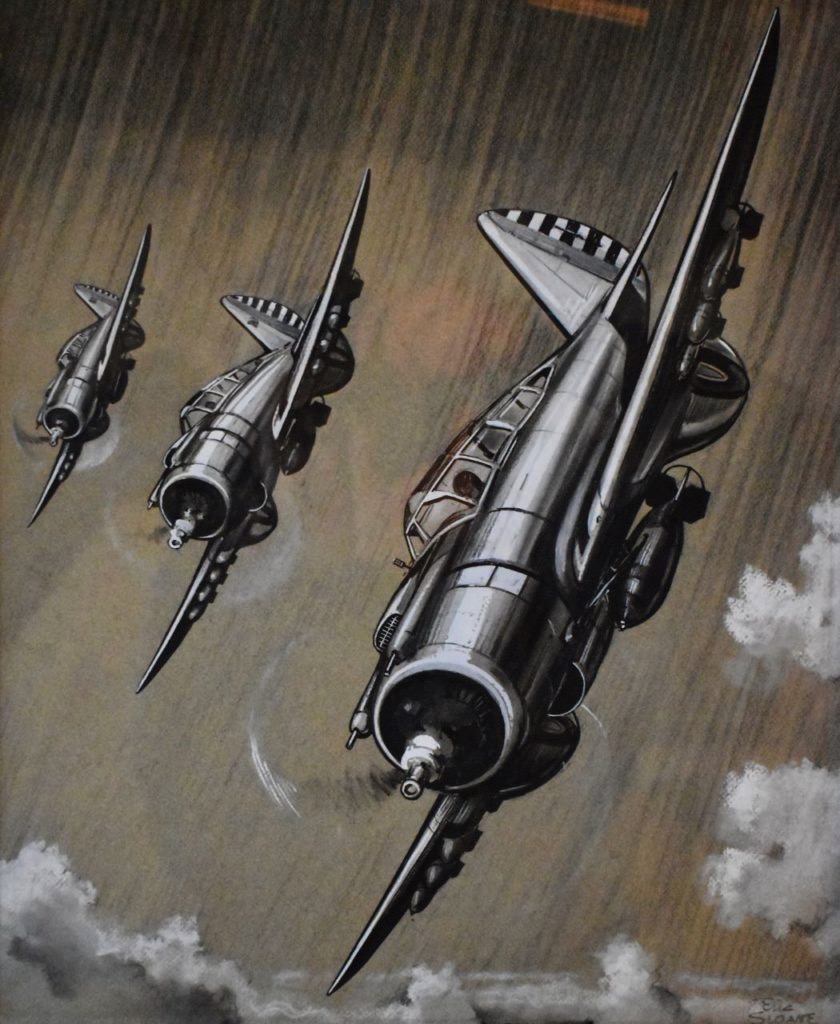 Closing Fast, Republic Guardsman by Eric Sloane. C. 1945. In all new modern gunmetal gray steel framing, including acid free materials and museum UV protective glass. Image size approximately 16″ tall x 13.5″ wide. Framed dimensions approximately 22.5″ tall x 19.5″ wide. Pen and ink, gouache and colored pencil. Wonderfully detailed pen and ink (the most detailed I have ever seen) of three Republic Guardsman aircraft in a diving formation. Fantastically bold and dramatic, the sense of speed and movement is palpable. In exceptional original condition. Please contact the gallery for pricing information.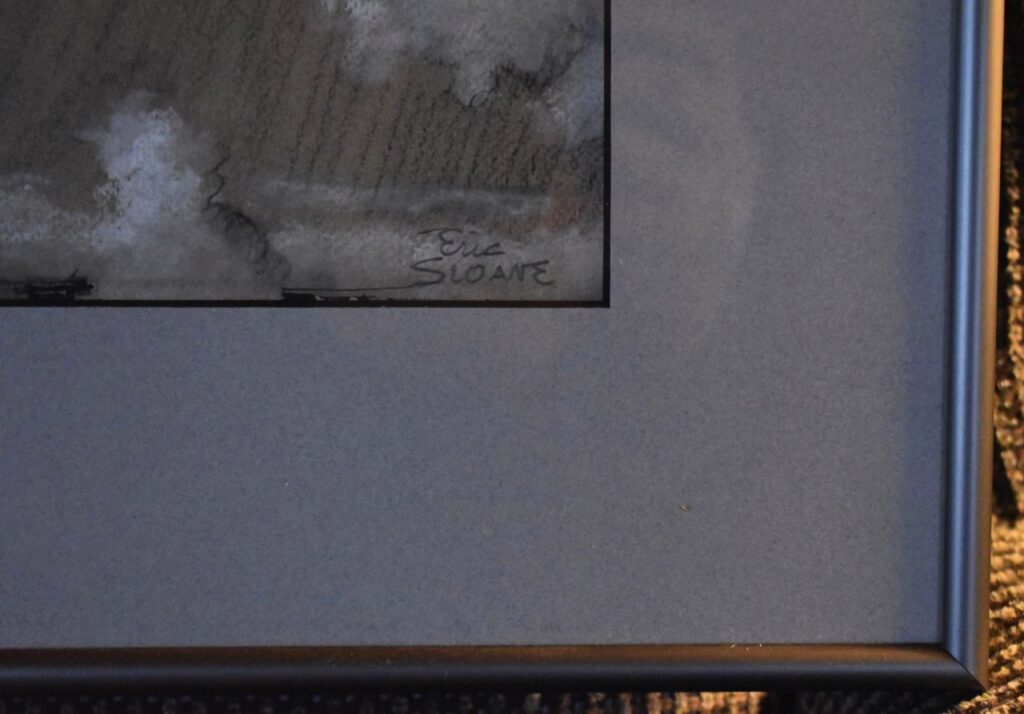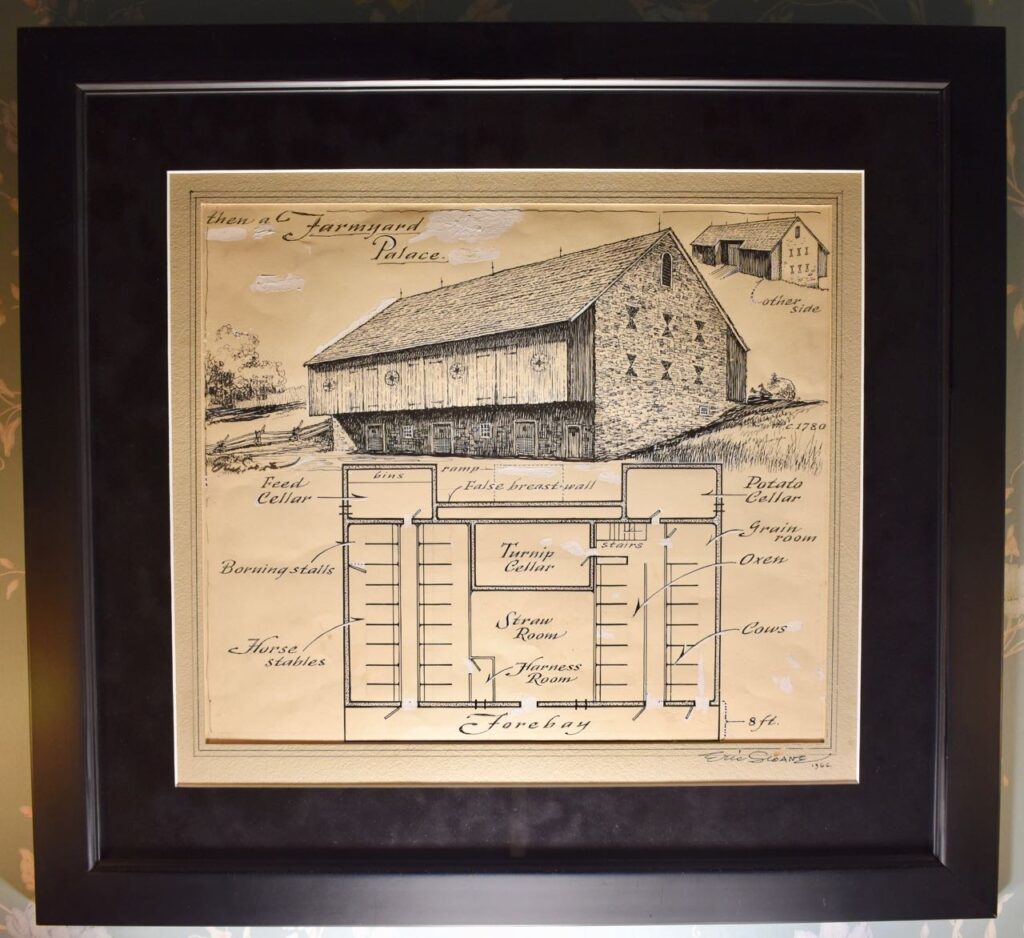 Then a Farmyard Palace, by Eric Sloane. Image size approximately 14″ tall x 16.5″ wide, 23.75″ tall x 25.75″ wide in frame. Original pen and ink illustration Eric created for his seminal work on the subject, An Age of Barns (1967, Funk & Wagnalls). An Age of Barns is unpaginated, but this illustration fell on what would have been page 20. There are several aspects of this particular illustration which make it unique. The first is the amount of descriptive titling Eric includes throughout the work, titling that is executed in Sloane's best manner. The lettering alone is a tour de force for this American artist.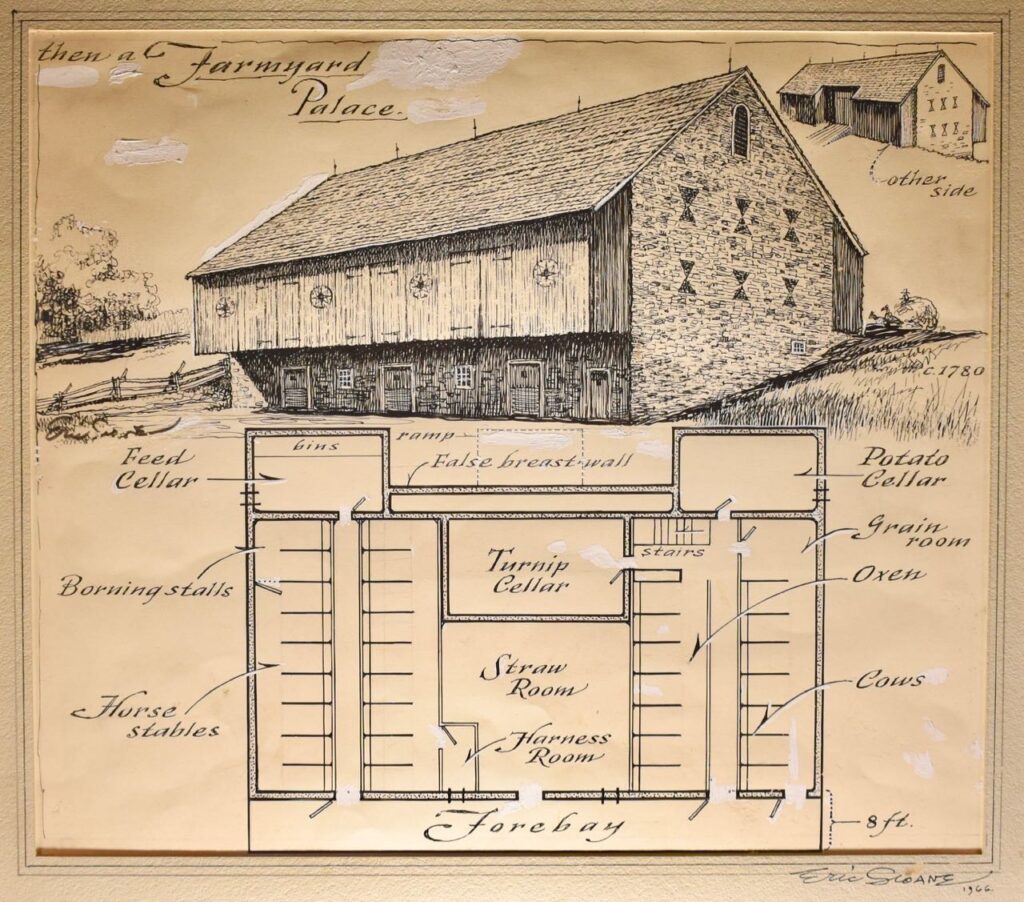 Because of the two views of this traditional Pennsylvania German Bank Barn, the viewer is treated to a "one stop shop" of Sloane's illustrative talents – the more loose, almost painterly way the artist drew the exterior view of the south face of the barn, and the nearly architectural rendering of the interior space. An unusually large illustration for Sloane. As Sloane was more than familiar with creating 'camera ready' illustrations for commercial applications, he usually created his book illustrations close to actual size for publication. Then a Farmyard Palace is rendered much, much larger than the finished product. It is possible this is related to yet another reason why this is such a unique illustration – Eric was transitioning from quickly rendered drawings with limited depth used throughout all of his previous publications, to occasionally employing more fully rendered drawings inclusive of a great many details. It would seem that as the aesthetic "scale" of Sloane's drawing were enlarged, so too was the mathematical scale. An Age of Barns is itself reflective of Eric's ability to illustrate on another level – no other book of Sloane's before or after An Age of Barns matched it's stunning breadth of large, fully rendered pen and ink illustrations by the author/artist. Please contact the gallery for pricing information.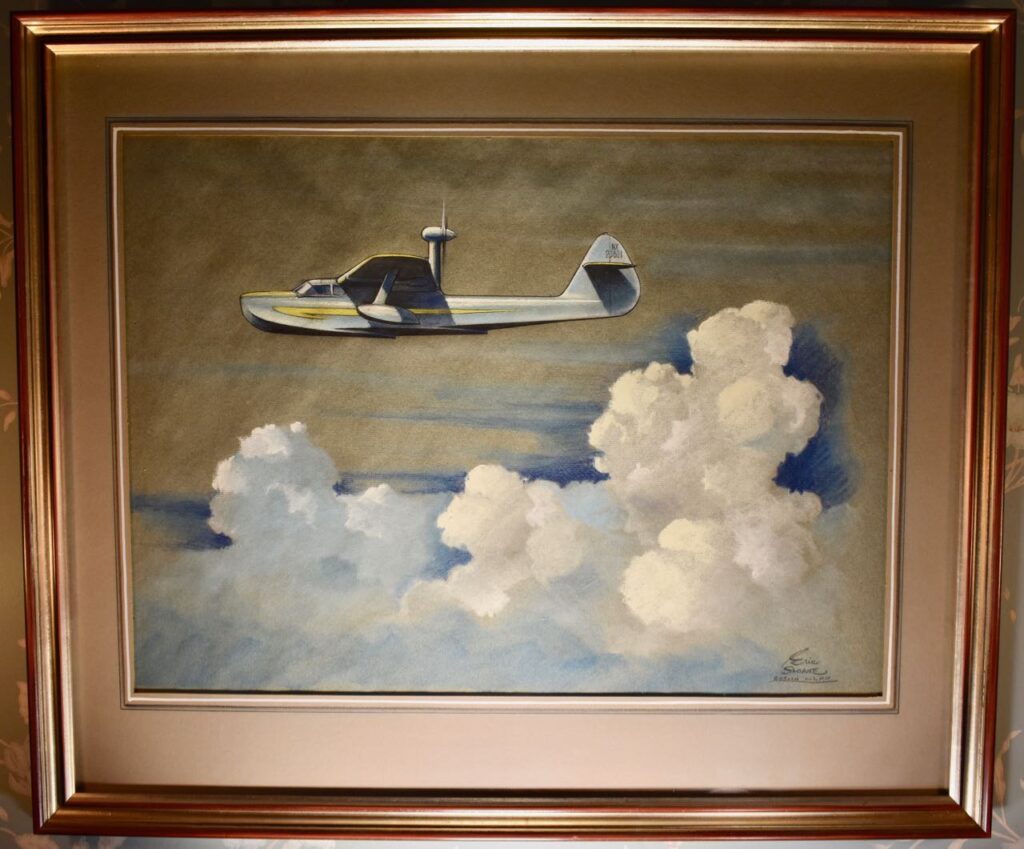 Eric Sloane, Untitled aircraft illustration. After some research, I discovered that this is a rendering of a Spencer-Larsen SL-12C, an aircraft that was completed in 1938 at the company's Farmingdale, New York factory. It was test flown on and over Long Island Sound, departing and arriving in Port Washington, New York. Port Washington was the largest seaplane base in the United States, harboring most of the country's "clipper" transatlantic amphibious aircraft. This Spencer-Larsen was built as an amphibious craft and the registration of NX20621 reveals that this is the one – and only – Spencer-Larsen SL-12C ever built. It was a design that was way ahead of it's time, with many modern features including retractable landing gear. It did, however, prove to be a complicated machine, the test pilots reporting that it was not easy to control in certain situations. The Spencer-Larsen SL-12C also had some inherent engineering problems, which also relegated it to a curiosity which never saw active service.
Why and how Eric Sloane came to illustrate this particular plane is a matter of speculation. Port Washington was less than 4 miles from Eric's studio at the time, and less than 20 miles from the company's headquarters. It is likely that Eric knew one or more of the original board members for the corporation.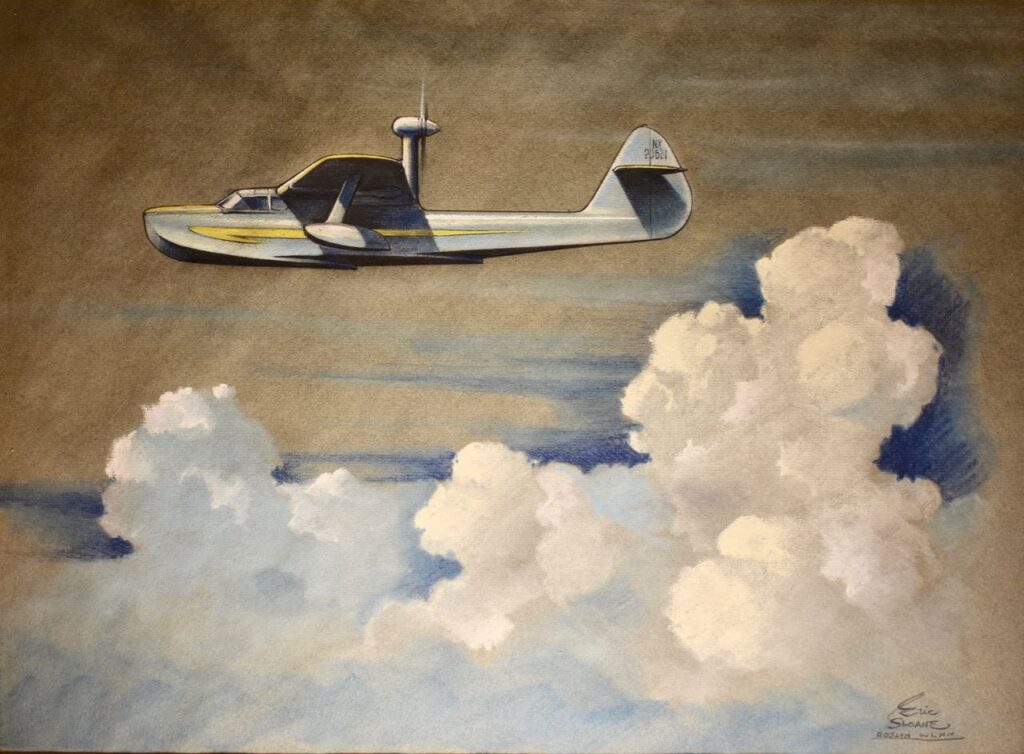 Eric Sloane's illustration of the Spencer-Larsen SL-12C was likely done at the behest of the company for promotional purposes. The illustration is very well executed – the aircraft is very well rendered and there is some very nice colored pencil and pastel work in the clouds and the sky. The illustration is in excellent, original condition and the replacement frame is of very high quality, stunning, and complements the work excellently. Signed "Eric Sloane Rosylyn, L.I.N.Y., lower right. Please contact the gallery for pricing information.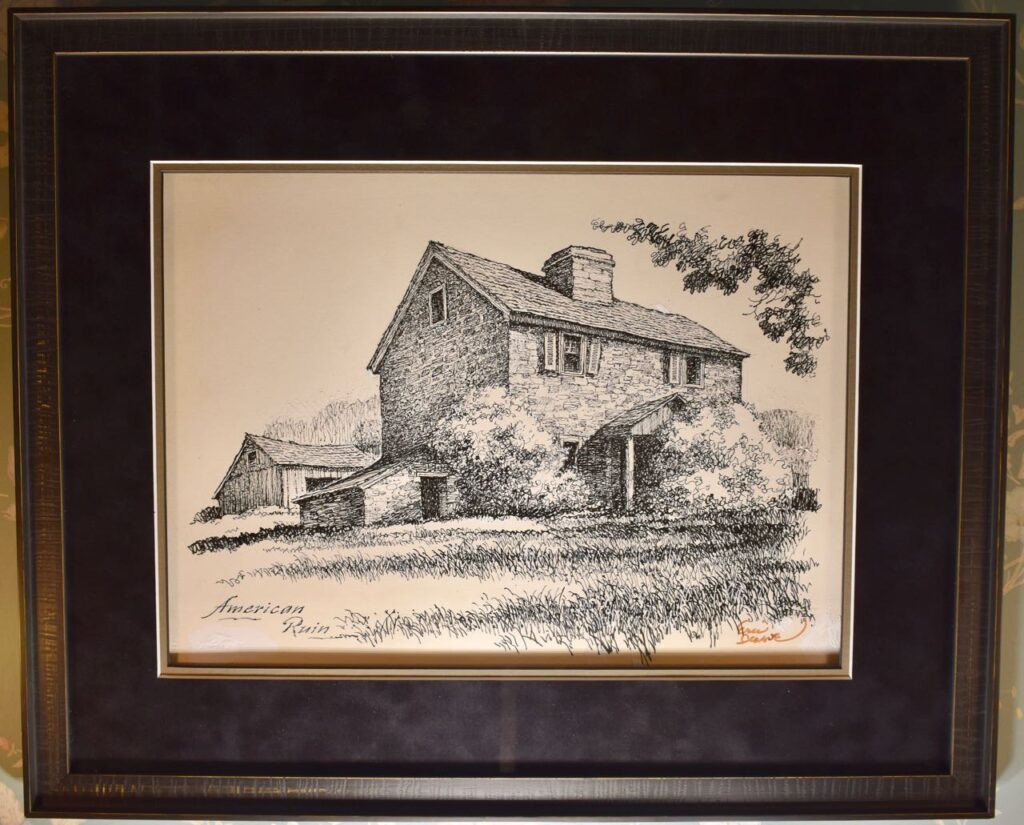 American Ruin by Eric Sloane, NA. Original pen and ink illustration. Image size approximately 13″ tall x 17″ wide, 21″ tall x 25″ wide in frame. Fantastic large scale illustration Eric made for Recollections in Black and White, an important book in which the artist reflects on the significant role of black and white lettering and illustration as standalone forms of his artwork. American Ruin appears on page 51 of Recollections in Black and White. Signed, lower right, in the artist's typical red marker.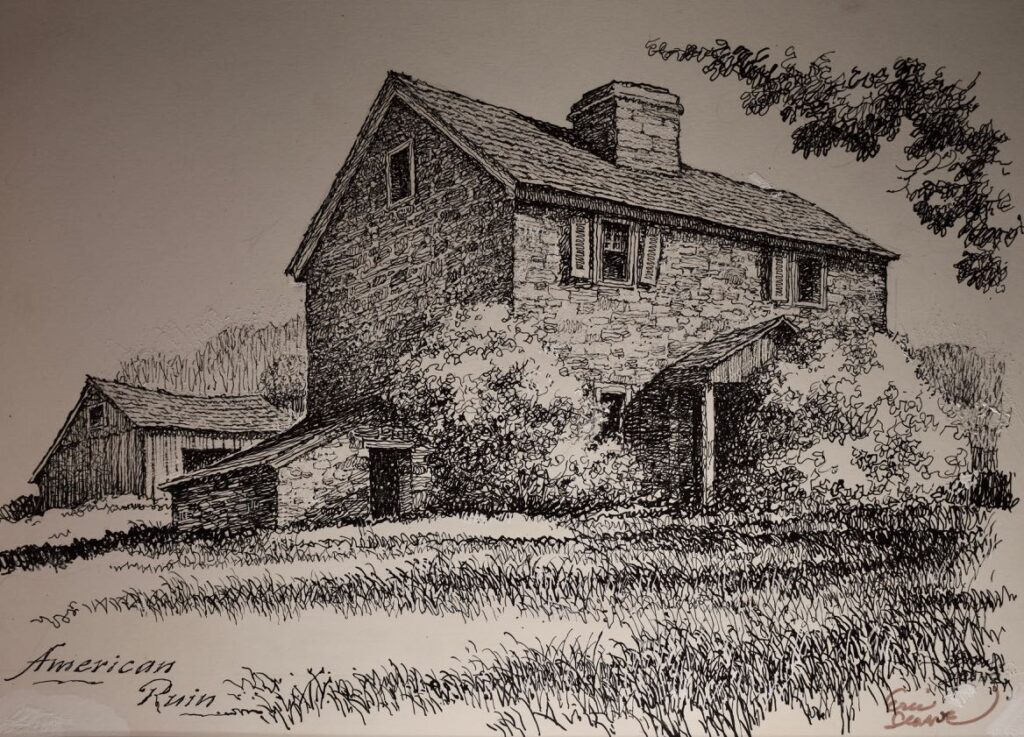 American Ruin is in excellent, original condition has was completely re-framed in all acid free materials and double matting – all housed under conservation glass and within a great new textured wood frame that sets just the right tone. Please contact the gallery for pricing information.
The Old Farm by Eric Sloane, N.A. Original pen and ink illustration. Image size approximately 7″ tall x 11″ wide, 14.5″ tall x 18.5″ wide in frame. Forgive the shadows in the photographs, this one proved difficult to photograph. The Old Farm was sold in 1985 by Hammer Galleries, New York City. We retained the original frame as it was installed by Hammer for the exhibit. We did completely re-frame the work in all acid free materials, double matting, and conservation glass.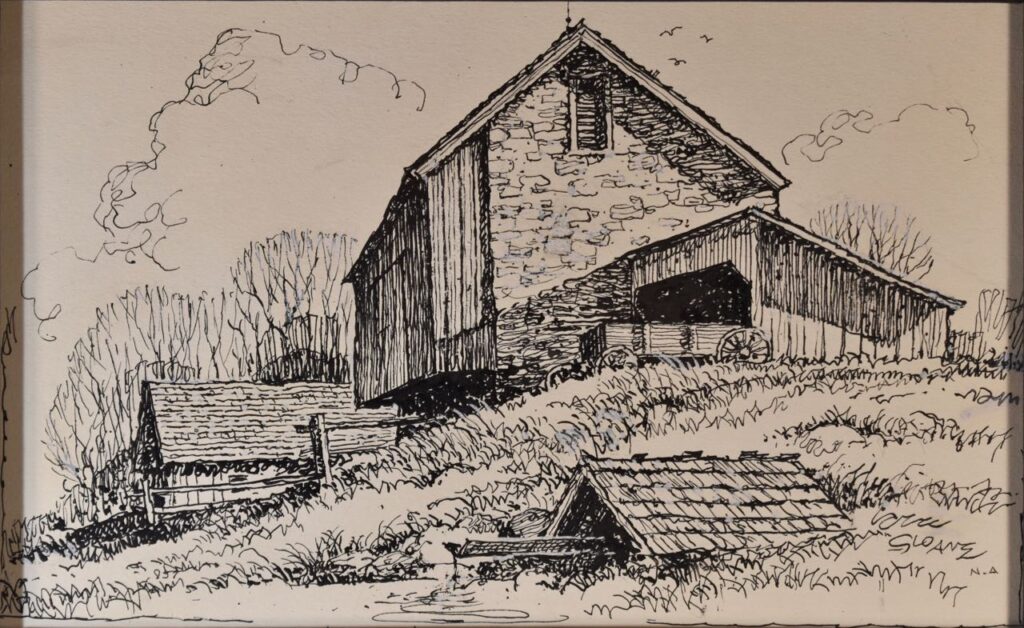 The Old Farm is an example of an illustration created by Eric Sloane expressly for sale as an original work of art, as opposed to the majority of pen and ink works the artist created ever the years for commercial printing purposes such as calendars, books, and other pieces. Please contact the gallery for pricing information.