The trouble with art galleries is that often everything is so darn expensive….
Not with Eric Sloane and not with The Gallery @ Weather Hill. Eric Sloane made sure that his art was accessible to nearly everyone by diversifying his offerings. He also gave away illustrations and paintings liberally, as well as donated hundreds of works of art to dozens of charitable organizations.
Find a great deal in some of our most accessible art by Eric Sloane and we'll play it forward together by donating 10% of the sales price to The Friends of the Eric Sloane Museum, a 501c3 non profit started by Wil Mauch to help preserve and promote the legacy of artist and author Eric Sloane.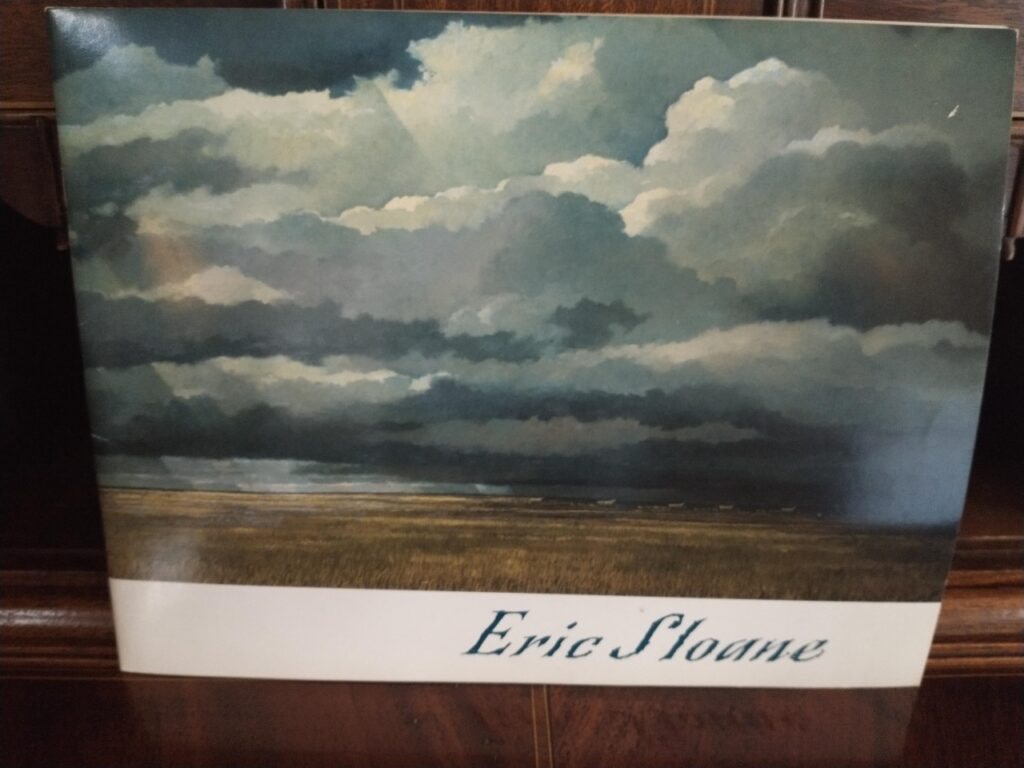 New old stock (N.O.S.) Hammer Galleries brochure for an exhibit of paintings and drawings by Eric Sloane, N.A., March 11th – 30th 1991. Full color brochure with very nice examples of Eric's work. Minor soiling and marks to front cover and small losses to spine. Otherwise very good+. $18.50.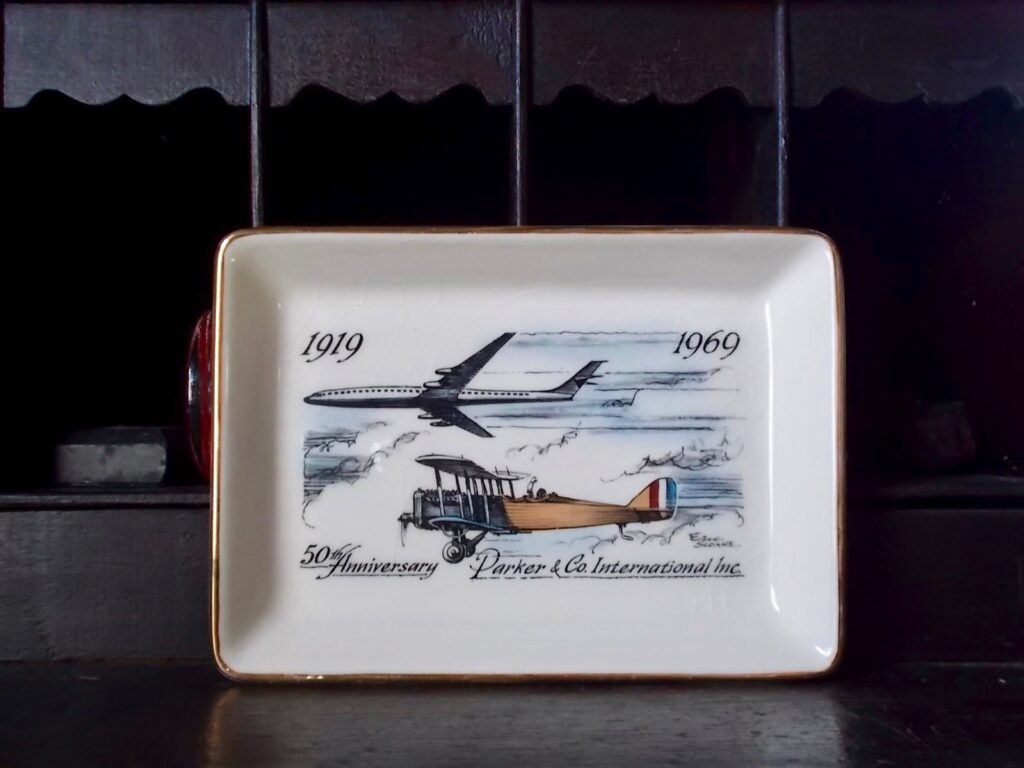 Fantastic "trinket tray" by Delano Studios of Long Island, N.Y. Eric Sloane designed dozens of illustrations for Delano to use on their enamelware cookware line, for luncheon and dinner plates, and for unique items like this tray that commemorated the 50th anniversary of Parker & Co. International, an aviation insurance company. Hand colored and charming illustration by Eric Sloane specifically for this tray. $50.00.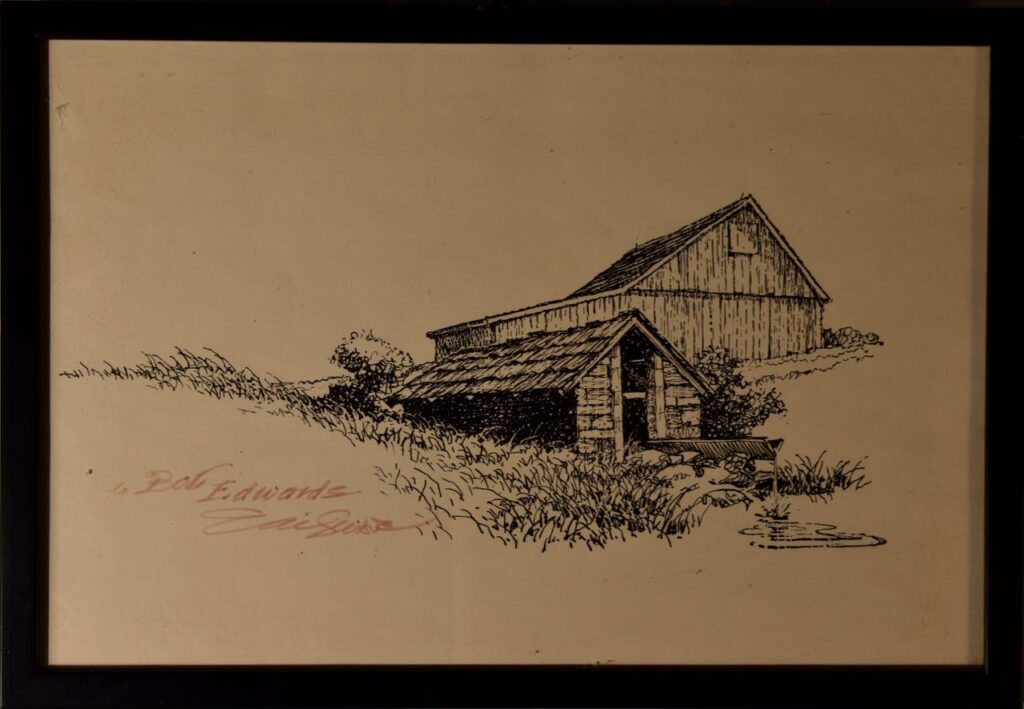 Spring House by Eric Sloane, N.A. 8.75″ tall x 13.25″ wide, 9.75″ tall x 14.25″ wide framed. Uncommon print inscribed and hand signed by Eric in his typical red marker. In very good condition with acceptable frame. $75.00.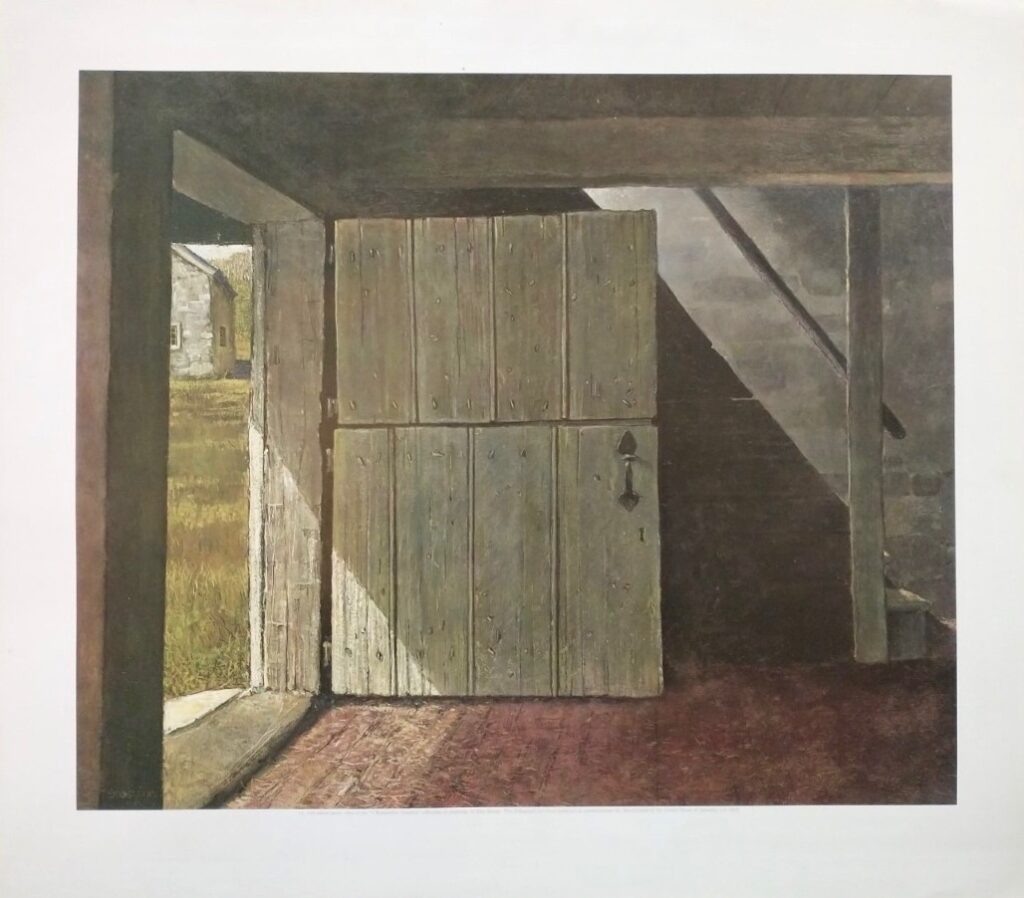 The Green Door, by Eric Sloane, N.A. Scarce print struck in commemoration of the 1976 United States bicentennial, part of the I Remember America collection of paintings by the artist, which traveled to the former Soviet Union for exhibition. It measures 22.25″ tall x 25.25″ wide. The Green Door was purchased directly from the issuing printing firm and is In very good, original condition as it has been stored in a flat file since purchase. There is some minor soiling and creasing at the extreme edge, definitely out of sight when framed. $175.00.
Promotional poster for Eighty, the last exhibition of Eric's works while the artist was alive. The opening was Monday, March 4,1985, and Eric died died on the streets of New York City on March the 6th. Eighty is, strictly speaking, not a print issued for commercial sale, but a promotional piece for the exhibition. As such, it is a scarce piece and few have survived in excellent, as issued, condition. Eighty is beautifully designed and features both an iconic Sloane painting coupled with his equally iconic lettering style. Eighty measures 28″ tall x 22″ wide. In excellent condition, never framed and stored properly. Eighty was received by the consignor as a gift from Eric the night before the opening. $200.00.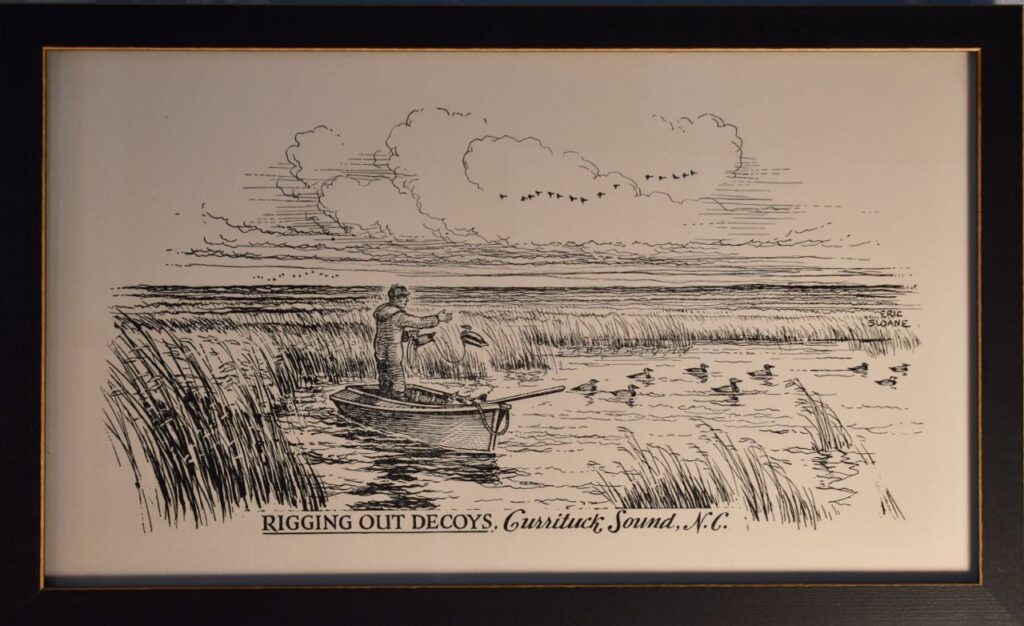 Rigging Out Decoys, Currituck Sound, N.C. by Eric Sloane. 8.5″ tall x 15″ wide, 10.25″ tall x 16.75″ wide framed. Very uncommon print, but not a standard print. Rigging Out Decoys, Currituck Sound, N.C. was created for a lampshade, part of a small series of lampshades that Eric Sloane illustrated for his sister, Dorothy. This particular image was made to be attached to a round metal lampshade frame to become a functioning lampshade for a lamp that included a series of color illustrations of ducks (I believe they were drawn by Dorothy) as part of the lamp base. I've only seen one of these lamps in person, and that is in Eric's recreated studio at The Eric Sloane Museum in Kent, Connecticut.
These shades and the lamps to which they were attached were made some time in the 1950s. They probably were carried at Abercrombie & Fitch's Madison Avenue, New York, store. The sixth floor of the establishment housed a bookstore an art gallery and a gift shop, Sloane's sporting themed-work being offered in all three venues. They were definitely carried by "The Crossroad of Sport", 15 East 54th Street, New York. Their 50 page catalog for 1954-1955 included two paintings by Eric Sloane – ""Lingaur Slopes, Austria – Skiing" for $425.00 and "Trout Fishing – The Smith Bridge Hole, Brandywine, Delaware" for $400.00 – and an entry concerning these lamps on page 47: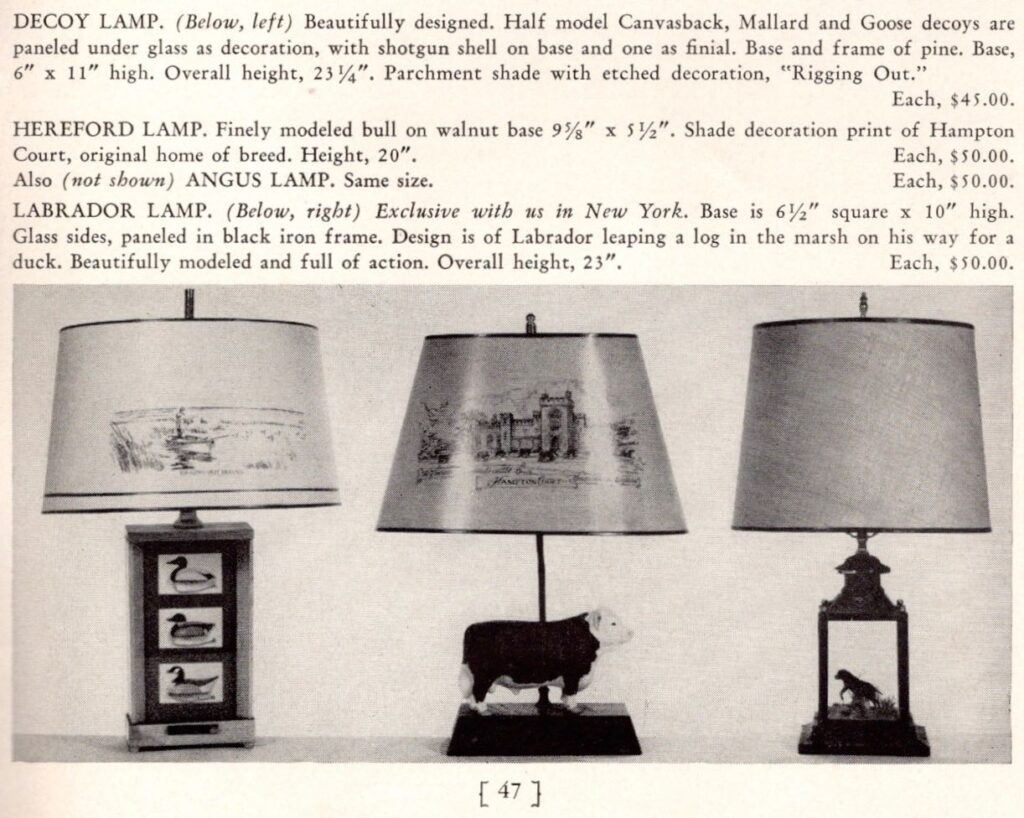 Rigging Out Decoys, Currituck Sound, N.C. is recently framed in a handsome, black wooden frame. In excellent condition with a wonderful bonus – the original print block used to reproduce Sloane's original illustration for the shade. Block measures 13.5″ wide x 7″ tall, pictured here: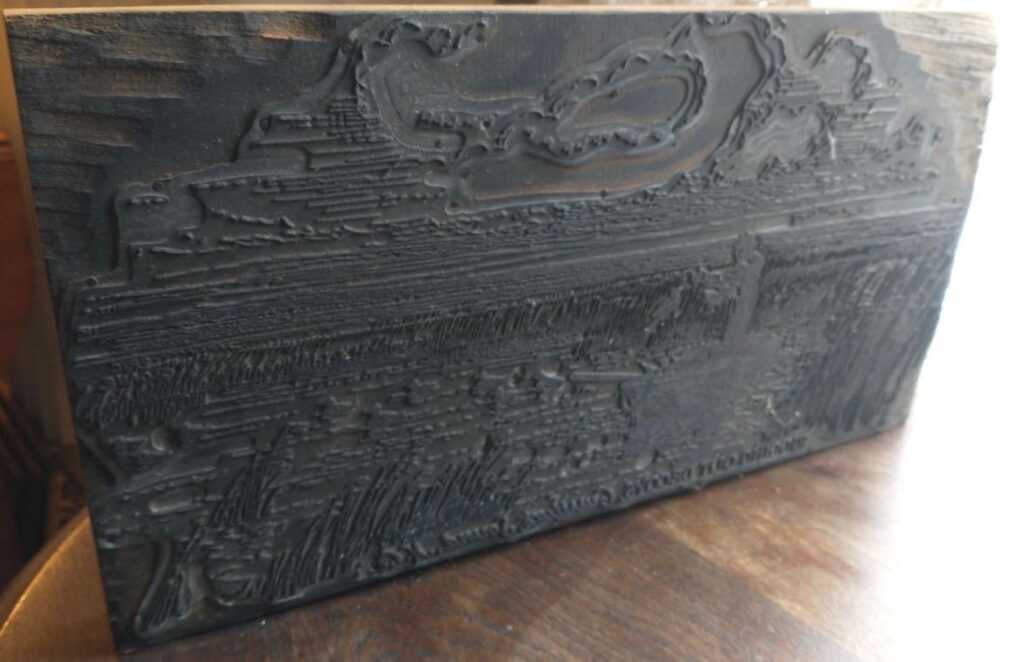 Rigging Out Decoys, Currituck Sound, N.C. by Eric Sloane along with the printing block used to print the illustration are offered together for $225.00.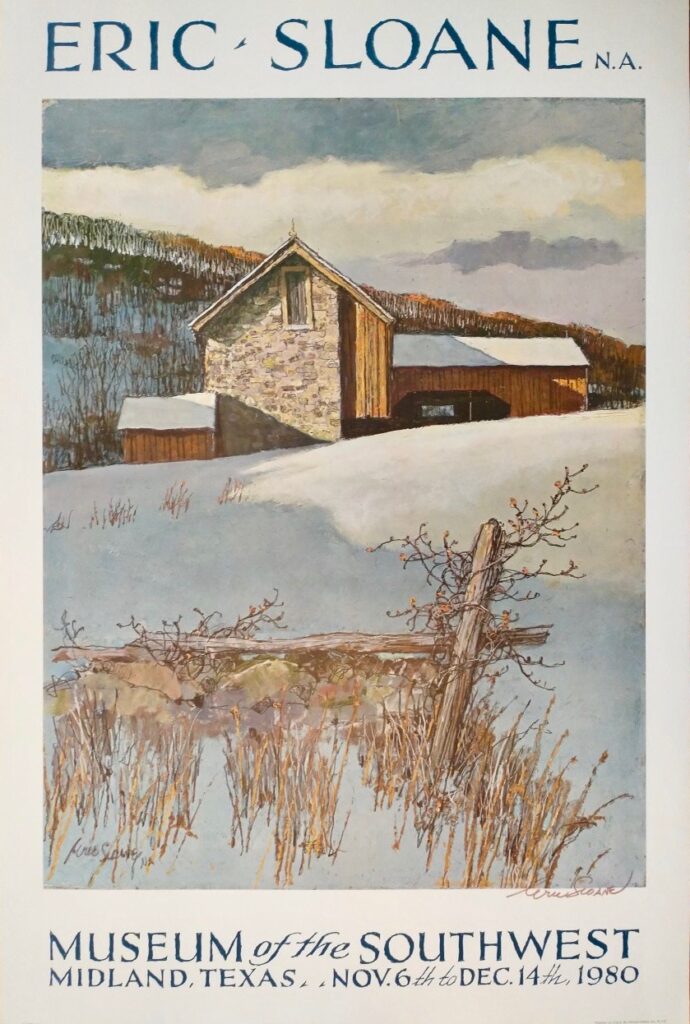 Promotional gallery poster issued by the Museum of the Southwest, Midland, Texas. There were two versions of this printed – one version was left unsigned and was inexpensively printed on commercial poster paper, the other was created on a heavy stock and printed by Triton Press International. This is the Triton Press edition, featuring a bold and clear Eric Sloane signature at bottom right corner of image in Eric's typical red flair tipped marker. Image 28.5″ tall x 19″ wide. $275.00.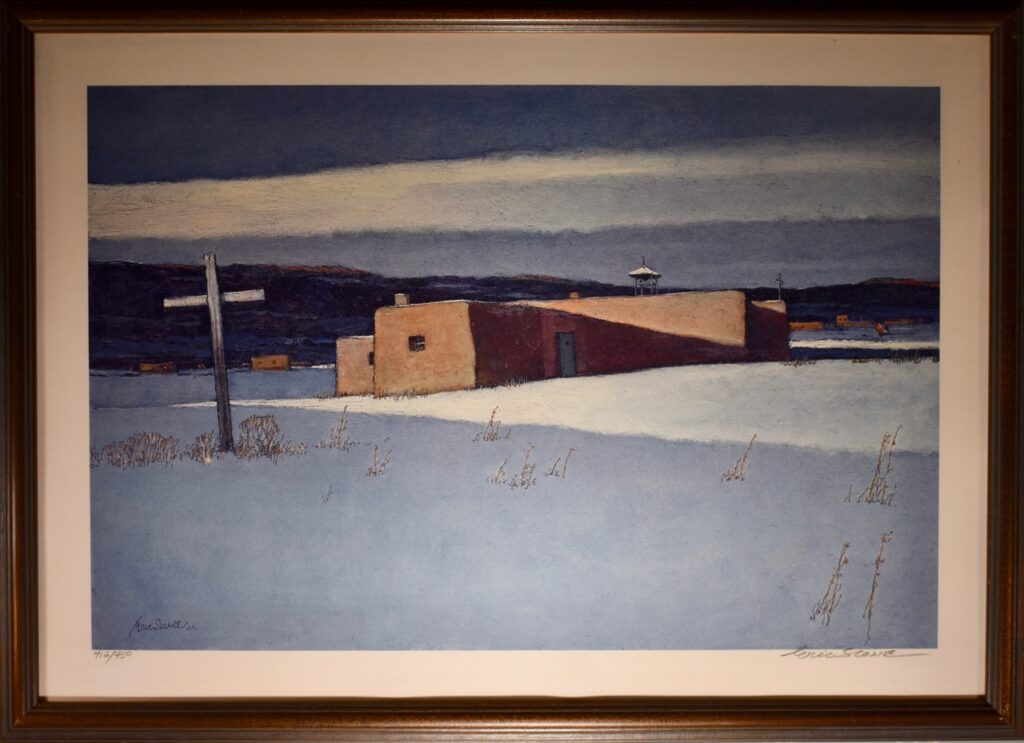 Taos Morada by Eric Sloane, N.A. Fine art print issued by Triton Press International. Purchased new at the Eric Sloane Museum and professionally framed in all acid free materials under U.V. glass. Image 14.5″ tall x 21.5″ wide, 19.5″ tall x 26.5″ wide framed. Always hung on a wall that saw no sunlight. Colors are bright and bold. Frame is a very attractive color and molding profile that compliments well this beautiful scene. Frame shows minor scuffing that very likely could be touched up to be nearly invisible. Unique, hard to find hand signed and numbered edition for an attractive price of $325.00.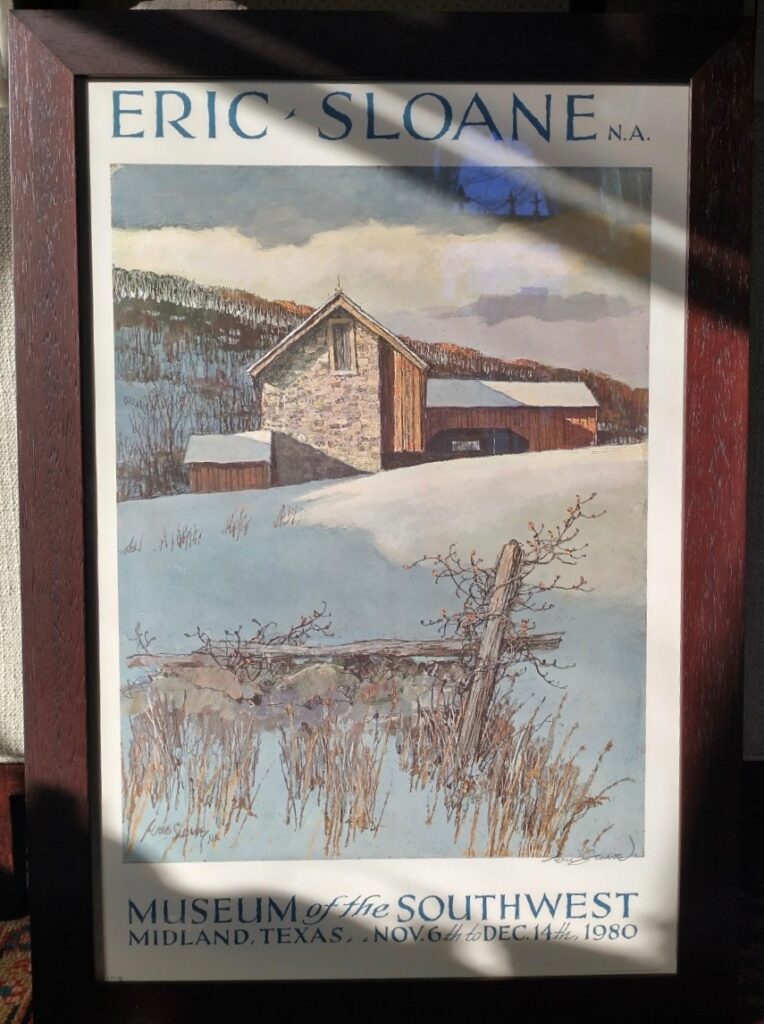 Eric Sloane, N.A. Museum of the Southwest. Promotional gallery collotype print for the Sloane's showing in 1980. Image 28.5″ tall x 19″ wide, 32.5″ tall x 22.75″ wide framed. Pencil signed, lower right. Purchased directly from Triton Press and stored in a flat file until recently. All acid free materials and under conservation glass, brand new (and gorgeous) wood frame. $425.00