Aware Biography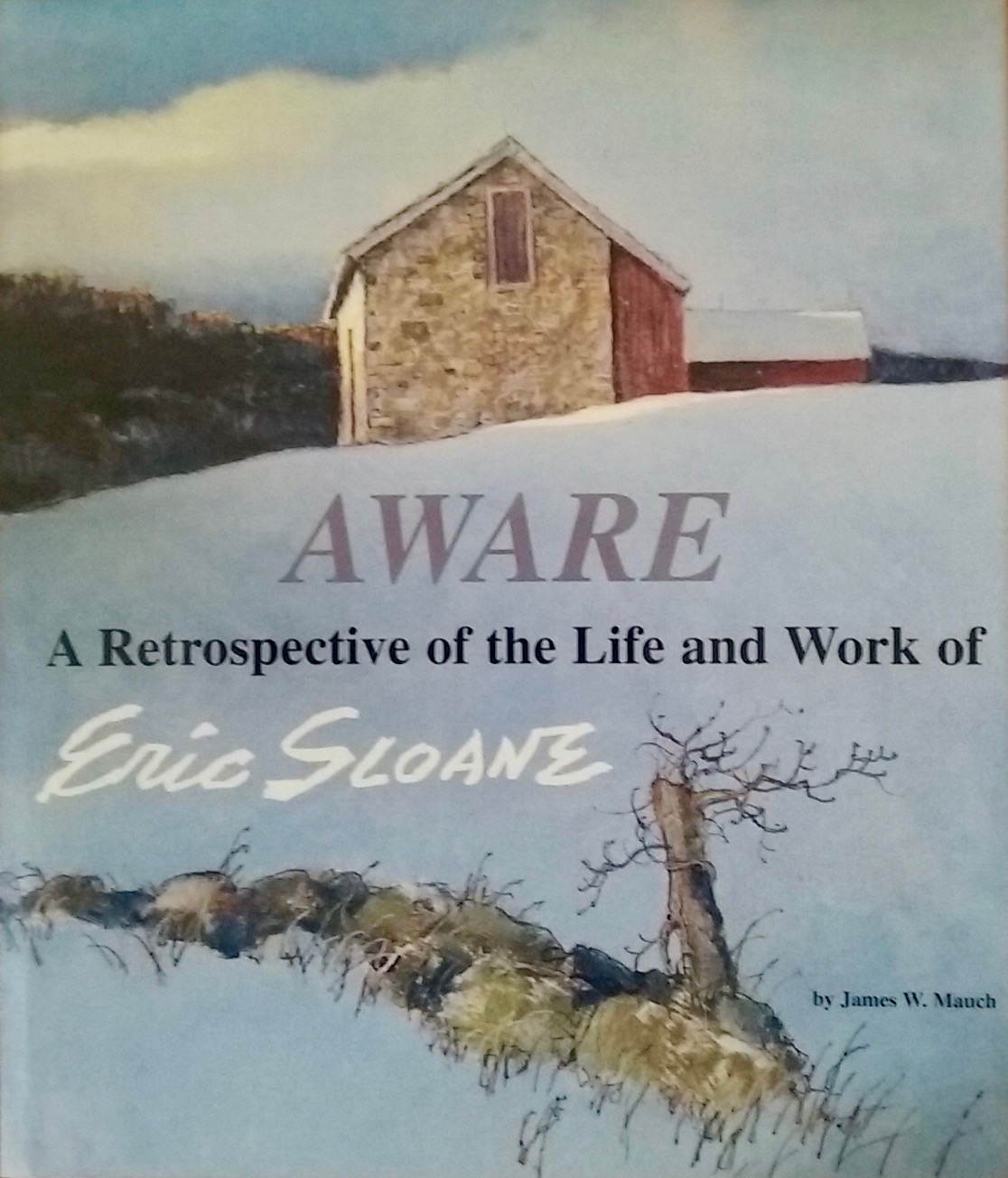 Weather Hill Farm is offering Aware: A Retrospective of the Life and Work of Eric Sloane (Garrigues House, Publishers 2001) in a specialized signed and numbered format as a fundraiser for the Noah Blake Cabin Restoration Fund established by the Friends of the Eric Sloane Museum.  You'll receive your copy of Aware, shipped free via USPS, signed and inscribed to you or a person/persons of your choice, thanking them for supporting the Noah Blake cabin restoration.  This special volume will make a wonderful gift, and best of all, 100% of the sales price goes to The Friends of the Eric Sloane Museum, a non-profit organization founded in support of the Eric Sloane Museum of Kent, Connecticut.
"Nearly everyone who has an interest in early Americana knows of Eric Sloane's work. Although best known for his depictions of barns and covered bridges, Eric Sloane was also a successful author, illustrator, anthropologist, meteorologist and historian. A man of tremendous and varied talents, Sloane evolved from an itinerant sign painter to an accomplished artist elected to the National Academy of Arts.
Born Everard Jean Hinrichs in 1905, Eric Sloane led a full and intriguing life. He created everything from "cloudscapes" while flying with Wiley Post (Amelia Earhart bought his first one) to over three dozen books on the subject of early America. Eric Sloane is undoubtedly one of the most interesting of twentieth century American painters. Sure to delight anyone interested in Eric Sloane's work, Aware is an engaging read, generously supplemented with the artist's paintings, illustrations and rare family photographs. Two appendices are included…to complete this literary work, the author has included an original, never published Sloane manuscript. Author James Mauch examines each stage of the artist's career and life, illustrating how one of Sloane's areas of interest would be a catalyst for the next, a life-long evolutionary process which culminated in a deep exploration of what the artist described as his 'philosophy of awareness'".
-From the dust jacket of Aware: A Retrospective of the Life and Work of Eric Sloane
Features
Hardcover, 232 pages
Over 65 full color paintings
40 color photographs
25 black and white photographs
More than 75 illustrations
Includes an original, never-published manuscript of Eric Sloane's, complete with his corrections.
Order Now by calling or emailing the gallery.
$55.00
Includes free shipping and applicable sales tax
ALL Major Credit Cards Accepted
What critics and readers of Aware have written:
"There has been a videotape available which is sort of a biography of Eric, but you are the first one to have memorialized him on book form, and you have done an excellent job."
"Thank you for the wherewithal of "following through" to bring us Aware. I think possibly Mimi Sloane put it best in her forward…'Jim Mauch displays a fundamental understanding of Eric that exceeds the obvious…his descriptions of Eric's gentle and colorful nature overwhelm my senses and spirit.'"
"It {Aware} serves as a fitting tribute not only to Eric Sloane, but also to the author's grandfather, Alfred Erwin, to whom the book is dedicated."
"…{you} have done a tremendous amount of work to keep Eric Sloane "alive" to those who knew him, and through your steadfast work will now introduce him to a new generation."
"It {Aware} certainly is a beautiful and informative book that anyone will want to add to his or her collection of Eric's library. I know I have. Thank you so much."
"James Mauch's carefully researched and well-written story of Sloane's remarkable life and work would surely earn this fascinating American's approval."
"Since his {Sloane's} death in 1985, without new publications carrying his work and with only an occasional retrospective gallery showing, his status has faded somewhat. James W. Mauch's coffee table biography…is therefore a welcome introduction to the artist for those who never knew him, and a handsome fortifier for those who have begun to forget him."
"The result is a beautifully printed 232 page hardbound volume chronicling Sloane's personal, artistic, and literary life, generously laced with Sloane's words and lavishly illustrated with his paintings and illustrations. That would suffice for most Eric Sloane fans, but Mauch includes a comprehensive bibliography of Sloane's writings, a list of gallery sources, guest essays on Sloane as an artist and collecting his first-edition books, and a previously unpublished, unfinished manuscript edited in Sloane's hand."
"You have captured everything that was the very essence of Sloane – you would have made him very proud."
"Cliff is enjoying the book and wants to tell you how well it is written. I lost my Christmas day with him to Eric Sloane. He is reading it with tears in his eyes. Thank you for contributing to another wonderful day in our life."
"Aware is truly a loving tribute to a complicated man and deeply talented artist and writer. It was a wonderful book to savor, drinking in the paintings that Mauch includes, seeing the progression of Sloane as an artist over time …I came away with a greater appreciation of Sloane and a deep admiration for his artistry."
"{Aware} is, and will continue to stand as, the definitive biography of Eric Sloane. Other pieces and books have been written about the artist to be sure – but this wonderful volume stands above the rest and has a secure place of any shelf of Sloane books."