Archive for August, 2018
Edith's take on the August 10th volunteer event:
It was so amazing to see the shingle- making process and it was even more fun to experience doing it yourself. You get such a feeling of accomplishment and that you are doing something both physically active and educational. We had a great time laughing and discussing shingle-making and The Eric Sloane Museum. It was so nice meeting the volunteers and talking to them about The Eric Sloane Museum, the cabin project and shingle-making! We all had so much fun!
Thanks to Edith for most of the photos in this post. Thanks to Scott Sheldon, shown in many of the photos, for helping us with the layout of the shingle roof.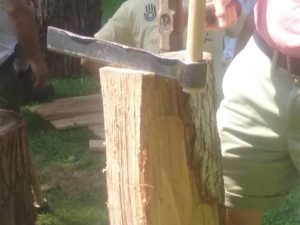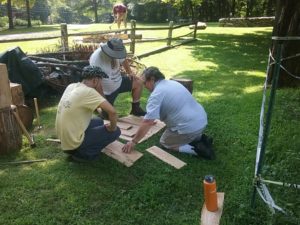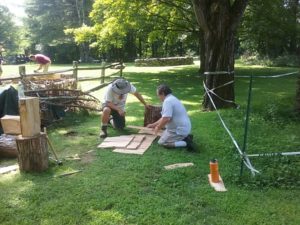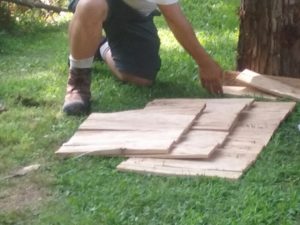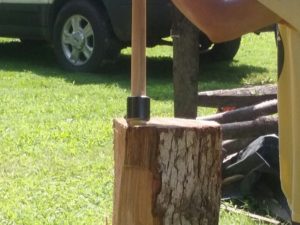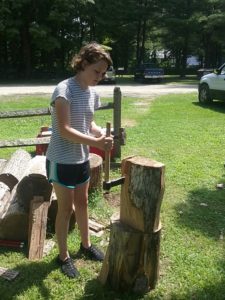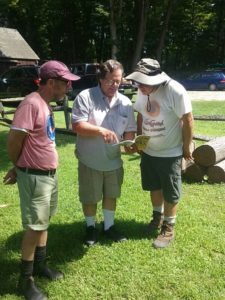 Edith and volunteers working to split shingles during Friday's volunteer session at the Eric Sloane Museum. We'll see you for our last two events of the year, September 7th from 11-3 and September 29th from 11-3.
August 6, 2018 | by
Wil
|
Comments Off

on Temporary Closure of the Eric Sloane Museum
I received this from Barb Russ at the Eric Sloane Museum:
In preparation for our celebration of a half century showcasing the life of Eric Sloane through his superb collection of  early American tools, his painting and illustrations, his prolific writings, and his artists' studio,  the Eric Sloane Museum will be closing for the season on Monday September 3rd. Starting in October, the museum  will be undergoing structural repairs and upgrades to secure the building and improve the visitor experience for the next half century. The museum will remain open during regular museum hours (Friday-Sunday, 10 am to 4 pm) through Sunday September 2. Visitors are still welcome to explore the grounds of the museum and see the remains of the Kent Iron Furnace which produced iron during the nineteenth century, and is a featured industrial site on the Connecticut Iron Trail. The remaining events will take place as scheduled including learning how to split shingles with several members of the Friends of the Eric Sloane Museum on Friday, August 10th, from 11 to 3.
The shingling events with the Friends of the Eric Sloane Museum will continue as scheduled:
Friday, August 10th from 11-3
Friday, September 7th from 11-3
Saturday, September 29th from 11-3
We'd love for you to join us.  We'll provide the training and snacks.