Eric Sloane and New England Stone
Author's note:  This article appeared in the Spring, 2005 issue of Legacy, the newsletter of the Friends of the Eric Sloane Museum.  It was written in support of the theme established for the 2015 programming season at the Eric Sloane Museum:  Eric Sloane and New England Stone.
                      The New England dry-laid stonewall: Eric Sloane's Art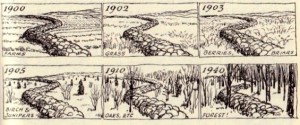 Stonewalls were often featured in Eric Sloane's paintings, illustrations and books. In some cases, as in the illustration above, the stonewall was the subject matter. In other cases – and more frequently – Eric Sloane used stonewalls prominently in his artistic works that reflected a more generalized New England landscape. Eric's treatment of stonewalls can be used to help identify an original oil painting executed by the artist, as well as to help determine when he painted a particular scene.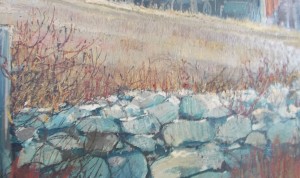 In this detail from an original oil on panel Eric created in 1959, the treatment of the stone wall in foreground shows how he used dark brown oil paint to simulate gaps between the stones. Many of the stones throughout the wall are comparatively small in size, though there are a small number of larger stones that can be discerned as well. The top of the wall is painted in a nearly uniform height and shades of grays and blues predominate. Most of the stones show the effects of the artist scraping paint with the flat side of a razor blade, a technique Eric describes using in several of his publications. However, in this painting, as in many of Eric's earlier works, he used the razor blade to smooth the final application of paint. These techniques differ markedly from ones Eric employed during the later years of his life, as evidenced by the detail of the painting below, which Eric completed in 1975: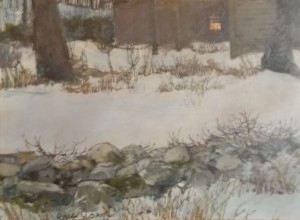 In this detail, Eric's treatment of the stonewall in the foreground may appear similar to that of the first painting, yet subtle differences confirm a later date of completion. Generally, Eric created many more larger stones that appear much more dimensional than the stones he painted earlier in his career. No longer did Eric employ dark pigment to indicate gaps in the wall; later in his career his used an ebony marking pencil to draw in that feature. Eric also largely abandoned any attempt to create a uniform height in his walls. Stonewalls in Eric's paintings began to look much more like "thrown" walls, or walls that had deteriorated over time. Two additional aspects found within Eric's stonewalls that are significant is his use of color and the aforementioned razorblade.
           Throughout the 1970s, Eric expanded his color choices in depicting stonewalls to include browns and greens. The results are quite pleasing as both colors served to simulate moss and lichens found on older, established New England stonewalls. Further, Eric continued to use his razor blade technique to give his stonewalls depth and texture, but he modified it slightly to achieve a more loose, rather than a forced, look. Eric also relied more on an underlayment of pigment, which he allowed to dry before putting the final layer of paint to be worked. Unlike the earlier technique in which Eric only worked the final layer of paint, he was now using the razor blade to both add texture to his stone and to scrape of enough color on some of the stones to reveal the underlying colors.
Much like his treatment of the sky, one can tell an Eric Sloane painting almost immediately by his skill in painting stone.
---
Leave a Reply
You must be logged in to post a comment.