Eric Sloane and "Sugar Blue"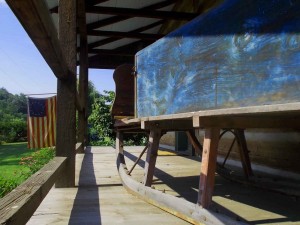 I recall a photograph of the interior of Eric Sloane's house in Connecticut in which there was a small barrel backed sleigh that served as a settee. Weather Hill has no horse drawn farm implements inside of our home, but this sturdy example sits on our front porch.  Eric Sloane would recognize it immediately as a farm sled that could be used for anything from hauling manure and people (presumably cleaned out between the two) to hauling logs and firewood (the box is easily removed, revealing a sturdy sub-structure capable of handling great loads).  The runners and sub-frame sport original red paint, while the box retains its original blue – a shade Eric Sloane called "sugar blue".  According to Sloane, farm families would keep the indigo dyed wrappers that sugar came in, later soaking these wrappers to create a distinct shade of blue pigment.  Farm wives used the color in clothing, quilts, and other textiles, while farm husbands painted furniture, doors, and sleighs and wagons of countless varieties with the color.
---
Leave a Reply
You must be logged in to post a comment.