The Artist Who Loved the Sky:  Cloudscapes, Weather, and the World of Eric Sloane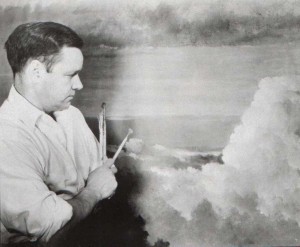 Eric Sloane, painter of cloudscapes, c. 1940
            Irrespective of the subject matter, it is Eric Sloane's ability to represent the heavens in oil paints that defines him as an artist.  It is impossible to pinpoint exactly when and how Eric Sloane learned to so skillfully paint the sky, yet it is my opinion that he was incredibly observant and gifted in his ability to translate what he observed to canvas or Masonite.  Eric Sloane knew, probably more from careful observation than the scant amount of artistic schooling he received, that the sky both reflected the landscape underneath and exhibited its own color gradations over distance (gradations that are completely the opposite of ones found in landscapes).
Eric Sloane said that he "discovered" the sky in Taos, New Mexico, but it took a stint painting murals at Coney Island to apply what he had observed and learned in earnest.  David Martin, owner of the Half Moon Hotel, met Sloane while he was at work on one of the large murals in the amusement park.  Martin obviously took a liking to the young artist, for he offered Sloane the position of "artist in residence" at the hotel.  In exchange for room and board at the Half Moon, Eric Sloane would be required to letter menus and signs for use in the hotel.  How much of that work Sloane was able to accomplish is not known, for Eric Sloane gravitated to the large, blank walls of the hotel.  Eric Sloane was inspired.  The Half Moon Hotel was close to Floyd Bennett Aviation Field, an important hub of early aviation.  Wiley Post, Roscoe Turner, Bill Odom, and other famous and not as famous aviators of the day would often choose to have lunch or dinner at the hotel, sometimes staying the night.  One can imagine the evenings at the Half Moon's bar, of tales swapped of aviation triumphs and mishaps, all taken in by young Eric Sloane.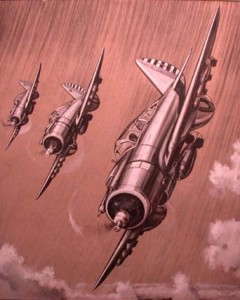 Closing Fast, Republic Guardsman by Eric Sloane, N.A.
          Eric Sloane was able to convince David Martin that large murals of clouds – paintings from the pilot's perspective – would be a good investment given the hotel clientele.  Of course, Eric would need to spend some time at the airfield researching his subject matter.  Within weeks, Eric Sloane was trading rides in airplanes for painting fuselage art on airplanes.  His perspective, and his artistic focus and direction, changed forever.
In the years leading up to the Second World War, Eric Sloane continued to fly in order to learn more about the world above the one more familiar to most.  Sloane also turned his attention to contributing illustrations to some works on aviation for aviation-related magazines.  He caught the attention of someone at Devin-Adair Company (whether through his association with pilots, time at the Half Moon and Floyd Bennett Field, his illustrations, or through another way remains unclear), the firm that ultimately published his first book, Clouds, Air and Wind (1941).  Sloane followed this volume with contributions to Assen Jordanoff's Your Wings and Ernest Vetter's Let's Fly: An ABC of Flying.  All three volumes were written under the darkening clouds of the Second World War, and the military implications of each were not lost on the Army Air Corps.  Faced with the difficulty of training of young men quickly in the highly technical arts of combat theatre aviation, the Army Air Corps recognized immediately Eric Sloane's ability to depict cloud forms and illustrate weather phenomenon.  Eric Sloane's work with the Army Air Corps helped him to hone another skill set:  writing that was simple and engaging, coupled with cartoon-like illustrations that could relay the ideas behind pages of technical information into simple but memorable set of line drawings.   This was a crucial skill set to have, given the audience for which Sloane was writing.  The Army Air Corps used Sloane's illustrations in several publications including Your Body In Flight (1943 Air Service Command, Restricted).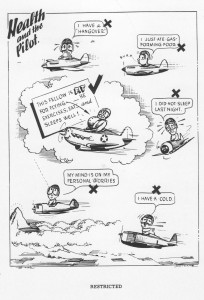 Eric Sloane's work for the Army Air Corps and for a number of civilian aviation related companies is a period in the artist's life that deserves deeper study and scholarship.  His work was important – vitally so, I would argue – to the men and women (remember the W.A.S.P.s?) who flew during the Second World War and after.  Just this past year a gentleman who visited the Eric Sloane Museum spoke with the Board of Directors of the Friends of the Eric Sloane Museum, telling us of his early years as a commercial pilot flying the South Pacific routes.  There was, he said, little in the way of information or training in flying these new routes.  Instead, he was handed a few books by Eric Sloane as an introduction – and he has been a great admirer of Eric Sloane's works ever since.  How many pilots, civilian and military, have benefited from Eric's work?
Following the Second World War, Eric Sloane continued to submit and have published various articles on aviation, clouds, and the weather.  He branched out, being published in magazines as varied as Air Trails, Popular Science, Rudder, and Weatherwise.  Much of his research and many of his illustrations were compiled into book form, spawning his career as an author.  His deepening research interests in the field of meteorology led him to presume that study at the Massachusetts Institute of Technology was in order, but a brief experience in a meteorology course riddled with mathematical calculations and dull scientific language cured him of that notion.  One of his professors suggested, tongue in cheek, that if Eric Sloane wanted to find "romance in the weather", rather than mathematic and scientific concepts, Eric ought to consult the early American farm almanacs and diaries.  Eric Sloane took his professor seriously and began collecting in earnest.  It was this passing suggestion that launched Eric Sloane into the next phase of his career, a career for which he is better known – a painter of barns, covered bridges, and of farming scenes.
Eric Sloane never abandoned his love of the sky.  His clouds and weather still dominated his landscapes.  The sky became as central a theme as the landscape below.  He was a keen observer of the sky, of weather, of shadow, and of natural light.  He understood, if not in scientific terms than in artistic ones, how cloud forms and the color of light changed during the course of the days and the course of the seasons.  Winter or Spring, dawn or evening, Eric Sloane's landscapes are so convincing as a direct result of the artist's study of, and reverence for, the sky.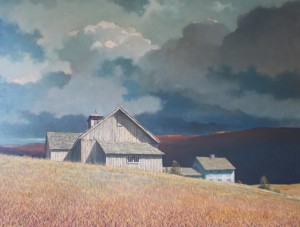 Autumn Clouds by Eric Sloane, N.A.  O/P, 38.25″ wide x 28.25″ tall by site
About the Author:  James W. Mauch is the author of Aware: A Retrospective of the Life and Work of Eric Sloane and a member of the Friends of the Eric Sloane Museum.  Article adapted from the Spring 2014 issue of Legacy, the newsletter of the Friends of the Eric Sloane Museum.
---
Leave a Reply
You must be logged in to post a comment.