Moving our piano the other day (not a task I would like to do very often) provided me with an opportunity to examine an Eric Sloane painting and frame more closely than I am ordinarily able to with the piano blocking my access.  The Eric Sloane is a large work and the frame which surrounds it was hand made by Sloane in the mid-1950s.
In the early part of Sloane's career, he would purchase ready-made frames from art supply stores.  For Eric Sloane, this was a relatively simple task as he was using paper and canvas board in standard sizes which fit standard sized frame.  At some point early in his career, most likely after the second World War based on my experience, Eric Sloane shifted his artistic focus more towards barns and covered bridges, shifted his technique more to painting larger "canvases" (a misnomer for Sloane, for although he did use canvas on occasion, masonite was  his preferred choice), and therefore painted himself out of the standard-sized frame market.  It was at this point that he began to use old barn wood for frames.  Just how the first uses of barn boards occurred is lost to history.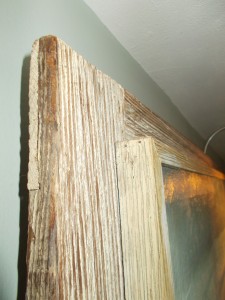 A close-up view of the "ship lapped" corners Eric Sloane employed when creating his frames.  These corners are strong and will not separate like mitered corners usually will over time.  The overall design is deceivingly simple in appearance.  Notice the paintings sets within the outer molding, while the more hefty frame reinforces and supports the molding.
     Throughout the 1950s and 1960s, Eric Sloane was crafting his own frames using reclaimed barn wood.  Sloane's fifth wife, Ruth (Rohland) Hinrichs, explained to me that she and Eric would often spend an afternoon driving through the Connecticut back roads looking for farmers who were in the midst of tearing down an old barn or shed.  Sloane would make an offer for some of the wood, a bargain was struck, and some of the wood would later become an Eric Sloane frame.  It is reasonable to conclude that, after some time, farmers and salvagers knew to call on Eric when they had wood to sell.  It is also possible that it was through theses connections that Eric was able to procure reclaimed lumber and beams for both his studio and for the creation of the Noah Blake cabin on the grounds of the Eric Sloane Museum in Kent, Connecticut.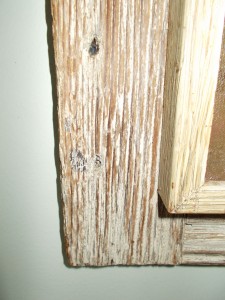 Close up of a section of an original Eric Sloane frame showing two nail holes, confirming that the wood for the frame was reclaimed.
      Original Eric Sloane frames are well constructed.  Often, Sloane would "pickle" the frames, meaning that he chose a color from the palette he used to create the painting that was to be housed in the frame, dab some on a cloth liberally soaked with thinner, and wipe the visible parts of the frame carefully with the cloth to impart some of the color onto the frame. The result would enhance both the frame and the Eric Sloane painting housed within, and created an important artistic relationship between frame and painting.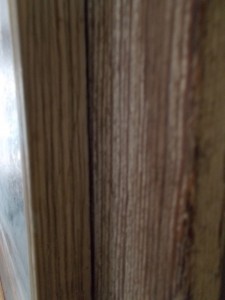 Detail of texture of the wood used in this Eric Sloane frame
     Eric Sloane continued to build custom-made barn board frames for his paintings throughout the 1950s and 1960s.  It is not clear when or why he stopped using his own frames to house his paintings.  It is possible that, because of his increased popularity, output, and age, he turned to commercially available frames.  It is also plausible that his election to the National Academy of Design of New York in 1968 factored into his decision, as it seems, based upon my experience, that this is about the point at which Eric Sloane began using frames made by Walter Skor.  Eric relayed that it was he who convinced Walter to create an "Eric Sloane barn board frame".  Whether Sloane's assertion was accurate or not, Walter Skor did indeed carry a line of frames which Eric Sloane used exclusively throughout the 1970s and until his death in 1985.  In fact, the Walter Skor frame carried the prefix designation of "ES", signifying that it was an "Eric Sloane" model frame.
---
Leave a Reply
You must be logged in to post a comment.