November 24, 2013 | by
Wil
Below appear two photographs I recently uncovered from my days of researching the book Aware:  A Retrospect of the Life and Work of Eric Sloane.  I somehow got wind of an Eric Sloane mural painted upon the wall of the old International Silver Company of Meriden, Connecticut.  I don't recall the name of the business that occupied the building when I photographed it back in 2000, but after some initial difficulties I was admitted inside to snap photographs.
Meriden was known as "The Silver City" – I think because of International Silver Co., and a few other manufacturers of silverware and other products which required silver in their production.  You may recall that Eric Sloane had a series of plates struck by the International Silver Company which depicted 4 separate line drawings of Sloane's.  Each drawing represented one of the four seasons and were quite charming.  Sold as "Eric Sloane's Four Seasons", these plates were not manufactured using silver; rather, they were made of pewter.
I have lost track of the International Silver building and the beautiful Eric Sloane mural which graced the main staircase which led to the second floor.  If any of you know what has become of the building or the Eric Sloane mural, please let me know.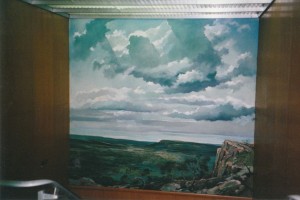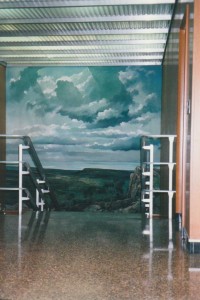 ---
Leave a Reply
You must be logged in to post a comment.