Eric Sloane and the Sassafras Tree
First signs of Autumn here at Weather Hill.  The Sassafras tree Edith and I planted last year is beginning to alight with autumnal color.
"Sassafras is a tree very closely associated with America, although few now aew aware of its history.  As the early American wonder drug, it was our first money crop and object-in-trade of the first American cartel.  In 1622 the Jamestown Colony was committed by the crown to produce thirty tons of Sassafras, with a penalty of ten pounds of tobacco on each man who did not produce one hundred pounds of it."
– Eric Sloane A Reverence for Wood p. 91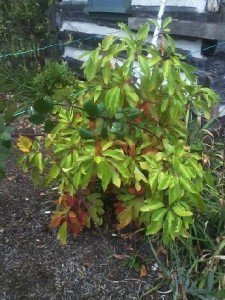 ---
Leave a Reply
You must be logged in to post a comment.